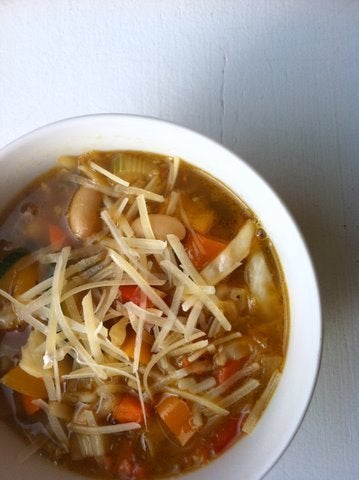 The weather is getting warmer, and soon soup (or at least hot soup) season will be behind us for the foreseeable months. But I'm ready to let go just yet. Especially because soup is the single most brilliant way to use up what you have in your fridge. And it's hard to screw up soup. Those are just two of the reasons I love it. There is almost always a pot of soup waiting to happen in your kitchen, if you are in the mood. This is the one that presented itself this week.
I had also just spent a day shopping at Arthur Avenue, a few blocks of almost-frozen-in-time Italian food gorgeousness that makes one feel like breaking out in an aria. I go there every couple of months with my friend food writer Eugenia Giobbi Bone, and occasionally, if I'm lucky, her dad Ed Giobbi is our escort. We start with a cappuccino at Jean Carlo's shop, where I want to live when I get older. There we shop and shop, sometimes breaking for a perfect piece of focaccia or sometimes if we're being extra indulgent some steamed mussels and baby artichokes at one of the little restaurants where everyone is always drinking a glass of wine with lunch. Does this sound luxurious? Well, it is. It god damn is, and it is a much better solution for me than being in a therapist's office, and I feel sure I reap at least as many benefits from it. Plus, my family eats like kings for days after.
I digress. I bought a little plastic container of something the Italian ladies call "bruschetta topping", which Gena told me she uses in all sorts of ways. There was spicy and a not spicy version, and I was feeling perky so opted for the spicy. "How should I use it?" I asked the lady scooping it into the container, who shrugged. "Every way," she said. So here's one of the ways I used it this week. Skip it for the finicky kids; that's why it's fork in the road. (Oh, yes, if you use vegetable broth, this is a vegetarian soup).
Serves 8
2 tablespoons olive oil
1 onion, chopped
2 cloves garlic, minced
2 large carrots, chopped
3 cups shredded cabbage
1 yellow bell pepper, seeded and diced
1 red bell pepper, seeded and diced
1 large bulb fennel, trimmed cored and diced
Kosher salt and freshly ground pepper to taste
1 can cannellini beans, drained and rinsed
8 cups vegetable or chicken broth
Spicy pepper relish (cherry pepper relish) to taste (see Note)
Shredded Parmesan cheese to serve
1. In a large pot heat the olive oil over medium heat.
2. Add the onion and sauté for two minutes until golden and tender. Add the garlic, carrots, cabbage, bell peppers and fennel, season with salt and pepper, and sauté until the vegetables are crisp tender, about five more minutes. Add the cannellini beans and broth, and simmer for 15 minutes until everything is tender.
3. Ladle it out into bowls, and stir a bit of the spicy pepper relish into any of the portions where heat and piquancy is desired. Sprinkle the cheese over any of the aforementioned bowls.
Note: If you are in an Italian market, or a nice supermarket, you will see all kinds of pickle-y relishes, maybe even marked cherry pepper relish. I can't tell you exactly what I bought because it was a homemade mishmash; I'm sorry, but the point is that a vinegary peppery relish adds a nice hit of acid and heat to this soup, not mention various sandwiches, crostini, and what have you.