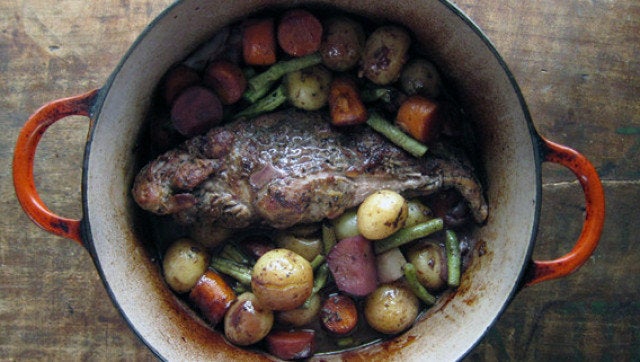 Now that the temperatures are getting cooler, it's time to think about heartier fare. This easy, porky, one-pot meal brimming with seasonal vegetables is just the ticket. Made with the ever affordable pork loin, this dish cooks quickly while staying moist and juicy. Dijon mustard, herbs de provence, figs and red wine round out the flavor. The figs - either in jam form or dried - help to add just a touch of sticky sweetness and work so well with wine.
This hearty meal gives a giant hello to autumn. And you'll have dinner on the table in under an hour. Not bad at all.
Pot Roasted Pork Loin with Vegetables and Figs
1 tablespoon olive oil
1 pork loin (about 1lb)
2 cloves garlic, minced
1 1/2 teaspoon herbs de provence
1 teaspoon dijon mustard
salt & pepper, to taste
1 lb of baby potatoes
1 small-medium turnip, diced
1 large carrot, chopped into 1" thick circles
1 handful of green beans, cut into 2" lengths
1 onion, quartered
1 cup dry red wine
1 tablespoon fig jam or 2 dried figs, roughly chopped
Season the pork loin with garlic, herbs de provence, dijon and salt and pepper - rubbing the seasonings into the meat. In a large cast-iron casserole or pot, heat the oil over medium-high heat and when hot, sear the seasoned pork loin on all sides. Remove from heat.
Add the vegetables around the pork. In a measuring cup, add the fig jam to the wine and blend - or if using dried figs, scatter figs around the pork. Pour wine mixture over top and bake, covered, for 20 minutes, stirring vegetables occasionally. Remove cover and cook for 10 - 15 minutes longer, adding more red wine if necessary. A meat thermometer inserted in the middle of the roast should read 160 degrees F.
Let the dish rest, covered, for 5 minutes. Add the vegetables to a platter and carve the pork loin into thick slices, arranging the slices on top of the vegetables. Reduce the pan juices, if necessary, by bringing to a boil to thicken slightly. Serve alongside the meat and vegetables. Serves 2 with leftovers.
Popular in the Community