Thanksgiving is almost here. In the grand ambition of entertaining and creating a feast, most people go overboard and make too much food during the holidays.
The BBC culinary star Nigella Lawson believes in no-stress simplicity, involving her friends and family in setting the table for a simple yet festive meal rather than overwhelming her guests with hors d'oeuvres, fanciful dishes and elaborately 'gourmet' holiday recipes. Don't bother so much, please.
Nigella recommends holiday traditions be kept to enjoyment rather than making a big fuss over the food itself. Make food to please to the senses, but nothing more than necessary so you don't miss out on your company. Here are a few ideas from the domestic goddess about holiday entertaining:
I don't do starters when I have people over. I do have something to feed people, drinks and such, or I manage to dragoon someone into passing some food around, a dip or some crudités, it wouldn't even matter if it was to pass around some nuts, frankly.
Keeping things in the freezer to warm up and serve is one of her hosting tricks.
Nigella likes Brazilian cheese bread to serve warm as a welcoming comfort for her guests. Then she puts someone in charge of the drinks. Sounds so easy, I'm thinking about stuffing my freezer with Brazilian cheese bread for such occasions.
It's very relaxing if there's a DIY element to eating. I don't mean it in a mess, it can be beautiful. I put out canisters of cutlery out on the table, and then have someone set the knives and forks out, it gives people interplay. I find formality stops people from having fun.
On the importance of gathering people together, the food is secondary. Holidays are about ritual.
"If the best thing that can be said about the evening was that the food was good, then I feel it's not a very successful evening. Here's one thing, if I can say the food was good, but I had a great time, I laughed, I felt very close to everyone who was there. [That's a successful party.] The holidays are about ritual and repetition and you really don't need to be doing anything new -- at all."
Hear that? Don't try to make recipes out of the French Laundry Cookbook. Make a few things from Nigella's Feel Good Food instead. Adapt the recipes, make your own up from the cookbook's inspiration.
Nigella wants us to pay attention to the comforts of home, relaxing and taking pleasure in the act of cooking and preparing food. Keeping things simple is key.
During Nigella's recent cookbook tour, she arrived here in Los Angeles for a few days. I had the pleasure of attending her interview last Thursday during her Live Talks LA taping with Los Angeles Times Food Writer, Russ Parsons. Nigella's interview was soul nourishing. I was pleased to have taken everything in, without one glance at my iPhone to tweet, tag or Instagram something as per usual media events.
Live Talks LA events are a great way to get back-to-basics human conversation in your life, because in this push button era, everything can be viewed in an instant. But what cannot be downloaded is the experience of a conversation. No matter what, there's nothing like a live, in-person interview.
That following Saturday afternoon I brought my youngest daughter to Williams Sonoma in Beverly Hills to meet Nigella. My 7-year-old daughter enjoys Nigella's cooking videos on YouTube, yet she was a bit shy to approach for her autograph. She was ever so relaxed and approachable. My daughter was clutching her cookbook with a big smile.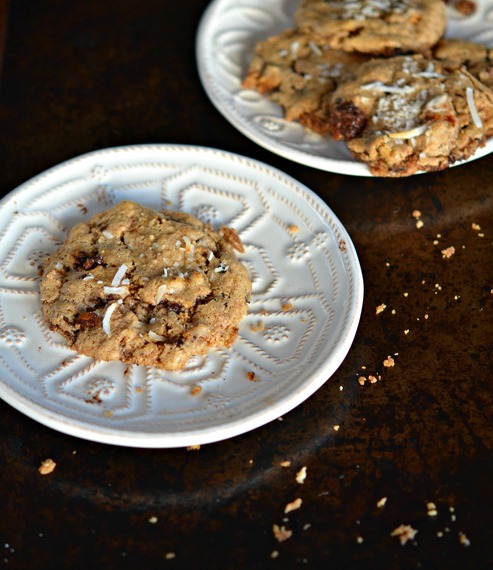 At home, we made flourless peanut butter chocolate chip cookies from the cookbook, as well as a few other sweets, like chocolate chip cookie dough pots.
Inspired for Thanksgiving, I'll be making Nigella's sweet potato chickpea dip and smoky salted caramel sauce to drizzle on no-churn brandied pumpkin pie ice cream.
And seriously, Nutella brownies are the main reason why I love Nigella and her recipes even more. How can you resist eating melt-in-your-mouth chocolate hazelnut spread filled brownies right from the oven? Simply Nigella: Feel Good Food is here for the holidays.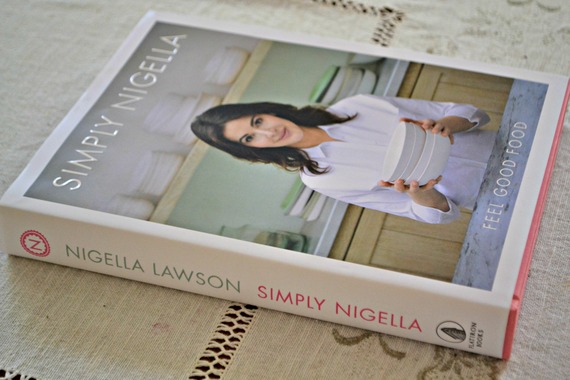 But what recipes does Nigella make during her Christmas holiday in England?
She makes her "Redder than Red Cranberry Sauce" with cherry brandy. There's turkey and a ham on Christmas Eve. She serves up chestnuts and Brussels sprouts, and she says:
We always have roast potatoes cooked in goose fat -- all the women in my mother's family, we all cook our potatoes in semolina, potatoes dredged in semolina, cooked in hot goose fat. The semolina adds some crunch and sweetness. So that's the family way.
But Christmas at Nigella's house wouldn't be Christmas without one special recipe: bread sauce.
Bread sauce. It's going to sound disgusting, but we Brits have to have bread sauce. In the morning you put the milk on, and you peel half an onion, stud it with cloves, get some mace, some bay leaves, also some salt and pepper, heat it up and let that infuse. For any British person, that's the smell of Christmas morning.
Live Talks LA fills our eyes and ears with a food and wine series on their roster, featuring culinary celebrities like Emeril Lagasse, Roy Choi, and just a week ago, the domestic goddess Nigella Lawson. Please check out Live Talks LA for a stellar line up of interviews, including vegetarian culinary legend Madhur Jaffrey, the "Godmother of Indian Cooking" on Thursday, December 10th, 2015, 8pm (reception 6:30pm-7:30pm) William Turner Gallery, Bergamot Station Arts Center, 2525 Michigan Avenue, Santa Monica, CA 90404