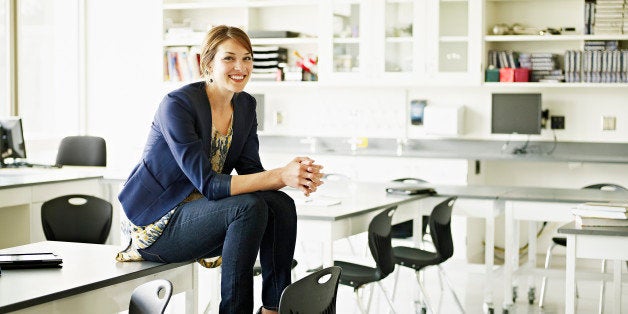 When I finished reading Wonder Women: Sex, Power, and the Quest for Perfection by Debora L. Spar, I felt more introspective than empowered.
The last several generations of women have placed unrealistic demands on themselves, explains Spar. Rather than making either/or choices when it came to the increasing opportunities available to them since the feminist movement, women assumed they had to do everything while applying equal vigor and commitment to career, family, personal appearance, sex, dating. "It wasn't supposed to be this hard," Spar writes in her prologue.
Spar is unquestionably personally and professionally successful -- a happily married mother of three, a woman with advanced degrees, and the president of one of the most prestigious liberal arts institutions in the nation. I wondered whether there was irony for her to conclude, "Simply put, women need to go easier on themselves, to move from the Martha Stewart world of feminine perfection to a messier and more chaotic reality."
Could it really be so simply put?
But I realized I really furrowed my brow at Spar's solution because Wonder Women held up a mirror to my own complicated relationship with perfectionism and success during many of my 30 years. Like many my age, being told to simply be easier on myself felt counterintuitive.
When I was younger, I assumed being tough on myself was the only way to remain on a steady path to "success." But I hadn't paused to define what success really meant to me.
Rather than fostering a mindset in which I eagerly pursued unique challenges, in my 20s my perfectionist tendencies dragged me into a rut of sticking with things I already knew I'd be good at. At Barnard College, where Spar is currently president, I mainly took courses in which I knew I'd be likely to get high marks. While I don't regret my choice to pursue a degree in creative writing, I do regret seeing a young woman who wanted so strongly to succeed that she couldn't identify the risks that were valuable.
No one had advised that success and perfection weren't necessarily synonymous.
My self-imposed (or, as Spar would likely argue, also societally-imposed) demand for perfection remained intact following college. A few months after graduation in 2005 I began my career in publishing at a company frequently named to lists of the best workplaces for women. But due to my perfectionism, I didn't feel the benefits. I rarely used up my vacation days, frequently left the office late, and lost touch with my own writing. When colleagues took maternity leave, I took on their work, thinking I could prove my value as a young, single woman with no family commitments.
I believed I had to get things right all on my own. When one of the first books I'd worked on was published I noticed a word on one page was missing a hyphen. Just a little hyphen, but to me it signaled inexcusable sloppiness. Never mind that I'd produced a book and that numerous eyes besides mine had looked over those pages. My name was attached to it and it wasn't perfect. And therefore I hadn't succeeded.
Difficulty appreciating my accomplishments extended beyond work. I bought an apartment on my own, but I'd often respond to compliments with a shrug, saying, "Well, it's only a studio." I pulled myself back from my career enough to try to fall in love at 29, but felt like a failure when the relationship ended, thinking that I -- and mostly I -- could and should have done countless things differently. It was telling when after my later attempt at reconciliation, which was filled with self-deprecation, my ex said, "Don't be so hard on yourself."
Rounding the corner past 30, though, the whip I'd been cracking on my life started to ease, even as societal pressures materialized with increased frequency -- the ads on my Facebook newsfeed for sperm banks, the Groupon offers for cosmetic treatments, the friends' parents who told me at weddings that next I had to find someone. After years chasing a vague concept of success, I began to realize the true value of learning -- sometimes through error -- rather than trying to be perfect. There wasn't one single catalyst. A combination of things that had accumulated in the last few years -- rededicating myself to pursuing neglected personal passions, forming close friendships with women older than me, taking up a steady yoga routine, and yes, leaning out just a bit -- eventually helped me ease into a balance.
I began better appreciating my successes and my flaws.
I wondered, though, if this realization would have come sooner had there been a strong female presence earlier on in my career to champion the notion.
A few months ago I enrolled in a mentor program for college students, hoping I could be that sort of resource for a young woman. At the kickoff brunch, students and mentors chatted over bagels. One young woman asked, "How do you achieve success?"
My fellow mentors and I exchanged glances. What should we say to reassure these young women? I offered an answer that had taken 10 years to form: "I think particularly as female college students, the drive to succeed is drilled into our minds. But no one ever really says what success means. Realize that success truly is fluid and it looks very different to everyone. And," I added, "you may not instantly know what your definition of success is. And that's ok."
I was surprised not only at the ease with which my answer came, but the fact that I really believed it. I'm still forming my notion of success. And that really is ok. What I've started to realize is that success has more to do with contentment than perfection. Perhaps the answer truly can be simply put.
The student had the glazed look of someone who had tuned me out. I wasn't insulted. I just hoped that before she traveled too far in her own journey, other women would continue to tell her something similar about success -- and that she'd really hear it.
This post is part of a series produced by The Huffington Post in conjunction with our women's conference, "The Third Metric: Redefining Success Beyond Money & Power," which took place in New York on June 6, 2013. To read all of the posts in the series and learn more about the conference, click here. Join the conversation on Twitter #ThirdMetric
Calling all HuffPost superfans!
Sign up for membership to become a founding member and help shape HuffPost's next chapter