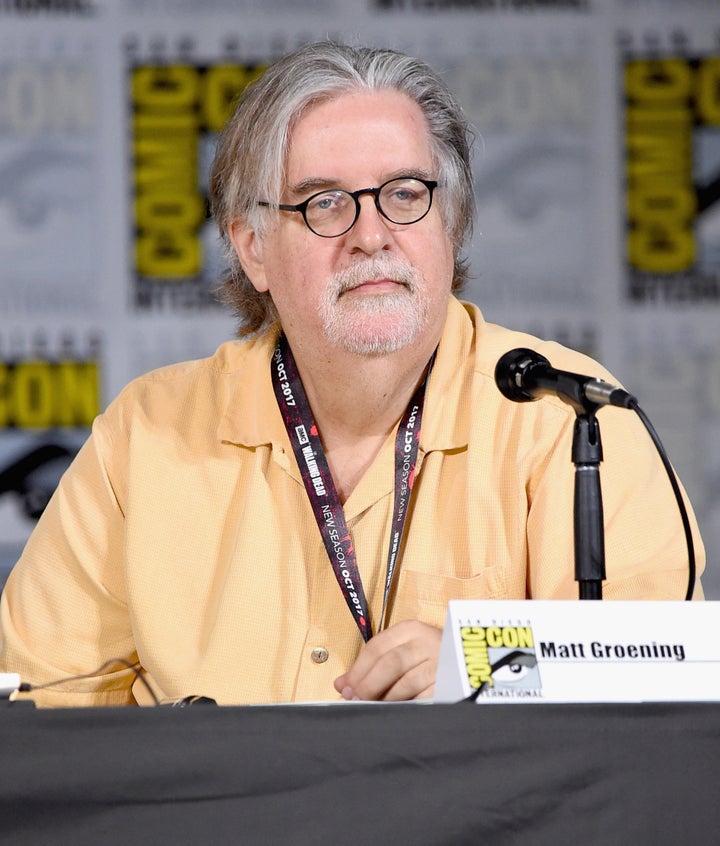 Despite the controversy surrounding Apu on "The Simpsons," the show's creator has only doubled down on his defense of the character. 
In a recent interview with the New York Times, Matt Groening did not budge from his positive opinion of the fictional Kwik-E-Mart owner despite criticism. Prompted in part by comedian Hari Kondabolu's 2017 critical documentary "The Problem With Apu," the South Asian-American community has been speaking out about the painful stereotypes that have emerged because of the character on the popular sitcom. 
Groening told the Times that while he feels "bad that it makes other people feel bad," he believes the debate surrounding Apu is "tainted." He also said in the interview published on Wednesday that in our culture, "people feel so aggrieved and crazed and powerless that they're picking the wrong battles."
What's more, the creator actually attempted to back up his defense by claiming that he values Indian culture. He said that Apu, a character rife with stereotypes and voiced by white actor Hank Azaria, is a nod to iconic "The Apu Trilogy" ― a  trio of Bengali films heralded as cinematic masterpieces. 
"I love Indian culture and Indian film and Indian music. I thought that the name was a signal that we had, at least, a scholarly intention," Groening said. "I thought maybe a kid was going to grow up and find out what the name came from and go watch the Apu Trilogy, which are the greatest films, basically, in the history of cinema."
Groening even went as far as to say he agreed with "99 percent of the things that Hari Kondabolu believes" outside of Apu and questioned whether there are better Indian animated characters. 
"I am sorry that 'The Simpsons' would be criticized for having an Indian character that, because of our extraordinary popularity — I expected other people to do it," he said. "I go, maybe he's a problem, but who's better?"
Kondabolu, who saw the piece, took the high road and invited Groening out for a chat at San Diego's Comic Con.
Understandably, Twitter went off on Groening. Some pointed out how his "love" of Indian culture doesn't exempt him from creating a trope-filled character. And others pointed out how there are *definitely* better animated Indian characters out there. Some just really successfully roasted him. 
Groening's continuous defense of Apu runs counter to the position Azaria himself has taken on the topic. During an appearance on "The Late Show with Stephen Colbert," the voice actor said that he'd be "perfectly willing and happy to step aside."
"I think the most important thing is we have to listen to South Asian people, Indian people ... about what they feel and how they think about this character and what their American experience of it has been."
Yet an episode that aired in April appeared to allude to the Apu controversy and support Groening's argument. In it, Lisa references the sanitized version of a bedtime story and complains to Marge that "something that started decades ago and was applauded and inoffensive, is now politically incorrect" ― before looking at a photo of Apu. 
Groening even dismissed critics that same month, saying that, "I think it's a time in our culture where people love to pretend they're offended." 
Calling all HuffPost superfans!
Sign up for membership to become a founding member and help shape HuffPost's next chapter