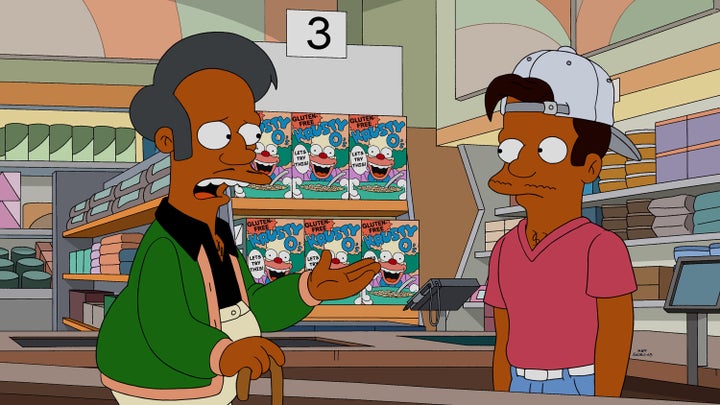 Rumor says the most controversial character on "The Simpsons" could soon be wiped from the Springfield community.
In an interview with IndieWire, film and TV producer Adi Shankar said he heard from "multiple sources" who work for the show ― including one person who works directly with creator Matt Groening ― that Kwik-E-Mart owner Apu Nahasapeemapetilon will be cut from the long-running series.
"I got some disheartening news back, that I've verified from multiple sources now: They're going to drop the Apu character altogether," said Shankar, who's known for producing the Netflix series "Castlevania" and the movie "Dredd."
"They aren't going to make a big deal out of it, or anything like that, but they'll drop him altogether just to avoid the controversy," Shankar added.
In a brief statement to HuffPost on Monday, "Simpsons" executive producer Al Jean neither confirmed nor denied Shankar's claim ― though he did point out that "Apu appeared in the 10/14/18 episode 'My Way or the Highway to Heaven.'"
Jean also addressed Shankar's remarks in a tweet.
Debate over Apu, a South Asian character voiced by white actor Hank Azaria, was reignited by comedian Hari Kondabolu's documentary "The Problem With Apu." The film pointed out how the brownface character became the source of many painful stereotypes attached to the South Asian-American community.
Shankar says he learned the news about Apu after he launched a spec script-writing contest for his Bootleg Universe site, in which he challenged his followers to come up with the perfect plot line to turn Apu into a "fresh, funny and realistic portrayal of Indians in America." He found the perfect script to pitch to "Simpsons" producers, he told IndieWire, when he was informed the character would no longer be a part of the show.
Kondabolu himself responded to the possible canning of the Kwik-E-Mart owner with disappointment.
Apu has drawn criticism from many prominent South Asians, including Priyanka Chopra, who referred to him as the "bane" of her life growing up.
"Yes, it's a cartoon. Yes, it's a pop culture super-successful show," Chopra said on "The View." "But that gives it more responsibility."
But those working on "The Simpsons" have had mixed reactions to the critiques. Azaria himself said during an appearance on "The Late Show With Stephen Colbert" that he'd be happy to step aside from the character.
"I think the most important thing is we have to listen to South Asian people, Indian people ... about what they feel and how they think about this character and what their American experience of it has been," Azaria said.
However, Groening has been dismissive of the South Asian community's comments, saying in April that he thinks "it's a time in our culture where people love to pretend they're offended." And in an interview with The New York Times, he even claimed that the character, rife with stereotypes, is a nod to the iconic "Apu Trilogy" ― a trio of Bengali films heralded as cinematic masterpieces.
"I love Indian culture and Indian film and Indian music. I thought that the name was a signal that we had, at least, a scholarly intention," Groening said. "I thought maybe a kid was going to grow up and find out what the name came from and go watch the Apu Trilogy, which are the greatest films, basically, in the history of cinema."
"The Simpsons" started its 30th season in September.
This post has been updated with Jean's statement and tweet.
Popular in the Community