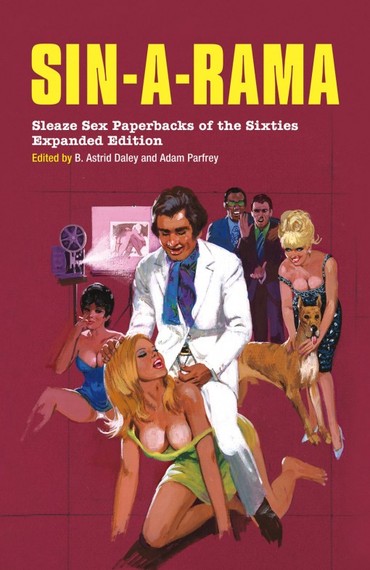 I don't believe in God, but synchronicity can make a good case for some sort of grand design. About a month or so ago I had received a book in the mail titled Sin-A-Rama: Sleaze Sex Paperbacks of the Sixties Expanded Edition from the good people at Feral House. This came at a time when I was in the midst of planning my curatorial debut on this very subject.
Editors B. Astrid Daley and Adam Parfrey have compiled an important collection of historical essays tracking the publishers, editors, writers, illustrators, and gangsters who were making money turning out commercial smut in great volume. In the history of publishing, these guys (unfortunately very few women) waged an important First Amendment battle, sparked by the usual pervert moralists who exist in every generation. These books paved a foundation for the 1960s sexual revolution in plain sight of mainstream American culture. And the artwork looks damn good in 2016.
I recently had the great pleasure of speaking with writer and editor B. Astrid Daley on all of the above.
MN: Can you give a brief description of Sin-A-Rama?
AD: Sin-A-Rama is a profusely illustrated chronicle of the smut peddlers, pulp writers, and illustrators who helped burst open a Pandora's Box of the forbidden that would usher out Eisenhower era repression and usher in the libertine spirit of the Sexual Revolution. Not only are sleaze books historically relevant, having played a major role in obscenity law, they also are a delightful product of their time.... stories and illustrations of Hells Angel style biker gangs, groovy hippie love-ins, Mad Men style office hijinks, and suburban swingers swapping spouses at key parties. And for lovers of American illustration art, they are undeniably eye candy.
MN: I think that these sexually adventurous pulp novels are a direct result of the sexual repression occurring in the culture during the mid-twentieth century. Do you see them that way?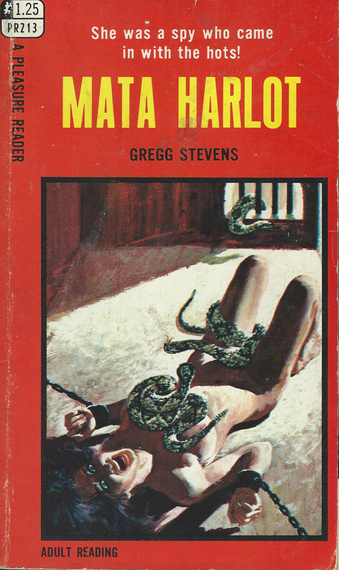 AD: I think that's very true. Carl Jung said, "What you resist persists." The repressive 1950s culture couldn't keep the lid on sexuality forever. Sex is a powerful biological force, and one that will find expression one way or another. Pulp could be seen as a regression into fantasy, whether we're talking bug eyed aliens or the sexy exploits of go-go dancers.
MN: Tell me a little bit about the history of "sleaze publishing"? How does Sin-A-Rama fit into the historical writing currently available on pulp fiction novels?
AD: Arguably, the earliest "sleaze" books were published by companies like Beacon Books and Midwood Books. These were more of the "soft sleaze" variety...not as clearly defined as "sex" books as say another early publisher, and the most prolific - Greenleaf. Sleaze really begins in 1959 with the first Greenleaf book under the Nightstand imprint, Love Addict. The primary objective of a sleaze book was to titillate the reader, while at the same time managing to steer clear of the censors. Even in the early 60s when euphemisms for sex abounded, sleaze publishers would face legal battles that would pave the way for more liberal obscenity laws.
Before the first edition of Sin-A-Rama was published, a few major books had discussed the history of the vintage paperback, most notably The Great American Paperback by Gary Lovisi. There were also several price guides for vintage paperback collectors. Still, no book had really delved into sleaze until Sin-A-Rama. A few other books like Queer Pulp and Strange Sisters are excellent resources for LGBT pulp erotica. Around the same time as Sin-A-Rama, Young Lusty Sluts was published; it covers more of the "porn era" that followed sleaze.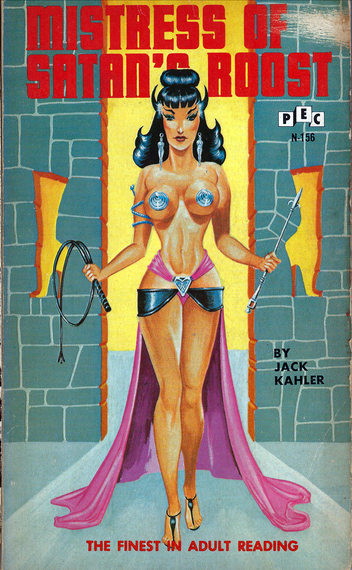 MN: This was first published eleven years ago in 2005, right? Why an expanded edition now?
AD: Yes, the original edition was published in 2005. We wanted to include some of the amazing covers we didn't get to showcase on the first go-round. It was also an opportunity to explore new topics. I wrote pieces on Occult Sleaze and Swinging Sleaze plus an artist profile on Chet Collom. This was also an opportunity to release Sin-A-Rama with a new, more risqué cover, better aligned with the spirit of sleaze. Back in 2005, the distributor was concerned that a salacious cover would get the book banned by the chain stores.
MN: I'm particularly interested in the illustrations. How did you track all these illustrations down?
AD: Most were purchased from specialty dealers who sell illustration art as a niche. Some were obtained from eBay sellers who acquired them by happenstance. I'm not sure of the story behind how some of those eBay sellers got the pieces.
MN: How were the image rights handled on a book like this? Did you need to involve a fair use attorney?
AD: I didn't have any role in the legal side of things, although fair use is the legal standard that allows these images to be shown without copyright infringement. Under fair use, images may be used to illustrate educational materials and certainly Sin-A-Rama is a course in sleaze!
MN: I think Earl Kemp is one of the more colorful characters to emerge from the story of pulp publishing. What are some of your favorite characters?
AD: Artist Gene Bilbrew, who also went by ENEG, is among my favorites. Bilbrew was one of the few African American artists who illustrated sleaze covers. His fetishistic style immediately caught my eye...the oddball characters on his covers stood out, which is saying a lot in the outlandish world of sleaze. Along with another African American sleaze artist Bill Alexander, Bilbrew created the "Bronze Bomber," the first black superhero. He was also a singer for the R&B group the Basin Street Boys. The Basin Street Boys' one hit was "I Sold My Heart to the Junkman," and sadly, the song would prove prophetic as Bilbrew would later die of a drug overdose, while living in the back of a bookstore. Jim Linderman does a great job chronicling Bilbrew's story in his book The Dangerous Years. Another favorite character of mine is artist Bill Edwards who illustrated covers for imprints like Saber, Vega, and Fabian. Edwards was a talented western artist, film/TV actor, and rodeo star. And who could forget sleaze writer and bad movie-maker extraordinaire Ed Wood.
MN: I think many people will be surprised by Ed Wood's other career as a pulp writer. Who was Robert Bonfils? It seems like he was the king of the pulp illustrators.
AD: Robert Bonfils' level of artistry and volume of work are unmatched by any sleaze illustrator; his technical skill rivals pulp illustrators of any genre. His hundreds of covers for Greenleaf are some of the most prized by collectors and fetch top prices. The bombshell women he painted could have just as easily been reproduced on a pin-up calendar or in a more "legit" men's magazine. Bonfils seemed to have more fun and pay more attention to detail than most illustrators. His characters are frequently smiling or coyly gazing out from the covers in elaborate scenes, often with full casts of characters in everything from orgy piles to conga lines to psychedelic love-ins. He captured the 60s zeitgeist of liberation and perhaps more importantly, ignited the fantasies of the pulp erotica reader, drawing him into taboo and alluring worlds outside the humdrum existence of cookie-cutter suburbia. For more about Bonfils' work and influence, the September 2004 issue of Illustration Magazine, with profiles by Robert Speray and Lynn Munroe, is a must-read.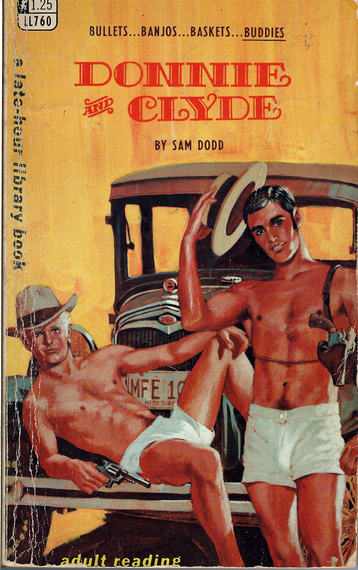 MN: Is pulp fiction something you've always been interested in?
AD: I first became interested in this type of material when I was a teenager. I was getting into Beat authors, so I bought a CD box set with a bunch of related audio recordings. Pictured inside the box set's booklet were a bunch of vintage paperbacks that were clearly exploiting popular stereotypes about the Beat Generation. Think funny titles such as, Like Crazy Man, stereotypical phrases like "dig it," and plentiful bongo drums. I asked my local bookseller if she had anything like this, and she brought out about 100 vintage paperbacks, very few with Beat themes but all with awesome illustrated covers and funny titles and cover blurbs. I was in love. From the more tame 1950s stuff, I then discovered the raunchier world of 60s sleaze, which I loved even more. This was the early days of eBay; I would spend hours scrolling through page after page of listings. The dial-up modem made the process tedious, but I couldn't take my eyes off of them and soon began amassing a collection, which today numbers in the thousands. They reminded me of the cheesy b-movies my brother and I used to sit up late watching in the 90's-- these movies were tame for sure but very taboo to us. I remember reveling at the rebellious b-movie bad girls whose adventures were so far removed from my small town upbringing. This early exposure to the taboo was the launchpad for my fascination with delightfully raunchy things.
MN: Feral House is a perfect home for this book. How did you meet Adam Parfrey and come to work on this with him?
AD: Funny enough, I met Adam on eBay. I was listing some doubles of sleaze books on auction, and I guess my thorough book descriptions, which included details about cover artists and author pen-names, caught his eye. He contacted me and asked me if I wanted to be involved with the book. I was 19 years old at the time and enthusiastically said yes. Not long after, Adam came to visit me in Fargo, ND, where I was attending college, so that he could review the books in our collection and discuss the details of Sin-A-Rama.
MN: Wow, so you were 19 and already found yourself to be an expert in vintage pulp novels? That's some great luck to have met Adam at that time. Was this a book he was planning on doing before you stepped in?
AD: Yes, it is a rather odd thing, I suppose, for a teenager to be into something so esoteric. I attribute my interest to growing up in a small town of 370 people where I felt like an outsider. Nothing exciting happened in my small town--the local newspaper even had a section where they would talk about people getting together for coffee or someone visiting from a nearby town. Not fitting in there helped me develop critical thinking and led me to question social norms....and in turn, that drew me to the taboo.
Adam's timing was great, indeed! When he found me on eBay, he had already been planning to do the book. I am grateful for the opportunity to work on Sin-A-Rama and to work with Adam and the Feral House staff. It was really cool that Adam gave me this opportunity at the ripe, young age of 19!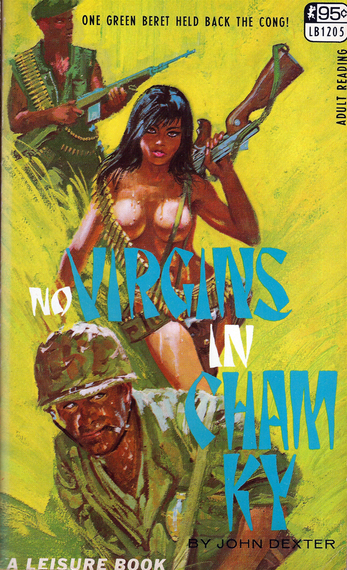 MN: Can you tell me a little bit about your swinger blog? How does your interests in sex pulps coincide with "the lifestyle" if at all?
AD: The blog, The Swinger Diaries, is the brainchild of co-author, Claire De Haven, whom I met in the local swinger Lifestyle. Through the blog, we share our ideas and experiences with non-monogamy and promote our upcoming memoir, also called The Swinger Diaries.
I do think there is an intersection between my interest in pulp erotica and swinging. In some ways, the swinger lifestyle feels like a living sleaze paperback. So, for me, it's another example of my fascination with the taboo. Being involved with a non-mainstream subculture, Claire and I found ourselves navigating an unfamiliar world full of both sexy and sometimes outrageous scenes, with a cast of zany characters shamelessly experimenting with the taboo, albeit without the distinctly 60s elements. However, the Lifestyle lacks the uber fantasy elements of sleaze. You're more likely to overhear soccer moms, having just swapped husbands, talking about a future play date for their kids, than to witness anything from Penthouse Forum or Fifty Shades of Grey.
MN: Where can people learn more about your work?
AD: You can find out more about me and my projects at www.bastriddaley.com. Outside of the Swinger Diaries memoir and blog, I also am about to publish Swap Confidential: Swinging in Popular Culture. My article on swinging sleaze in Sin-A-Rama is an excerpt from that book. I also have an upcoming article in The Sleazy Reader that discusses the life and career of popular sleaze artist Douglas B. Weaver.

You can also follow me on Twitter:
@swingerdiary
@astridswings
You can order Sin-A-Rama here.
Calling all HuffPost superfans!
Sign up for membership to become a founding member and help shape HuffPost's next chapter