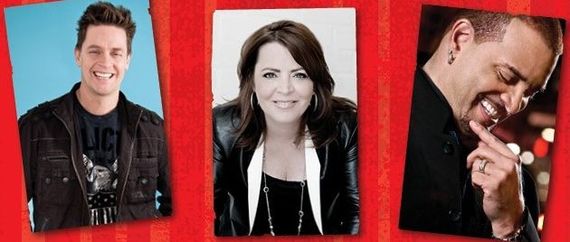 Serving as a combination five-year anniversary celebration and fundraiser for the non-profitGilda's Club, on Tuesday LaughFest presented comedians Sinbad, Jim Breuer, Kathleen Madigan and magician/Cupcake Wars host Justin Willman, hosted by 2011's inaugural Stand-Up Competition winner Michael Kosta. All veterans of the festival, they spoke backstage at DeVos Place, where for $250 a pop attendees partook in a cocktail reception, dinner and "The Signature Event" show, which went on to raise more than $131,000.
Sinbad: I'm from Benton Harbor, Michigan. I'm always shocked when people don't know, 'cause I talk about it all the time. I started comedy when I got kicked out of the military in Wichita, Kansas. There wasn't no showcases. You just had these little local places. All you could hope for was Johnny Carson. There was no HBO. I just thought someone would find you somewhere. But there were so many comedy clubs, hundreds of comedy clubs. So you worked and you worked and you worked and you worked.
Michael Kosta: I'm from Ann Arbor. The west side of the state was always nice. Nice to go to a city that didn't rely on car sales, for once. I have great memories here.
Kathleen Madigan: I just like Michigan. I may retire in north Traverse City, but don't tell anyone. I taped my last special in Detroit. I just like the people. And I love this city because it's small enough to have a festival where you feel connected. I never get to see these guys, 'cause we're all working separately, so it's really fun.
Breuer: This is definitely my favorite festival. I have a great feeling from the minute I show up. I feel the audience is manicured to laugh. It is a star festival, but they're really here for the comedy, and the Gilda thing is huge, and they're aware of it. I was hoping to come back here. I even asked my agency, "Can you please see if there's any interest...?" And before I even said it, I got invited. So I was excited.
Sinbad: Gilda was Saturday Night Live when Saturday Night Live was Saturday Night Live. She's one of the first people getting cancer, and she was still young. Even if you didn't know her you felt like you knew her, because she was in your house every week. We thought we were immune. We thought if you lived comedy, you were immune to that. And she was one of the first ones where, "Wow, we're going to lose her."
Justin Willman: Some festivals have a charity tie, but that sometimes gets lost as an afterthought. But I think LaughFest has a reputation of being first and foremost for Gilda's Club. People know that there's a great caliber of talent coming, and they know that the comedians are there because of the cause, and the people are coming because of the cause, and I think that makes for a better vibe. And the colder weather means people want to be huddled inside, laughing.
Kosta: My sister's a hospice nurse. The first time I was here we went and toured Gilda's Club. It's hard not to be moved by it. I just think it's really, really important. There's so many examples of comedians fighting all different types of mental and physical illness, so it just feels good to come be with everybody and move towards this one goal.
Breuer: My wife had breast cancer, and now they found it in her lymph nodes. Technically it's still breast but it's in her lymph nodes, which I guess is heavier. She's got a bald head. She shaved it today. And we'll have fun with it. Maybe I'll spray-paint it. My dad passed in August, my sister was a couple weeks later. So yeah, it's been a fun couple months.
Kosta: That's why I do this, I think: To tackle the things that are too difficult to tackle offstage. We all try to use laughter to diffuse the situation and heal and help.
REAL LIFE. REAL NEWS. REAL VOICES.
Help us tell more of the stories that matter from voices that too often remain unheard.