Jenny Hirt's family is giving a new meaning to hand-me-downs. Nineteen members of her family have worn the same dress to their first day of kindergarten since 1950.
Jenny has sent both of her daughters, 4-year-old Caroline and 6-year-old Ally, to school wearing the yellow dress with purple details. The dress has been in her family since her aunt, Martha Esch, wore it in 1950. Jenny's great-grandmother, Maude Hatton Bryant, sewed the dress, and her grandmother, Helen Esch Stewart, did the embroidery.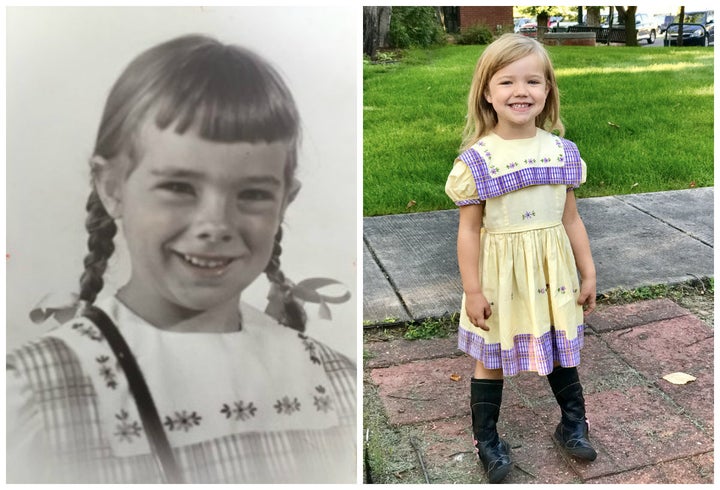 The Durango, Colorado, mom wore the dress when she started kindergarten in 1981. While being passed around to 19 different eager kindergartners, the outfit has traveled to seven states: Michigan, North Carolina, Arizona, Oregon, Colorado, Ohio and Florida.
This summer, Jenny made minor repairs to the dress and noticed the buttons had been moved around at least three times. She assumed other relatives had modified the outfit to make it fit the kindergartners in the family.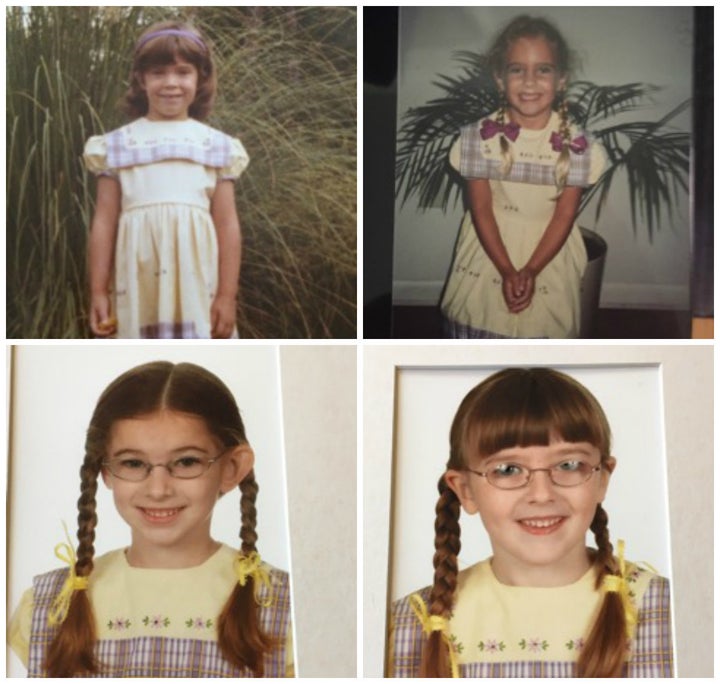 While Jenny's oldest, Ally, was thrilled to wear the dress since she knew her mother and grandmother wore it on their first days of school, her youngest, Caroline, decided to put her own twist on the outfit before agreeing to wear it.
"She had to wear her favorite boots," Jenny told HuffPost. "And she also refused to put her hair in pigtail braids as was part of the tradition. As a mom, you know, we pick our battles, and all I was really focused on was Caroline having a positive first day of kindergarten."
Jenny joked that her niece, Sylvie Johnson, who was the 19th person to wear the dress, had "a little bit of ice cream bribery" involved on her first day.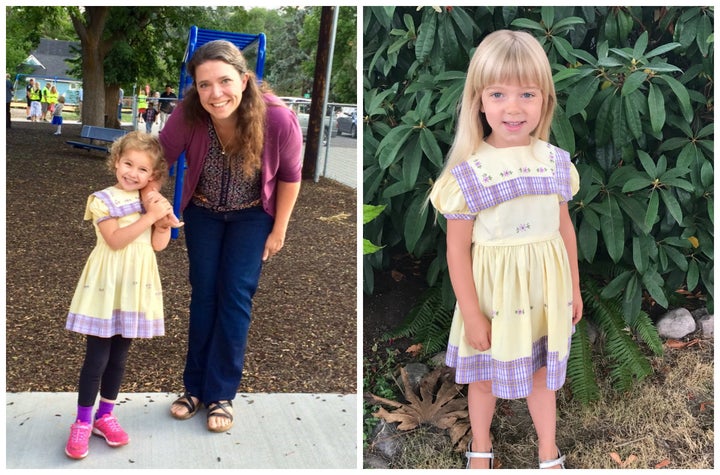 There are three more children ― ages 2, 3 and 4 ― in the family who will wear the dress next. Jenny said her family values handing things down to each other and keeping traditions.
"That includes recipes, clothes, jewelry, artwork, chairs, musical instruments ― you name it!" she said. "When I was pregnant with my first daughter, my mother sent me boxes of my childhood clothes and toys that she kept for years waiting for me to have my first child. Ally and Caroline have played with many toys or lovies that used to be mine when I was a little girl."
Ally especially loves wearing the old clothes.
"A sweater I had since 1979 is one of her favorite sweaters," Jenny told HuffPost. "She even wore an outfit to school one day last year where she wore my Aunt Martha's skirt from the 50s and my sweater from the 70s."
Jenny told HuffPost she hopes her family's tradition with the dress encourages other families to take a break from the chaos and savor the things they find meaningful.
"It is a way to carry on the memories of family members, try to instill pride of tradition in our kids and bind us together as a family," she said. "It's a big deal to us."
Popular in the Community