"They should have been here."
That was the mantra running through my mind on repeat and making my heart race with sorrow even now, almost 12 months later. "They" referred to the 49 dead queer folks gunned down at Pulse Nightclub a year ago today. "Here" meant the St. Petersburg Pride festival taking place a few weeks after the Latin night which would be the last night Pulse stood as a safe haven for LGBTQ people living in central Florida, shortly before it became shorthand for yet another site of uniquely American devastation.
At the head of the parade were people marching with the names of the dead in their hands, stand-ins for the beautiful lives cut short by hatred and bigotry and a culture which propagates both. As their names moved silently through the crowd I hugged my lesbian friends and choked out the only thing I could: "they should have been here."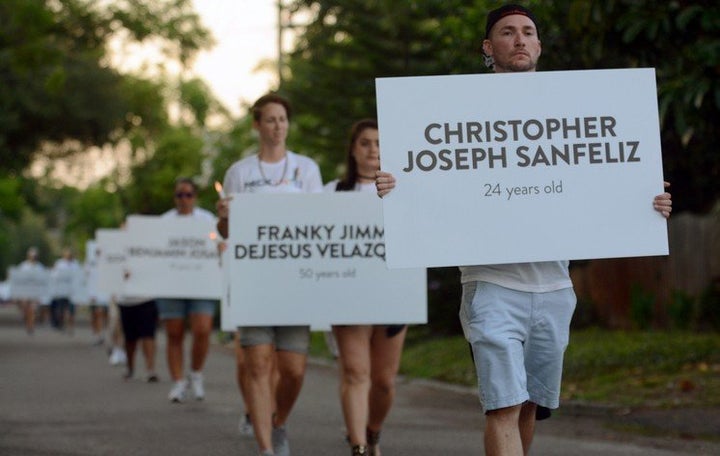 The 49 victims at Pulse were honored numerous times that night, and on many other nights across the nation. I happened to attend the Orlando City soccer match where 49 rainbow balloons marked out seats reserved for the dead and a 49th minute moment of silence stopped play. The Tony Awards, held just hours later after the tragedy, featured many a sobbing reminder that the theater is a place where love is love is love. Then-President Barack Obama had this to say about the massacre, in part:
This is an especially heartbreaking day for all our friends  ―  our fellow Americans  ― who are lesbian, gay, bisexual or transgender. The shooter targeted a nightclub where people came together to be with friends, to dance and to sing, and to live. The place where they were attacked is more than a nightclub  ― it is a place of solidarity and empowerment where people have come together to raise awareness, to speak their minds, and to advocate for their civil rights. So this is a sobering reminder that attacks on any American  ― regardless of race, ethnicity, religion or sexual orientation  ―  is an attack on all of us and on the fundamental values of equality and dignity that define us as a country
Millions of Americans recoiled in horror, struck back in anger, stood together in solidarity, or, like myself, wept in anguish. The city of Orlando bought Pulse and plans to turn it into a memorial. As a nation we hosted vigils, donated our time and money, tattooed rainbow pulses on our bodies, rainbow-ed our social media profiles, and declared #lovewins.
And six months later, with the future of LGBTQ Americans on the line, we sent foxes to the hen house.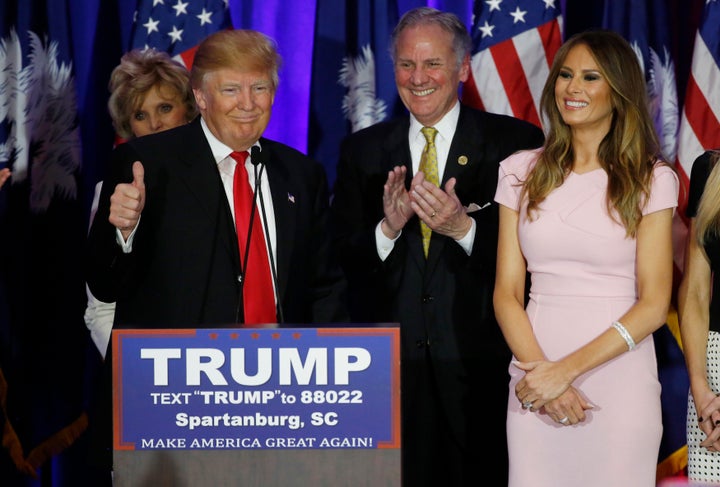 Of course, many factors influenced the ballots cast last November. But as I consider that the first 11 days of this Pride Month have all included a heavy dose of Trumpian surrealism, from our crashing withdrawal from the Paris Accords to Jim Comey's testimony, to yesterday's Tony Awards featuring numerous ACLU ribbons, I am painfully aware that the country's political response to the deadliest shooting in US history was to grant a group of proud bigots immense power.
In those first few days after the election, as I wandered Stetson University's campus bewildered and afraid, one question burst from my skull on numerous occasions.
At the time, I asked not only if other LGBTQ people and I mattered but also my fellow Black and Hispanic people, the women and non-binary people who have saved so many of us, the immigrants building America's underbelly, the poor and the sick and everyone else preparing to have their daily struggles compounded by the world's most powerful government.
I should have asked that question for the 49 dancers, lovers, friends, family members, unique flames snuffed out on a June night just six months earlier. I would have known immediately what seems so obvious to me now. For millions of my fellow Americans, they, I, and the rest simply do not matter. To the Bannonites, Pence people, and everyone else who thinks what I do in the privacy of my bedroom condemns me, I matter less than the dirt they hope to shovel over my body.
A year after I awoke to some of the worst news I have ever seen, five months after watching those who would destroy us take office, sometime after most of the country moved on as though nothing happened, I am burning to fight.
Over the past few years, building a LGBTQ family and support network has saved my life, enabled me to discover myself, live out my passions, and hope in even the bleakest moments. I hope to take the strength they have given me and pay it forward ten times over. Together, in solidarity as an LGBTQ community linked with the rest of the oppressed around us, I believe that one day we can be truly free.
We shall not rest until we honor the lives and spirits of the 49 who came together in love and joy only to be slain by hate. We remember them, and together we will not fail them forever.
I sign off with eternal love, sorrow, and remembrance for:
Stanley Almodovar III, 23 years old
Amanda L. Alvear, 25 years old
Oscar A. Aracena Montero, 26 years old
Rodolfo Ayala Ayala, 33 years old
Antonio Davon Brown, 29 years old
Darryl Roman Burt II, 29 years old
Angel Candelario-Padro, 28 years old
Juan Chavez Martinez, 25 years old
Luis Daniel Conde, 39 years old
Cory James Connell, 21 years old
Tevin Eugene Crosby, 25 years old
Deonka Deidra Drayton, 32 years old
Simón Adrian Carrillo Fernández, 31 years old
Leroy Valentin Fernandez, 25 years old
Mercedez Marisol Flores, 26 years old
Peter Ommy Gonzalez Cruz, 22 years old
Juan Ramon Guerrero, 22 years old
Paul Terrell Henry, 41 years old
Frank Hernandez, 27 years old
Miguel Angel Honorato, 30 years old
Javier Jorge Reyes, 40 years old
Jason Benjamin Josaphat, 19 years old
Eddie Jamoldroy Justice, 30 years old
Anthony Luis Laureano Disla, 25 years old
Christopher Andrew Leinonen, 32 years old
Alejandro Barrios Martinez, 21 years old
Brenda Marquez McCool, 49 years old
Gilberto R. Silva Menendez, 25 years old
Kimberly Jean Morris, 37 years old
Akyra Monet Murray, 18 years old
Luis Omar Ocasio Capo, 20 years old
Geraldo A. Ortiz Jimenez, 25 years old
Eric Ivan Ortiz-Rivera, 36 years old
Joel Rayon Paniagua, 32 years old
Jean Carlos Mendez Perez, 35 years old
Enrique L. Rios, Jr., 25 years old
Jean Carlos Nieves Rodríguez, 27 years old
Xavier Emmanuel Serrano-Rosado, 35 years old
Christopher Joseph Sanfeliz, 24 years old
Yilmary Rodríguez Solivan, 24 years old
Edward Sotomayor Jr., 34 years old
Shane Evan Tomlinson, 33 years old
Martin Benitez Torres, 33 years old
Jonathan A. Camuy Vega, 24 years old
Juan Pablo Rivera Velázquez, 37 years old
Luis Sergio Vielma, 22 years old
Franky Jimmy DeJesus Velázquez, 50 years old
Luis Daniel Wilson-Leon, 37 years old
Jerald Arthur Wright, 31 years old
May they rest in peace. May their memories fuel us to create a more just world.
Calling all HuffPost superfans!
Sign up for membership to become a founding member and help shape HuffPost's next chapter
BEFORE YOU GO