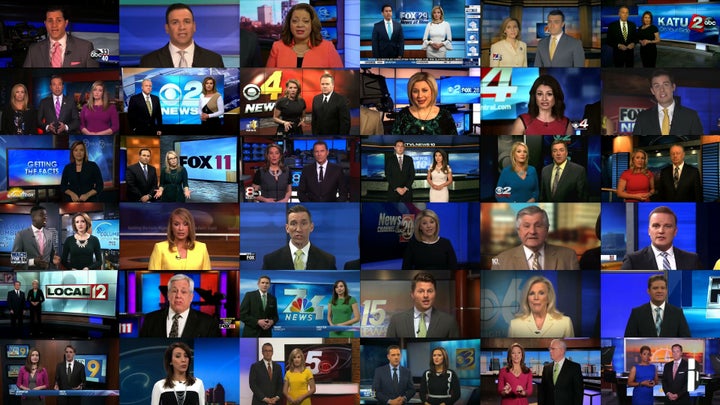 Last week, ThinkProgress and Deadspin both posted video compilations of anchors at television stations around the country reciting the same script regarding "the troubling trend of irresponsible, one-sided news stories plaguing our country." This was no coincidence. The anchors all worked for the conservative-leaning Sinclair Broadcast Group, and the bosses at the corporate offices wanted them to toe the line.
We spoke to a Sinclair anchor this week about the script, the blowback and what people have gotten right and wrong about Sinclair's relationship with the local stations. The essay below, based on an interview with the source ― who requested anonymity for job security reasons ― has been edited and organized for clarity.
We were asked to do this, and I was actually the person who recorded it. I didn't think that it was my job to say any of this, but I was very much made to feel like doing this was not a choice and that my job was on the line if I didn't.¹
The CNN article just came out a month ago, and I just knew this was going to be on everybody's radar.² But here's an important thing: That thing ran twice a day every day last week, and we got not one complaint about it. It wasn't until Deadspin put this video together that everyone freaked out about it. It's been brutal. We got about 60 emails ― hateful emails ― yesterday, dozens of phone calls, people yelling profanity at us. I have people yelling at me, saying I'm a zombie, that I'm soulless, that I've sold my integrity, which is not nice to hear. So yeah, it sucks.
The video is very weird. It makes it seem crazy. It totally does. Did I think that we should have to do this? No, it's not my job. All anybody in any of these stations wants to do is come to work and cover the news. That's all we want to do.
But at the same time, if you really just listen to what we're saying, it's not that egregious. Everybody has to do things that they don't necessarily agree with, but there's a range on the scale of what is truly egregious, and I don't think this is that bad. That nobody complained about it until this montage came out is evidence of that.
I would say that most of the people who are commenting on this have never even watched our local newscast. They see this thing on Deadspin. They see that we're a Sinclair station. They assume what they want to assume about it. But we produce good news here. Sinclair does not tell us what to cover, who to talk to, or what to say in terms of local coverage. Our local news, it doesn't have bias. If people are looking for it, they won't find it.
So don't call me a zombie. I do damn good work on a daily basis and anybody in my community would tell you that. We're all over the place here. The problem is not the message of this promo. The problem is asking your local newscasters to do this in the first place. That's not our role.
I've worked for Sinclair since [year redacted] and in that time, the only new thing that has started is the Boris Epshteyn thing.³ Other than that, we were never told, "Oh, you have to cover only Donald Trump," or "You can only cover Hillary." We were never told that. Nobody has ever said that to us.
It's just the "must-runs" that they send us. And really, the only egregious "must-runs" they send us are Boris Epshteyn ― and we have these other ones that are by this guy named Mark Hyman.⁴ The Boris Epshteyn pieces, I mean, yeah, they're crazy. They're very clearly labeled as commentary. The other pieces that they send us are from the Washington bureau. Those pieces are basically covering the news of the day that happens in Washington. Those are not biased in any way.
All those people who are like, "I would quit," that's really easy for you to say. CNN put something out calling all the news anchors complicit or zombies or whatever yesterday, and I just think that portion of this is unfair. These jobs ― they're very hard to come by. And if I quit, I owe the company 40 percent of my salary, plus a percentage of the [redacted] years remaining on my contract, plus any bonuses that they've paid to me and any reimbursements that they've paid to me.⁵ And they're going to take me to court for it. And in the time that I'm in court, I'm not employable.
Would I prefer to work with no contract? Of course I would. Would it be great if they would outlaw contracts in the state of [redacted]? Absolutely. Outlaw contracts in the country? Sure. Will that ever happen? No. It's the cost of doing business in this industry.
This promo, did I want to do it? No, because I don't think it's my job to say anything for anybody else. It's my job to tell you the news. That's it. But you know, it's one thing if they were like, "Listen, I want you to do a promo that says Donald Trump is the greatest person that ever walked the face of the earth and everybody should vote for him." That's crazy. I would never do that. And at that point, I would say, "Listen, take me to court." But saying these words, saying that I think balanced journalism is important ― I don't think that's worth quitting my job over.
If you want to stop watching us, I don't care. If you want to boycott our advertisers, go for it. I greatly encourage people to do all of those things. But those things don't hurt Sinclair.
If you want to make a difference, lobby your lawmakers to have them stop the Tribune deal from going through, because that is what is dangerous about this.⁶ It's dangerous for any company to own as many stations as Sinclair does. Healthy competition is a good thing.
Talk to your lawmaker about it. That is what will actually make a difference. Hate-tweeting me? That doesn't make a difference.
Footnotes
¹ "No one was told their job was on the line," a Sinclair spokesperson said when reached for comment.
² CNN's Brian Stelter published an article on March 7 that quoted local anchors at Sinclair stations "describing the company's latest mandate, a promotional campaign that sounds like pro-Trump propaganda."
³ Sinclair hired Epshteyn, a former Trump White House official, as a chief political analyst in April 2017.
⁴ Hyman is a longtime member of the Sinclair empire. In January, he announced he was stepping down as a commentator after being diagnosed with a brain tumor.
⁵ The terms of Sinclair's contracts have been reported out by multiple outlets, including Bloomberg. When asked about the contracts, a Sinclair spokesperson said, "Liquidated damages are standard in our industry."
⁶ Sinclair is awaiting federal permission to buy out Tribune Media, which would add more than 40 stations to its stable, according to the Chicago Tribune.
If you have additional information about Sinclair you would like to share, you can reach out to Maxwell Strachan at maxwell@huffpost.com.
Related
Popular in the Community