Sinclair Broadcast Group, the largest owner and operator of local TV stations in the U.S., is under fire this week for requiring dozens of its news anchors to recite an on-air critique of "fake" news stories, echoing the language of President Donald Trump and his allies in their attacks on the media.
Some employees have spoken out about their frustration at having to parrot the conservative politics of their employer. Others say they'd like to do more, but they're wary due to what they say is Sinclair's policy and practice of closely monitoring its employees.
Sinclair's employee handbook, provided to HuffPost, states that the company "may monitor, intercept, and review, without further notice, every employee's activities using Company's electronic resources and communications systems."
The handbook goes on to state, "To be very clear: you should not have any expectation of personal privacy in any communication using Company owned equipment."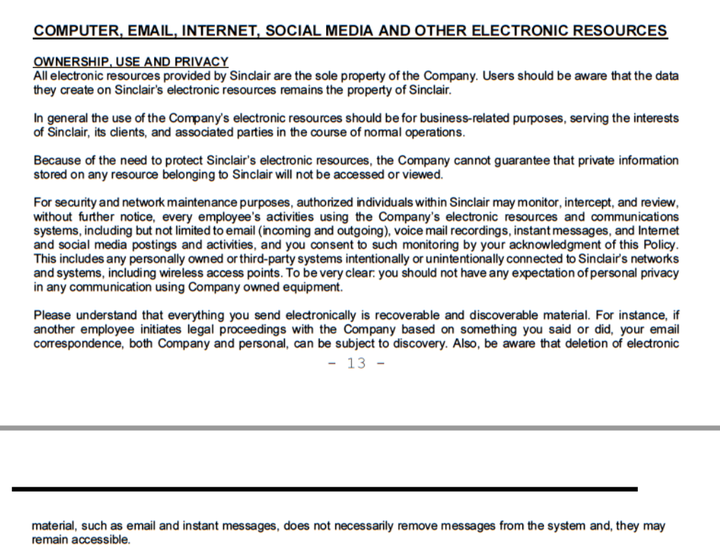 Read the entire Sinclair employee handbook here.
Labor lawyers tell HuffPost such language is common in workplace handbooks and contracts. But Sinclair employees say the company's culture and behavior have made them particularly mindful of such policies.
"There's a lot held over us," a journalist at a Sinclair affiliate told HuffPost on the condition of anonymity. "They pay attention to what websites we're on."
The employee added Sinclair monitors its employees' social media accounts "with a magnifying glass."
On Tuesday, the TV News website FTLLive published an internal memo sent by the general manager of Sinclair affiliate KATU in Portland, Oregon, urging his staff to not speak with the press.
"I will also remind you that giving statements to the media or sharing negative information about the company can have huge implications," Robert Truman, KATU's general manager, wrote.
Sinclair employees say their parent company often pays especially close attention to its affiliates' editorial activities, meddling in how they present their stories and graphics, and sometimes going so far as to delete offensive comments on an affiliate's online articles before that station's own web editors have a chance to do so.
Critics say the "fake news" statement, which aired on Sinclair affiliates last month and was brought to national attention by a video produced by the sports website Deadspin, is another example of a conservative agenda that the broadcast giant has pursued for over a decade. Such efforts include promoting favorable coverage of Trump's 2016 campaign and requiring affiliates to air conservative commentaries by Boris Epshteyn, a former Trump adviser.
Employees at Sinclair affiliates tell HuffPost that the "fake news" script is in keeping with a culture fostered by their parent company that often makes them uneasy, forcing them to choose between their own journalistic standards and the ability to do their jobs and put food on their tables.
"The new scripted 'fake news' segment caused a lot of anguish where I work," one Sinclair journalist told HuffPost. "If you choose not to air a must-run, you choose to flip off your parent company, in a sense, and risk losing resources."
"Everyone, including the anchors and the producers and the news director, hates Boris," the employee added, referring to Epshteyn's segments. "Everything Sinclair gives us or forces upon us is met with uproar, but we have no choice."
Epshteyn did not return a request for comment.
Another Sinclair affiliate employee, an on-air reporter, told HuffPost he and his colleagues are concerned about the effect the segment is having on their reputations for impartiality.
"I feel really bad for the anchors who are in the promos, because it paints them in a negative light and in a manner which is not truly who they are," the reporter said. "The 'fake news' phrase automatically associates us with Trump and his administration and in turn the beliefs of that political party. The irony in the promo is that the message does in fact have an agenda and is not 'unbiased.'"
"I spoke with both anchors at our station about the promo and they hate it," the same employee added. "We all do."
One anchor, who declined to comment, instead pointed HuffPost to a Facebook post by Norma Holland, anchor of "Good Day Rochester" the morning news program broadcast by WHAM-13, a Sinclair affiliate in Rochester, New York. In her post, Holland, who was one of the anchors who delivered the "fake news" script, described the dilemma posed to her and her colleagues.
"The Sinclair message you saw me and my colleagues in has damaged the trust you place in us — a trust that's taken, me in particular, 22 years to build. That hurts," Holland wrote.
"I could have chosen to quit, but who among us has an alternate career in their back pocket ready to go?" she continued. "I have a family to support. That's not an excuse — that's reality."

On Tuesday, Bloomberg reported that Sinclair employees face stiff penalties for quitting or otherwise violating their contracts, including clauses that could cost them upward of 40 percent of their annual salary.
"Everything Sinclair gives us or forces upon us is met with uproar, but we have no choice."
Scott Livingston, Sinclair's vice president of news, sent employees a memo this week defending the company's "fake news" segment, trumpeting the reporting of its affiliates and lambasting the practices and ethics of the company's critics.
"Honestly, most of the Sinclair critics don't seem to do their own original reporting," Livingston said in the memo, first reported by CNN and obtained by HuffPost. "These reporters aren't producing original journalism; they are aggregating often-flawed-reporting-content published by other media outlets without fact checking it ― or calling us to confirm any of it."
Representatives for Sinclair declined to comment on the accusations of employee monitoring and instead directed HuffPost to a press release from Livingston released on Monday.
"We aren't sure of the motivation for the criticism, but find it curious that we would be attacked for asking our news people to remind their audiences that unsubstantiated stories exist on social media, which result in an ill-informed public with potentially dangerous consequences," Livingston wrote.
Trump on Monday also weighed in on the controversy surrounding Sinclair, tweeting, "So funny to watch Fake News Networks, among the most dishonest groups of people I have ever dealt with, criticize Sinclair Broadcasting for being biased."
"The Fake News Networks, those that knowingly have a sick and biased AGENDA, are worried about the competition and quality of Sinclair Broadcast," the commander-in-chief tweeted. "The 'Fakers' at CNN, NBC, ABC & CBS have done so much dishonest reporting that they should only be allowed to get awards for fiction!"
This story has been updated with a link to the entire Sinclair employee handbook.
Popular in the Community