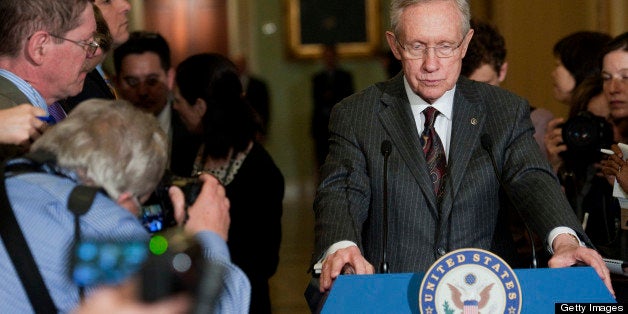 The ability of a minority in the U.S. Senate to block common sense gun violence prevention measures -- including background checks to keep guns from violent criminals and mentally unstable people -- is a victory for the NRA, whose leadership has sided with criminals and terrorists over the common good of our nation.
In short, the U.S. Senators who sided with the NRA's leadership committed a sin and compounded the tragedy of Newtown.
President Obama has shown great leadership in leading the charge since Newtown in advancing the cause of reducing gun violence. America's religious leaders, including the National Council of Churches and the U.S. Conference of Roman Catholic Bishops, have joined him and the polls have shown that 90 percent of the American people have supported measures such as background checks. NRA members by a large majority have bucked their leadership to support the president's goals.
But 90 percent of Republicans in the Senate, joined by some Democrats, where able to block the will of the majority both in the Senate and the will of the American people. Schools, houses of worships, malls, theaters and other public places will also remain unsafe (no wonder terrorists are telling their supporters to exploit America's lax gun laws). The only winners today are criminals and those who would do violence to the American people.
Too many people in our nation put their faith in guns instead of God. The NRA even advocates arming more and more people -- including teachers. But an armed society is far from the Kingdom of God. Homes with guns are homes more prone to gun violence, including domestic violence and accidental shootings.
The fight to reduce gun violence will be fought on many fronts. We do need new laws to protect our citizens. Christians must continue to preach the message of the Prince of Peace who taught that violence was contrary to the will of God. At the same time, we must increase funding for mental health programs.
What we need in the United States is not division; what we need in the United States is not hatred; what we need in the United States is not violence and lawlessness, but is love, and wisdom, and compassion toward one another, and a feeling of justice toward those who still suffer within our country...
One month later Senator Kennedy would be assassinated.
But his vision is still the vision we should strive for. For today there is still too much violence and lawlessness, enabled in part by a radicalized NRA, when what we need is love, wisdom and compassion to guide our beloved nation forward. Like the fight for Civil Rights, the fight to reduce gun violence might take a great deal of time and struggle but we will fight for our children and "let justice roll down like waters, and righteousness like an ever-flowing stream" (Amos 5:24 NSRV).
Related
Popular in the Community