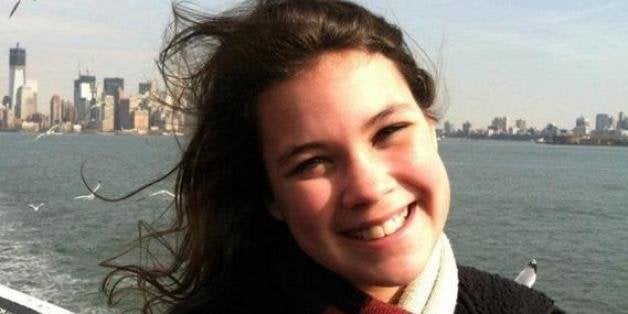 The world lost a beautiful person when Nicole Wilson passed away from complications of her type I diabetes at the tender age of 15.
Type I diabetes first appeared in the Wilson's lives when Nicole was diagnosed at the age of 2. The burden that type I brings to people and their loved ones is largely invisible to the outside world. It's one of those things in life that defies explanation; you really can't appreciate the unrelenting nature of acting as your own pancreas, 24 hours a day for the rest of your life, until you are forced to do it.
I learned about Nicole when a tweet that her sister Kelly sent went viral. Their parents, Chris and Deirdre, had the idea to contact Nicole's favorite band, One Direction, to ask them if they would dedicate a song to Nicole at an upcoming concert held at the Dallas Cowboys stadium.
@OneDirection my sister was your biggest fan, she passed away the other night in her sleep due to complications of diabetes. For her bday we were supposed to attend the concert in Dallas. We had such amazing seats and she was so happy to see yall. Can you all do something special for her at the concert. Her fave song was "Story of My Life," and that will be playing in her funeral video. #SingForNicole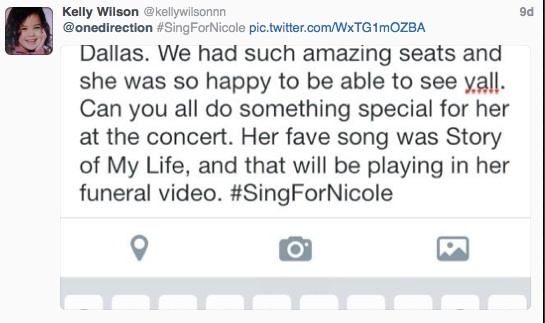 When Kelly first tweeted #SingForNicole, she was just trying to help her parents by keeping Nicole's beautiful energy in the world. Social media had different plans for her tweet. In no time, #SingForNicole went viral nationwide and when it did, the Wilson's goal began to grow. They decided to try and raise $3,000 dollars to send a child to Camp Sweeney as a way to help others and raise awareness. To date, they've raised over $35,000, started a charity and are well on their way to creating a beautiful tribute to Nicole that will benefit children for years to come.
Kelly hopes that people will remember her sister's smile, that she was the embodiment of boundless energy, a pure spirit who never let type I diabetes stop her from living her life to the fullest.
I hope that One Direction will take the stage later this summer at AT&T Stadium and Nicole's favorite member, Niall Horan, will step to the mic and dedicate her favorite song, "Story Of My Life," to Nicole. I hope that the crowd chants "Sing for Nicole" and I'd love to see endless tweets adorned with the hashtag that was typed by her sister, as her family tried to imagine how to bring sense and meaning to the loss of their little girl.
Be part of keeping the story of Nicole's life trending, because when you do you'll be supporting people everywhere who live each day with the uncertainty that type I diabetes brings.
Follow Kelly on Twitter - @KellyWilsonnn
Niall Horan - @NiallOfficial
Harry Styles - @Harry_Styles
Liam Payne - @Real_Liam_Payne
Louis Tomlinson - @ Louis_Tomlinson