Ever since man started to pay attention to the random noise around him, the organization of sound has led to all different kinds of music. Children who learn that by banging on certain objects they can produce different sounds quickly graduate to toy xylophones and drum sets.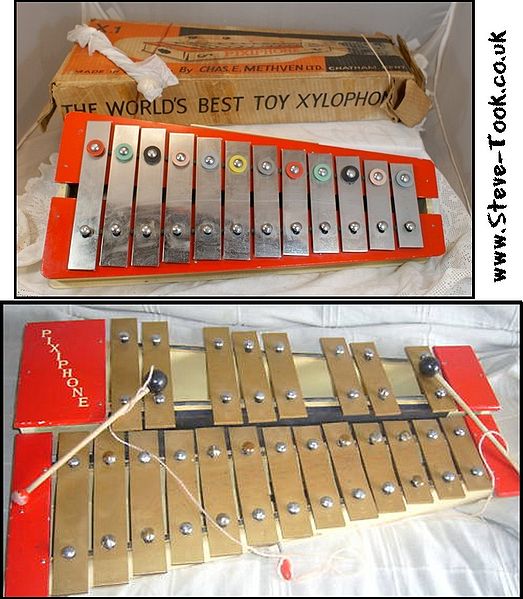 A toy xylophone (Photo: Courtesy of Wikipedia)
Once they become involved in group play (whether through day care centers or kindergarten), many children participate in rhythm bands where they are encouraged to play triangles, cymbals, tambourines, maracas, claves, sliding blocks and other percussion instruments. The basic goal of these activities is initially to develop a sense of music appreciation.
What happens to children who have figured out that nothing can stop them from making music for the sheer fun of it? In 2001, a group of Swedish musicians produced a deliciously droll short film entitled Music For One Apartment and Six Drummers .
The success of this video led to a 2010 full-length comedy-crime film entitled Sound of Noise, whose promotional blurb states:
This intriguing comedy follows six renegade musicians trying to fill their Swedish hometown with sound, even if they have to wreak a little havoc to hit the right notes. But hot on their trail is tone-deaf, music-hating policeman Amadeus Warnebring (Bengt Nilsson). While the six percussionists appropriate public areas and items to make their music, Warnebring wrangles with his demanding family and a boss intent on arresting every local musician.
Audiences at the 2012 San Francisco International Film Festival were treated to a screening of the group's five-minute short entitled Music For One X-Mas and Six Drummers in which the drummers, who are dressed up for a traditional Santa Lucia procession, duck into an old people's home to play a musical composition on a sewing machine and various Christmas decorations.
Independent cinema has come a long way since 1975, when The Rocky Horror Picture Show became a cult classic. On the basis of a delightful 15-minute short being screened at the Frameline 36 Film Festival it looks like Dr. Frank-N-Furter ("the sweet transvestite from Transsexual, Transylvania") has some stiff competition from a newcomer in the field: Doctor Glamour.
Written and directed by Andrew Jones, with production design and special effects by James and Robert Dastoli and some thrilling cinematography by John Heppe, this film follows the romantic adventures of science student Walter Gilman (Chris Shields) who thinks he has fallen in love immediately after meeting the beautiful Eve Walpurgis (Priscilla McEver).
When Eve is captured by a bizarre supernatural force, Walter has to find a demon of his own who can help him to free her. What better superhero to have as an ally than Doctor Glamour (John Charles Meyer), a rock and roll God who can guide Walter through surreal dreamscapes, give him a ray gun with which he can zap the tentacles of a giant squid, and help Walter discover the identity of his true love.
There is so much imagination, animation, music, and exuberant fun packed into 15 short minutes that there is no way for any reasonable person to resist the charms of Doctor Glamour. Here's the trailer:
Like many culture vultures, I first became aware of Voca People through its 2009 viral video. However, once I took my seat at the Marines Memorial Theatre, I found myself worrying if Voca People would turn out to be:
A bunch of white-faced clowns performing an a cappella version of The Persecution and Assassination of Jean-Paul Marat as Performed by the Inmates of the Asylum of Charenton Under the Direction of the Marquis de Sade.
A cross between The Swingle Singers and Blue Man Group nattily decked out in white suits.
A sung sequel to Gerald Arpino's 1968 ballet, The Clowns.
Created in the spring of 2009 in Israel by Lior Kalfon and Shai Fishman, Voca People has grown to include a resident eight-member ensemble in New York as well as an international touring company and a group touring North America. As its creators explain:
We didn't want a classic a cappella sound, but instead wanted to preserve and accentuate the original arrangements and well-known musical riffs of popular songs. In a sense, Voca People has a musical language of its own, with its own way of simulating guitars, brass, percussion, drums, and bass.
While it may sound a bit corny, the show's meager plot is a simple one. Space travelers from the Planet Voca have been forced to land temporarily on Earth. In order to get their spacecraft aloft once more, they must consume music created by Earthlings as a means of charging their rocket ship's power supply.
Voca People combines a cappella singing with beat boxing. Its performers (whose white faces are accentuated by bright red lips) encourage a great deal of audience participation as they roam the theatre's aisles while singing hit tunes from Mozart to Madonna and clowning around with theatregoers.
The Voca People show is a polished operation with an extremely secure group of triple-threat performers. Although there are moments when one worries that the show is going to wear thin, the group is resourceful and energetic enough to keep the audience keenly engaged and happily entertained.
Special kudos to beat boxers Boaz Ben David ("Beat On" ) and Inon Ben David ("Scratcher"), who become virtual orchestras capable of providing a fierce rhythmic foundation for the group. Others in the ensemble include Shimon Smith (Tubas), Matthew Bryan Feld (Bari-Tone), Adi Kozlovsky (Alta), Vered Sasportas (Mezzo), and Michal Reshef (Soprano).
I was especially impressed by the group's tenor, who I later realized was the talented Chris Dilley (a former Trampolina from the The Kinsey Sicks). If I had trouble recognizing Chris in his Voca People costume it's because, when decked out in high heels and a beehive wig, he's about 15 inches taller!
Because the Voca People ensemble (especially its beat boxers) is completely dependent upon the use of closely-positioned handheld microphones, the show could not succeed without Noar Ben Meir's solid sound design. Special credit goes to Roy Milo's creative lighting. Here's a sample of Voca People in performance:
Popular in the Community