For several decades, a debate has raged over whether the voices of opera singers should be used to sing the musical theatre repertory. San Francisco Opera's General Director, David Gockley, was at the forefront of including musical theatre when he was General Director of the Houston Grand Opera, which was the first opera company to mount a production of Sweeney Todd: The Demon Barber of Fleet Street. Over the course of his long career at HGO, Gockley oversaw productions of My Fair Lady, A Little Night Music, Annie Get Your Gun and Carousel (as well as national tours of Porgy and Bess, Show Boat, and Hello, Dolly!).
The Lyric Opera of Chicago is currently in the midst of producing the five most popular musicals created by Rodgers and Hammerstein (South Pacific, The Sound of Music, The King and I, Carousel, Oklahoma!).
Kurt Weill's musical works (The Threepenny Opera, Der Silbersee, Rise and Fall of the City of Mahagonny, One Touch of Venus, and Street Scene) have been staged by numerous opera houses, as have Leonard Bernstein's 1956 operetta, Candide, and his groundbreaking 1957 musical, West Side Story.
Other popular musicals such as Guys and Dolls, The Most Happy Fella, Cabaret, Kiss Me, Kate, Miss Saigon, Brigadoon, The Music Man, 110 in the Shade, Man of La Mancha, and Follies have been staged by opera companies on both sides of the Atlantic.
Shortly before she retired, soprano Barbara Daniels starred in Gypsy and Hello Dolly! at the 800-seat Tiroler Landestheater Innsbruck in Innsbruck, Austria. She recalled that:
I belted some, and I crooned some. Numbers like Gypsy's 'Small World' were almost legitimately singable, whereas Rose's line 'I had a dream!' or 'Have an Eggroll, Mr. Goldstone' were belting bombs, to be sure. I must add that due to the vocal unevenness of the cast (many of whom were dancers, sans voice, and others actors with little vocal equipment) there were mics for all. They turned mine to the lowest levels to adjust for differences in vocal delivery.
For many, the debate about whether or not musical comedy belongs in an opera house has been focused on several issues:
Is programming musical comedy an affront to traditional operatic audiences?
Can classically trained singers handle the diction required for musical comedy?
Can an opera company afford to stage a musical comedy in repertory?
Will microphones be necessary for the dialogue to be heard by audiences?
My take has always been that opera and musical theatre belong to a larger literature of works created for the musical stage.
Mozart was writing entertainment.
Over the years, Verdi's famous "Va Pensiero" chorus from 1842's Nabucco was often looked upon as the people's anthem for Italian unification. According to Wikipedia, "In 2009 Senator Umberto Bossi proposed replacing Italy's national anthem with "Va, Pensiero." Bossi's political party, Lega Nord, has proposed "Va, Pensiero" as the national anthem of Padania in the event that it secedes from Italy. In 2011 after playing "Va, Pensiero" at a performance of Nabucco at the Teatro dell'Opera in Rome, conductor Riccardo Muti made a short speech protesting cuts in Italy's arts budget, then asked the audience to sing along in support of culture and patriotism."
If one approaches the first two productions of the San Francisco Opera's 2015-2016 season as representative of the musical theatre of their time, one can draw surprising insights into each work that were probably not associated with their original productions. To quote William S. Gilbert's lyrics from The Mikado (1885):
Ko-Ko
There is beauty in extreme old age.
Do you fancy you are elderly enough?
Information I'm requesting on a subject interesting
Is a maiden all the better when she's tough?

Katisha
Throughout the wide dominion there's a general opinion
That she'll last a good deal longer if she's tough.

Ko-Ko
Are you old enough to marry, do you think?
Won't you wait until you're eighty in the shade?
There's a fascination frantic in a ruin that's romantic.
Do you think you are sufficiently decayed?

Katisha
To the matter that you mention I have given some attention
And I think I am sufficiently decayed!

Both
If that is so sing derry down derry
It's evident very our tastes are one.
Away we'll go and merrily marry
Nor tardily tarry till day is done!
In the late 1960s, when I was still fairly new to the world of opera, I was bingeing on musical styles that were alien to me. The first time I attended a performance of Elektra I had a visceral reaction to Richard Strauss's music. My first exposure to Turandot was the kind of experience that allows one's soul to fly on a magic carpet of Puccinian sound.
In February of 1968 I saw my first production of Luisa Miller. Too young at the time to appreciate the quality of the cast chosen for this rarely-performed opera by Giuseppe Verdi (Montserrat Caballé as Luisa, Richard Tucker as Rodolfo, Sherrill Milnes as Miller, Giorgio Tozzi as Count Walter, and Ezio Flagello as Wurm), I now have a vague recollection of the set and recall precious little about the evening's sound (that performance was conducted by Thomas Schippers).
Ironically, after decades of listening to collections of Verdi's arias and overtures, when I entered the War Memorial Opera House to attend my first performance of Luisa Miller in nearly 50 years, the music came rushing back to me. Not only did I feel like I was experiencing a reawakening to the stunning breadth, incisive depth, and dramatic strength of Verdi's score (Luisa Miller premiered on December 8, 1849 at the Teatro di San Carlo in Naples), I could also hear clear hints of musical phrases that would be further developed in La Traviata (which premiered on March 6, 1853 at the Teatro La Fenice in Venice).
Based on a popular play by Friedrich von Schiller (1784's Kabale und Liebe), the plot of Luisa Miller is filled with secret identities, political and romantic betrayal, curious villagers, and the childhood love once shared between two best friends. Its adult lovers face daunting hurdles of class barriers and economic inequality (her father's a farmer, his father's a political schemer who became a Count). And, of course, there's always some poison handy to bring matters to a tidy ending.
I don't know if the series of Puppeteasers commissioned by the San Francisco Opera was intended to attract new audiences from a generation of tech workers who grew up on Sesame Street and Saturday morning cartoons. So far, the ones I have seen strike me as a poorly conceived and desperately pandering marketing device that insults the intelligence of San Francisco Opera's audience. More simply stated, "Other than that, Mrs. Lincoln, how did you like the show?"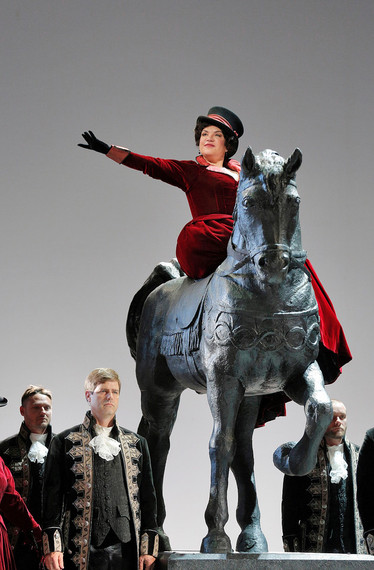 Federica (Ekaterina Semenchuk) makes a grand
entrance in Luisa Miller (Photo by: Cory Weaver)
With Nicola Luisotti on the podium, this revival of Francesca Zambello's production from 2000 holds up spectacularly well. The handsome red costumes that Dunya Ramicova designed for the chorus are effortlessly transformed into silhouettes thanks to Gary Marder's fluid lighting. I was fascinated by the mechanics behind Michael Yeargan's dextrous cyclorama and his elegant unit set (a tasteful approach to freshening up the look of an opera that is 150 years old).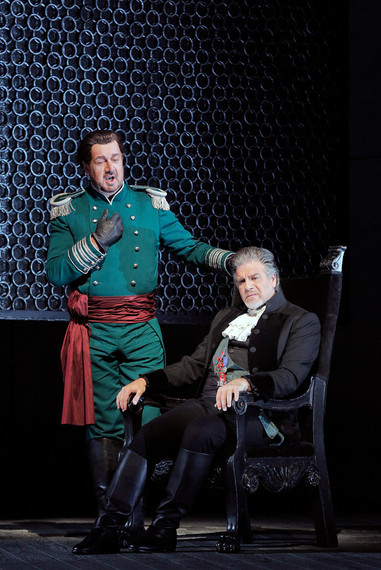 Wurm (Andrea Silverstrelli) and Count Walter
(Daniel Sumegi) conspire against Rodolfo's true love
in Luisa Miller (Photo by: Cory Weaver)
While there was much to delight the eye, the main assets of this revival were aimed at the ear. Verdi's 15th opera contains a wealth of magnificent arias, duets, and choruses. One can feel the powerful sweep of Verdi's score for Macbeth (1847) and, in Luisa's music, anticipate some of the arias he subsequently composed for heroines like Gilda in Rigoletto (1851) and Leonora in Il Trovatore (1853).
In the title role of the innocent Luisa, soprano Leah Crocetto (a former Adler fellow) demonstrated continued artistic growth and a robust sound resting on the foundation of solid training for a healthy young voice. As Miller (her father), Vitaliy Bilyy delivered some of the finest work of the evening (this was one of those welcome occasions when I'm reminded what a thrill it is to bask in the sheer glory of the unamplified human voice).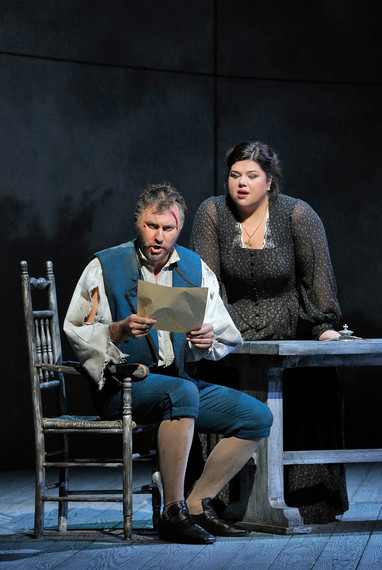 Vitaliy Bilyy (Miller) and Leah Crocetto as (Luisa) in a
scene from Verdi's Luisa Miller (Photo by: Cory Weaver)
In smaller roles, former Adler fellow Daniel Sumegi gave an impressive portrayal of Count Walter while, as Federica, Ekaterina Semenchuk made the kind of entrance opera divas can only dream about. Unfortunately, as the conniving Wurm, Andrea Silvestrelli sounded strained and almost raspy.
The big thrill of the evening (for those who were not exclusively rooting for Leah Crocetto) was tenor Michael Fabiano, whose impassioned performance as Rodolfo was musically and dramatically riveting. The tenor's singing had the intelligent phrasing that was so admired during Placido Domingo's long career and the clarion tones associated with artists like Franco Corelli. At this early stage of what is destined to become a major international career, Fabiano is not only in fine vocal health, but capable of showing audiences what a great artist can do with an excellent vocal instrument at his disposal.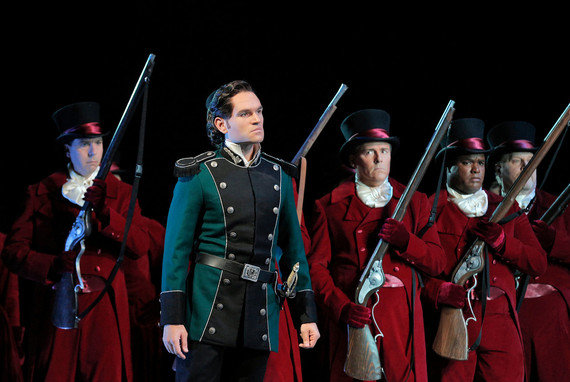 Michael Fabiano as Rodolfo in Luisa Miller (Photo by: Cory Weaver)
It has been a long time since I was so enthralled by the vocal splendor coming from an operatic stage. The following clip of highlights from 2015's San Francisco Opera production of Luisa Miller offers a sampling of the superlative music making that was on display at the War Memorial Opera House in September.
One of the season's most eagerly awaited offerings was a staging of Stephen Sondheim's Sweeney Todd: The Demon Barber of Fleet Street that was a co-production with the Théâtre du Châtelet in Paris and the Houston Grand Opera. Those who revere Sondheim's music looked forward to hearing the show cast with a full operatic chorus accompanied by a 43-piece orchestra.
Whereas many people remain focused on whether or not Sweeney Todd should be cast with operatic voices (as opposed to Broadway-style singing actors), the real question is whether this work should be staged by someone who is more attuned to Broadway conventions than standard operatic procedures. As Patrick Summers (who conducted most of the performances in San Francisco) notes:
Sondheim's dazzling linguistic abilities always threaten to overshadow his brilliance as a composer. And though the engine of Sondheim's scores is words, Sweeney Todd is a story told through music. Each member of Sweeney's family has an interlocking set of musical motives that dramatically binds them, each a variation of the Dies Irae theme we first hear in the opening ballad, 'Swing your razor wide, Sweeney,' and the entire work grows organically from it.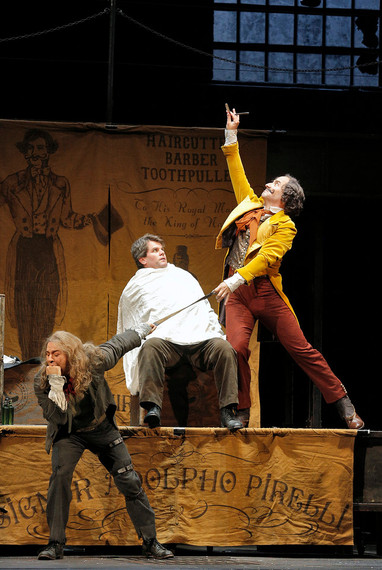 Matthew Grills (Tobias) and David Curry (Pirelli) in a scene
from Sweeney Todd: The Demon Barber of Fleet Street
(Photo by: Cory Weaver)
While 1970s commercial theater was a place for risk-taking, composition, and era-defining works, in the opera house it was a decade of immense transition. It was the height of the post-war arts boom, the last era of the great recording stars, an era when Regitheater (director's theatre) was a rarity and in which singers, not scenery, were the focus. There was little new American opera. Now, 40 years later, the two cultural worlds have melded, with the opera house seeing much bolder new work than would have ever been thought possible in the 1970s and Broadway the more creatively conservative arena.
In the 36 years since its world premiere, Sweeney Todd has become a popular choice for many regional and community theatres as well as college and high school productions. OPERA America's international database reveals that Sweeney Todd has become the fifth most frequently staged opera by an American composer. Since its world premiere on March 1, 1979, I've been fortunate enough to attend the tale of Sweeney Todd on numerous occasions and in a wide variety of formats and venues:
I saw the original Broadway production starring Len Cariou and Angela Lansbury as well as the replacement leads (George Hearn and Dorothy Loudon). The venue was the 1,933-seat Uris Theatre.
I saw the national touring company (starring George Hearn and Angela Lansbury) when it played at San Francisco's 2,297-seat Golden Gate Theatre in the spring of 1981. Later that year it was recorded during performances at the 3,197-seat Dorothy Chandler Pavilion in Los Angeles and broadcast on PBS on September 12, 1982.
In June 1984, using the sets and costumes from the touring production, I saw Sweeney Todd at the Houston Grand Opera with Timothy Nolen and Joyce Castle in the leads.
In October 1984, the New York City Opera staged Sweeney Todd with the same sets and costumes but with two sets of leads (Timothy Nolen and Rosalind Elias in the first cast, Stanley Wexler and Joyce Castle in the second cast). I was lucky enough to see both casts.
In July of 2001, I was in the audience when the San Francisco Symphony offered in a semi-staged concert version of Sweeney Todd with George Hearn and Patti LuPone in the leads. The concert was filmed and broadcast on PBS on October 31, 2001. It was subsequently released on home video.
In September 2007, the American Conservatory Theater mounted John Doyle's minimalist production of Sweeney Todd in San Francisco's historic 1,024-seat Geary Theater with a cast headed by David Hess and Judy Kaye. This production subsequently toured to 20 cities across America.
On December 21, 2007, Tim Burton's long-awaited film adaptation of Sweeney Todd starring Johnny Depp and Helena Bonham Carter opened in theatres across the nation.
In the summer of 2012, Ray of Light Theatre mounted an astonishingly intimate production of Sweeney Todd in San Francisco's 200-seat Eureka Theatre with Adam Scott Campbell and Miss Sheldra in the lead roles.
In March 2014, the New York Philharmonic staged a concert version of Sweeney Todd starring Bryn Terfel and Emma Thompson. The performance was filmed and shown over the PBS network on September 26, 2014 as part of its Live From Lincoln Center series (several weeks later the two leads starred in 13 performances of Sweeney Todd at the English National Opera).
In October 2014, TheatreWorks Silicon Valley mounted a fascinating production of Sweeney Todd in the 589-seat Mountain View Center for the Performing Arts. Robert Kelley's inventive staging starred David Studwell and Tory Ross and updated the action to World War II during the London Blitz.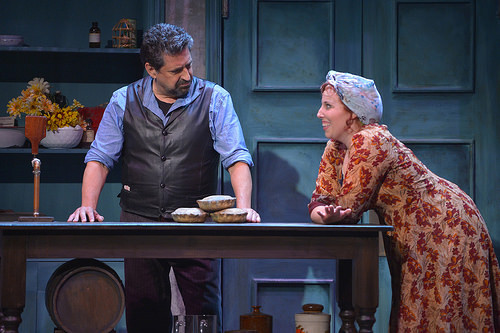 David Studwell and Tory Ross in the TheatreWorks Silicon Valley
production of Sweeney Todd: The Demon Barber of Fleet Street
(Photo by: Kevin Berne)
Because of how operas are co-produced these days, a new production may be shared by anywhere from two to 20 opera companies, with sets and costumes being built to last for decades. In some situations, the sets and costumes for an opera may be rented out as a means of developing a secondary revenue stream. As a result, opera fans (especially those who include operatic performances in their travels) grow accustomed to seeing some of their favorite works framed by different designers.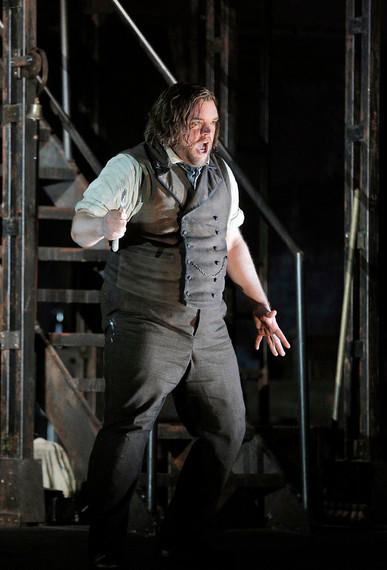 Brian Mulligan stars in the San Francisco Opera's
production of Sweeney Todd: The Demon Barber
of Fleet Street (Photo by: Cory Weaver)
As one becomes used to seeing a variety of productions of a particular piece of musical theatre, one becomes increasingly sensitized to its nuances.
I was especially pleased to see Act I's tooth-pulling contest restored (this number is cut in some productions) as it helps to reinforce the abusive relationship between Signor Pirelli and Tobias Ragg.
I thought this production's two show curtains (the first depicting a map of Victorian-era London, the second showing the same view, but with the River Thames flowing bright with blood) were spectacular.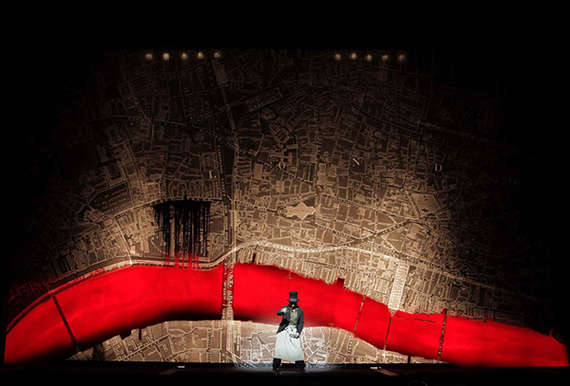 Tanya McCallin's Act II show curtain for
Sweeney Todd: The Demon Barber of Fleet Street
However, whereas most productions of Sweeney Todd seem to accelerate as the audience is swept up in the show's murder spree, the opposite effect took place with San Francisco Opera's production. Some of this was due to design elements that had a negative impact on the performance.
Some of the costumes for key roles made it almost impossible to find their characters when they were onstage with the chorus.
The time required to move the main element of Tanya McCallin's massive set required an extended musical bridge.
The coordination of projected titles with Sondheim's dense lyrics was frequently off the mark.
Rick Fisher's lighting design made it unusually difficult to spot principal characters (when Anthony arrived at Fogg's lunatic asylum it was almost impossible to see him).
Mrs. Lovett's bake oven was positioned in such a way as to almost become invisible (instead of looking like Sweeney was tossing her into the oven to her death, one got the sense that Stephanie Blythe was taking a leisurely stroll onto Brunnhilde's pyre).
Despite the use of body mikes to help the principals with their dialogue, there were numerous patches (particularly in the duets between Sweeney and Judge Turpin) where diction turned to mush.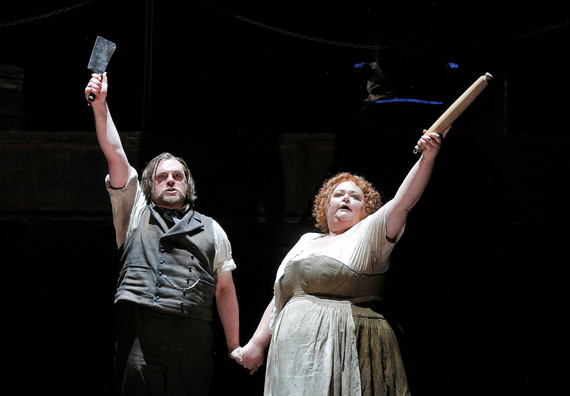 Brian Mulligan (Sweeney Todd) and Stephanie Blythe
(Mrs. Lovett) plot their revenge against the world in
Sweeney Todd.: The Demon Barber of Fleet Street
(Photo by: Cory Weaver)
In no way is this meant to criticize the supporting cast, which included Wayne Tigges as Judge Turpin, A.J. Glueckert as Beadle Bamford, David Curry as Adolfo Pirelli, Matthew Grills as Tobias Ragg and Elizabeth Futral as the Beggar Woman. I was especially impressed by Heidi Stober's lonely and confused Johanna and Elliot Madore's brave, butch, and impetuous sailor, Anthony Hope.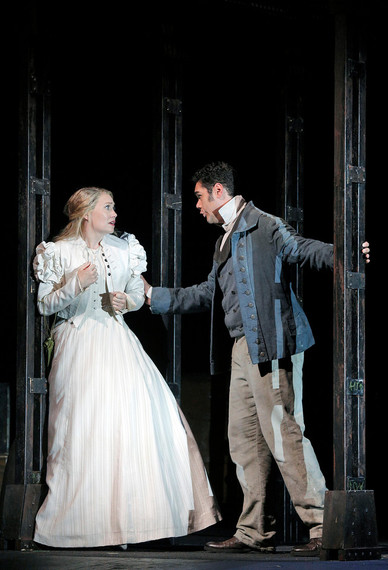 Heidi Stober (Johanna) and Elliot Madore (Anthony)
in a scene from Sweeney Todd: The Demon
Barber of Fleet Street (Photo by: Cory Weaver)
The two leads worked hard to carry the show although, as Sweeney, Brian Mulligan seemed to have a stronger handle on his character. As much as Stephanie Blythe tried to enliven Mrs. Lovett, much of Nellie's mischievous desperation, social-climbing ambitions, hunger for love, and sense of urgency was missing from this production.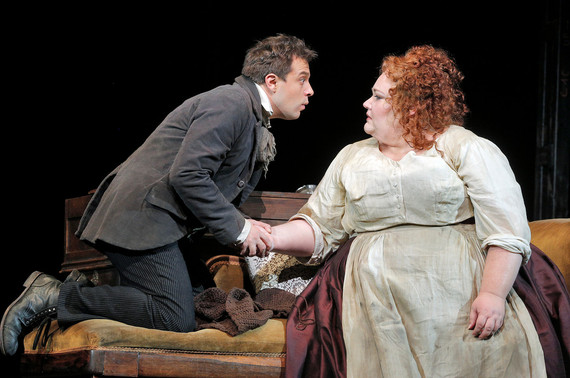 Matthew Grills (Tobias) and Stephanie Blythe (Mrs. Lovett)
in a scene from Stephen Sondheim's 1979 masterpiece,
Sweeney Todd: The Demon Barber of Fleet Street
(Photo by: Cory Weaver)

James Lowe did a solid job of conducting Sondheim's score, but too many moments of critical dramatic importance were lost under Lee Blakeley's stage direction. While San Francisco Opera's chorus director, Ian Robertson, did a splendid job of musical preparation, it was disappointing to see the chorus weighing down parts of Act II to a point where, instead of Sweeney Todd being a riveting musical drama, the performance started to feel as stodgy as an arthritic opera revival. Here's some footage from the production.
Calling all HuffPost superfans!
Sign up for membership to become a founding member and help shape HuffPost's next chapter