With an iconic song like "We Are Family" to her credit, it would seem easy for Kathy Sledge to rest on her laurels. Fortunately for fans, that's not an option. "I learned early in life, there is no such thing as 'stalemate,'" shared the Grammy-nominated singer. "You're sitting still; you're going backward."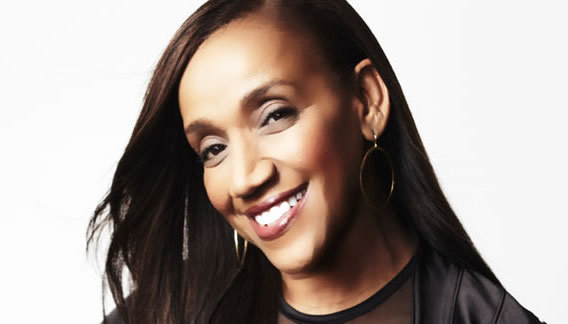 Not coincidentally, that's the lyrical theme of Sledge's new hit single "Keep It Moving." A creative teaming of the singer and Ibiza-based DJs and producer Aristofreeks, the inspiringly infectious track recently hit No. 2 on Billboard Magazine's "Dance Club Chart." Quickly embraced by fans and critics alike, she calls its success a "huge compliment."
"It's one thing [for audiences] to embrace music you sing," Sledge shared during an interview on Party Foul Radio with Pollo & Pearl on the internet's G Radio LGBT. "But it's another to embrace the music you write as well. That means a lot to me."
"Keep It Moving" is the latest collaboration between the 57-year-old Sledge and Aristofreeks, who first teamed in 2013 to release a reimagined "We Are Family." Since that time, the vocalist says the partnership has only grown.
"I love it!" cooed Sledge. "He inspires me. He just sent me a whole slew of tracks. I've been writing consistently."
"Keep It Moving" is ripe for adoration from LGBT fans. Sledge's powerful vocals sound better than ever -- "I think it's hot yoga," she said, "All that breathing!" -- as she sings of perseverance, overcoming obstacles and moving past life's challenges. Though initially sounding like a love song, the gracious diva explains the song is really about life and putting oneself first.

Watch: Aristofreeks Feat. Kathy Sledge "Keep It Moving"
"There's a line that goes, 'I've got to, got to keep it moving for me, myself and I,'" Sledge pointed out. "Not to sound selfish, but what I've learned is, if you can't help yourself, who else can you help?"
In my head, I heard RuPaul commanding a chorus of Drag Race contestants, "Can I get an Amen up in here?" However, only Sledge continued as she detailed the song's "autobiographical" origins.
"I think we all have things in life that we go through that are personal," she said. "I went through some things in life with my sisters. That was harrowing, but at the end of the day, it propels you...It does make you persevere. It gives you resilience."
Clearly Kathy is referring to a much-publicized 1989 split from -- and ensuing, high-profile feud with -- sibling group Sister Sledge. Starting in 1975, when she was just a teen, Sledge joined her sisters Debbie, Joni and Kim on seven albums. The most notable was the 1979 smash We Are Family.
Nile Rodgers and Bernard Edwards, of chart-topping, disco-era band Chic, turned down an opportunity to produce The Rolling Stones to work on the project. They wanted to style the little known Philadelphia act into household names, Kathy noted, rather than being overshadowed by Mick Jagger.
LISTEN: Party Foul Radio with Pollo & Pearl Feat. Kathy Sledge and RuPaul's Drag Race Stars Laganja Estranja & Nicole Paige Brooks
To that end, they wrote much of the album, including the now-legendary LGBT anthem of the same name. Topping Billboard R&B Charts and hitting No. 2 on the magazine's "Hot 100," Rodgers and Edwards succeeded. The group shot to global acclaim and Sister Sledge became instant favorites among LGBT fans.
"'We Are Family' I think it just opens up the heart to many -- from the gay community to Girl Scouts," shared Sledge. "It's that kind of song that just screams unity."
Kathy proudly notes the Chic members wrote "We Are Family" as a literal description of the sisters. As a result, Sledge stated, the authenticity of the song -- "It's from the heart." -- resonates with listeners. For the LGBT community, she suggests the connection is, in part, how it encourages a redefinition of "family."
"Sometimes we find our family," said Sledge, pointing to the song's message of unity, togetherness and mutual support. "We're all born to a family, we know that, but I also think those words...exemplify what real family is."
In the decades since that hurtful split with her once tight-knit sisters, Sledge has become a successful solo artist, songwriter, music producer, author and philanthropist. Still, she acknowledged "We Are Family" remains a career-defining moment -- and continued source of joy to perform.
"Being the voice on that song makes me most proud," she stated. "I think to this day, when I sing it -- especially when we do these gay pride concerts -- there's such a feeling of love...It's real. And, again, there are no boundaries there."
Now to hear that "Keep It Moving" could provide a similar inspiration to LGBT fans, Sledge admitted, "is huge."
"'We Are Family' has always been an anthem for the community," she confessed. "Now with 'Keep It Moving'...To hear that [the message is] relative, that they relate, they're supposed to. They are lyrics that are driven from my heart."
Calling all HuffPost superfans!
Sign up for membership to become a founding member and help shape HuffPost's next chapter