He wanted to sell his recipe and earn what he deserves and keep his head held high in those final days. Some were put off by his audacity to ask $160,000 for his recipe in his dying days. But to the informed, it's a steal -- and Mr. Ng Siaw Meng was a very successful hawker. Recently another roasted meat hawker was offered $1.2 million for her recipe. She declined and is waiting for $1.6 million. Comfort street food is big business in Singapore.
Mr. Ng passed away two weeks ago. This was not before an interested party, Alan Moo, took up his offer. Ten minutes into the casual conversation and meeting, Alan was overwhelmed by the responsibilities involved in dishing out the best satay beehoon recipe (in the world, I dare say, as this dish is unique to Singapore). He exhaled an "I don't think I can live up to that legacy, I may let him down and I can't live with that." The five spice powder alone, the late Mr. Ng then hinted, "has nine ingredients and I buy them individually and hand make them ourselves."
Such is the catch-22 conundrum of Singapore's street food heritage. Like Mr. Ng once, it is facing a cancer of sorts. There is no culture of institutional continuity in this lucrative and well-loved food industry. Every old master who is calling it quits is like a few million living cells dying our body without regeneration. I personally know of some street food hawkers and entrepreneurs who net a cool $80,000 monthly from their small and humble two-outlet operations. The taxman regularly hauls in overly successful hawkers who under-declare tax payments, and it's always front page news fodder here.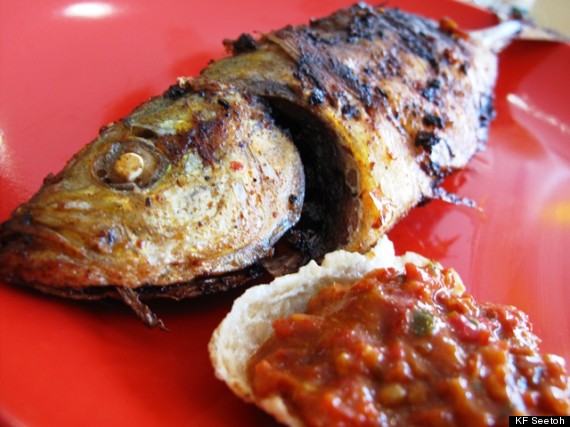 Who's going to perfectly grill the humble mackerel and place a complex and alluring sambal chilli dip next to it when this generation of hawkers hangs their woks?
Recently the government announced the creation of 10 more new hawker centres (over and above the current 107), each a collection of hundreds of street food vendors under a regulated roof. These centres are a true blue heartland space for Singaporeans to congregate, eat, bond and reflect, on mostly gossip, life and loves. It's a national plan that helps politicians reach deeper into the hearts and homes of their constituents. No complaints thus far.
But where are the new expert hawkers coming from, in a country that is facing a manpower crunch? A hawker committee was set up and among the long list of recommendations formulated was the idea of creating a street food academy. The government is happy to subsidise students on a major scale. But then who's going to teach street food secrets? Every top hawker treasures their heirloom recipes and guards them like a hawk; they are the source of these chefs livelihood. It's like asking Warren Buffet for his back account number and pin code just because the world feels there is a need to help the poor.
Besides Mr. Ng, I'd like to pay my respects to some other top old-school food professionals who have gone back to a better place in the last 12 months alone. They made many happy with their stunning and affordable comfort street fare in their lifetimes. To Mr. Ng Kim Hock or Ah Tiam, who once pleased Anthony Bourdain with his spicy soft shell crabs with a char-grilled smokey meal of chicken claypot rice, to Mr. Low Yeow Seng, the last of the handmade Ah Bolling (Teochew mochi dumplings in sweet pandan syrup) master, and to the many late street food exponents who toiled and pleasured us with their humble food culture, may you have a well deserved rest in absolute peace.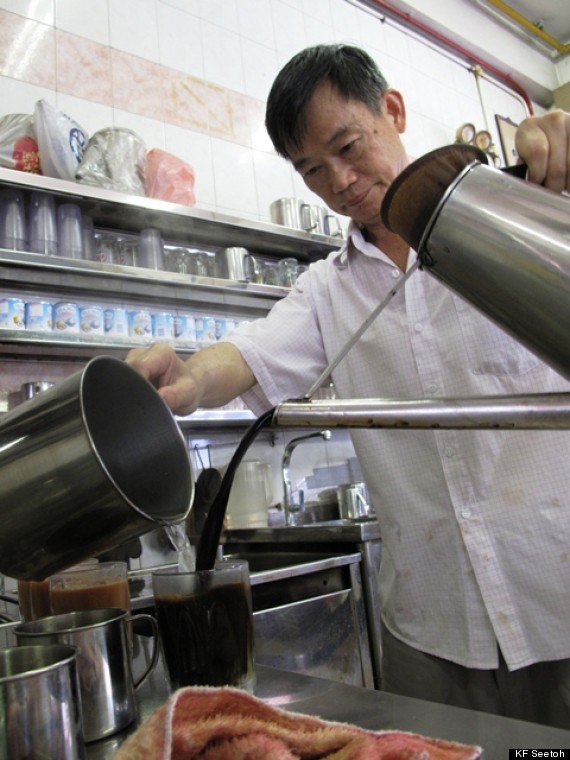 where is the next group of kopitiam (coffeshop) professionals who can continue this lovable kopitiam culture- like making the perfect sock brew of Hainanese cuppa
But I think this industry, because it's such an organic -- even underground -- culture that reeks of a rich and comforting heritage, will be, like kung-fu legend Bruce Lee once said, "like water." It will find its way through the tightest fist and hurdles to nourish the needs of a new world order of street food culture worldwide. For starters, what if a respectable group declared that a humble satay vendor in a developing nation was the Best Street Food Vendor in the world? It would do magic for that nation's development and brand, plus it would provide demand and better employability for people with these useful entry level job skills.