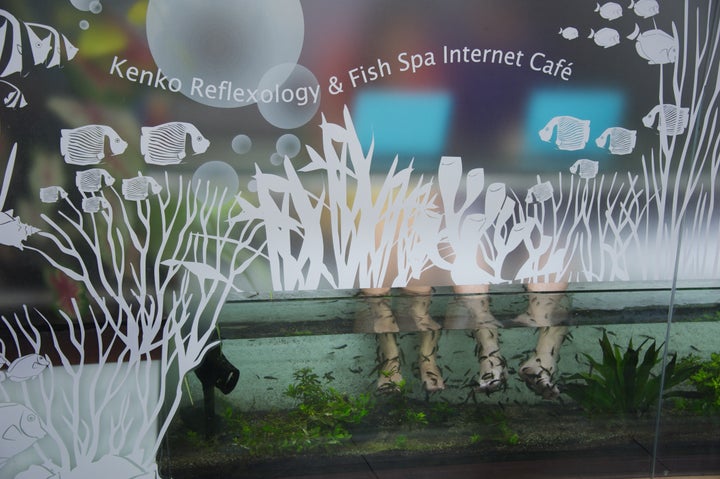 Nanny state. "Asia Lite." "Disneyland with the death penalty." A "fine" city. It's all about shopping and eating. And you can see anything worth seeing in a 3.9-day visit. Or in 3.9 hours.
Even without the headline, savvy travelers would already have guessed the country. It could only be Singapore.
But here's news: while the world was making fun, Singapore became an amalgam of an Asian Las Vegas with a bit of Manhattan, Sydney and Los Angeles thrown in. Watch out Macau, Hong Kong and Dubai: Singapore, if it's not already, will soon be Asia's must-see destination. Already the average tourist visit has increased to 3.96 days in 2010 (it's probably over four days now), from 3.19 days in 2001. And there's a good reason for that. There's just more to see and do. I'd argue that you could spend 3.96 weeks and not see it all. Maybe it's just me, but whereas I'd never consider visiting Beijing and Shanghai again (once was enough, thanks -- bring your inhaler and oxygen supply if you're going), I can never get enough of the Lion City.

I've visited this most improbable of all Asian countries many times over the last 15 years, and each time it's something different but never so much as on my last trip this January. True, some things haven't changed and let's get it out of the way now, shall we. Convicted criminals still get caned; there's no trial by jury; a monolithic and, however well-meaning, authoritarian government never lets the citizenry forget that it knows best. And although it's not nearly as bad as in China, there's still some unnecessary censorship and Internet regulation in place (some of your favorite "adult" sites may not be readily accessible). Oh, and how about some changing attitudes toward LGBT rights? Things are changing, but slowly.
That said, I have to admit that the first time I visited back in the 1980s, I was indeed glibly reminded of a theme park, and I won't blame you for thinking the same thing on your first visit. It's the lush foliage lining every roadway and street, manicured to within an inch of its life (I never see anyone trimming these plants and shrubs, maybe they do it at night?); the almost total absence of litter and crime; the carefully engineered public works; the endless array of shops and restaurants. There are even monorails leading to a theme park (an outpost of Universal Studios, not Disney).
But dig deeper and you'll see the real Singapore. You just have to know where to look. On a Saturday night just before Chinese New Year a local acquaintance drove me past the city-state's red light district. Scores (hundreds?) of beautiful young women stood along well-lit streets waiting for customers. Think Times Square was racy back in the day? It was nothing as obvious as this and you won't find it mentioned in the official tourist literature. Tour Little India on a Saturday night and you'll be awed by the streets and sidewalks clogged with thousands of guest workers, imported from the sub-continent to build the city's vast construction projects. Take a 30-minute ferry ride to some of the out islands and you'll think you were in a tropical rain forest. In fact, you are.
So here are eight things I love about Singapore (and one thing that eats me about it -- literally).

1. It reminds me of Disney World.
OK, it's true. But what's wrong with Disney World? Singapore is clean. It's safe. It's well managed. Like Disney World, it's a mind bogglingly awesome accomplishment, but Disney's achievement doesn't even compare. Sixty years ago, Singapore was a shambles, brought to its knees by a viciously cruel Japanese occupation during which over 60,000 citizens were slaughtered and many more imprisoned in unimaginably savage conditions (Changi Prison is an eye-opening tourist draw). I was in New York on September 11, 2001, and it was horrible. But Singapore has seen worse.
2. Its great outdoors is pretty great.
Most people would never think of uber-urban Singapore as a haven for outdoorsy types, but there are actually some great gardens, parks and open spaces, many of which have appeared just recently, that are unique in Asia. And (hello Beijing and Hong Kong) your lungs won't be filled with soot at the end of the day. Speaking of gardens, the next big Singapore attraction will be the Gardens by the Bay, a domed horticultural conservatory re-opening in June 2012 that will recreate a cool and dry Mediterranean climate with springtime flowers blooming year round. The Jurong Bird Park, Singapore Zoo and the 150-year-old Botanic Gardens with their amazing display of orchids are some of my other favorites.
3. You can be naughty here!
Yes, it's true, just don't be too naughty. Indulge your vices! You can gamble in glittering casinos (watch out Macau, the Marina Bay Sands has it all over you), ogle the aforementioned gorgeous Asian hookers (no, I don't really recommend this but...) and Singapore has more (and better!) gay saunas than Puritanical New York City. (Six at last count.) And believe it or not, the nightlife scene is hopping. Check out the famous Zouk nightclub or have an adult beverage at 1-Altitiude, an outdoor bar perched on the 63rd floor of a skyscraper with amazing 360-degree views. The one vice you should studiously avoid: drugs. As your landing card clearly states, "Death to drug traffickers in Singapore" -- and they don't take kindly even to casual use.
4. Its Universal Studio has 14 rides and attractions.
That's almost as many as the 15 you'll find in L.A., and Singapore has attractions you won't find at Universal Studios Hollywood. For more recreation, visit the Marina Bay Golf Course, arguably Asia's best public links, or experience the G-Max Bungy Jump, which hurtles you almost 200 feet into the air at 125 mph. Fun!
5. Speaking of jumping, it's a great jumping off point for visiting Asia.
Home to several relatively new discount airlines (such as Air Asia and Tiger Air) you can fly from Changi Airport to anywhere in Asia for ridiculously little (not that you should just pop in for a few days and take off for other parts). And, as you've probably heard, Singapore's airport is the best in the world (if this is the first you've heard, trust me, it is). Oh, and let's not forget that you'll most likely be flying into Singapore on Singapore Airlines. It, too, is the best in the world. Best airport? Best airline? For a fly guy like me, that's enough reason to go there.
6. You can see it all in 3.96 hours.
Just kidding! But Singapore's Changi Airport sponsors a free four-hour "highlights" tour for transit passengers. You can leave from the airport between flights and take a bus tour of the city and be back in time for your connection. I've never done this, and frankly I think the tourist board is doing itself a disfavor by giving the impression that Singapore can be "done" in four hours, but I won't tell them how to run their country.
7. There are more restaurants and shops here per square mile than anywhere else--except maybe the Las Vegas Strip.
Multicultural Singapore has the widest variety of Asian cuisine in Asia. Indian, Malay, Chinese and fusions of the above. The famous Hawker Centres (street food without the street) are carefully inspected and regulated by the government. And now with the Marina Bay Sands casino/shopping/entertainment complex, Singapore is looking a lot like Las Vegas these days. You can walk in air-conditioned comfort from mall to casino to mall and although there are only two casinos so far, I wouldn't be surprised to see more coming.
8. Probably the best hotel service in the world (well, excepting, perhaps, Bangkok).
If you care at all about good service when you're not sleeping in your own bed, you'll be pleased no matter where you sleep in Singapore. I don't know how they do it -- are there world class hotel schools hidden somewhere off stage? -- but I am easily offended by indifferent hotel employees and have always been amazed by the staff at the places I've stayed in Singapore (shout outs to the Intercontinental, the Four Seasons, the Shangri La, the Mandarin Oriental, even the Crowne Plaza at the airport, perhaps the best airport hotel I've ever encountered). They know that their bread is buttered by tourists in this considerable town, and they unfailingly succeed in pleasing. And the same can be said about the entire city-state. Singapore is aiming to be Asia's must-do destination, and, knowing Singaporeans as I do, I wouldn't want to bet against that happening.
9. You can get your feet nibbled by tiny fish.
And now for the one thing that really eats me. If you can tolerate it, feel free to visit a "Fish Spa." Here you place your feet in a shallow pool where hundreds of tiny fish (species: Garra Rufa) nibble your toes, ankles and soles, with supposed health and cosmetic benefits (exfoliation, blood circulation, etc.). You can find these operations in malls and even at the airport. Trouble is, the little beasts are insanely ticklish and I was only able to stand it for less than a minute. OK, I giggled and screamed like a kid. Maybe you'll have better luck.
Popular in the Community