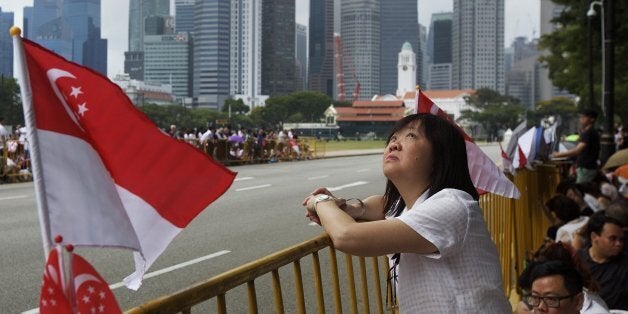 Not since the ancient era of city-states has a leader such as Singapore's Lee Kuan Yew exerted such a disproportionate influence on the global stage, especially about good governance and the relationship between democracy and development.
Following independence in 1965, Lee steered Singapore into a nation that was admired for its efficiency, rule of law and general decency. It stood out among the inefficiencies and incompetence of many neighbors within Southeast Asia. Similarly, by instilling an ethos of pride among its civil servants and, more importantly, rewarding them with pay and benefits roughly equivalent to those in the private sector, Mr. Lee created an honest civil service dedicated to building the new nation rather than one that lined its own pockets. This model was not undisputed, with critics pointing to the curtailment of certain rights and freedom of expression that would become hallmarks of "illiberal democracies."
Mr. Lee's and therefore Singapore's influence on global politics and governance was similarly disproportionate. Some saw him as a powerful voice for authoritarian rule and avoiding the politics of the welfare state during the early phase of development, views which seem to have influenced China's key leader, Deng Xiaoping.
Not since the ancient era of city-states has a leader such as Singapore's Lee Kuan Yew exerted such a disproportionate influence on the global stage.
He instilled a toughness in the ruling party, the People's Action Party, which has endured; often using the law, especially libel laws, he silenced vocal critics. Not surprising, given that the PAP was founded on solid Leninist principles. Slowly but surely Singaporean society has changed, presenting new challenges that the PAP is struggling to manage. To some extent, how Singapore is viewed is colored by how one viewed its previous success and the role of Lee Kuan Yew. As in other East Asian "tigers" economies, many citizens, especially the youth who did not experience directly where Singapore came from, are not convinced by a legitimacy based primarily on economic success that ignores values and freer expression. Many of the young people with whom I speak are proud of their city but feel stifled.
Certainly Singapore's influence in global governance has declined, but the real challenge for Lee's legacy and the future of the PAP lies with political and social developments. According to the World Bank's governance indicators, the Singapore model of governance performs incredibly well with one telling exception. Since the project began in 1996, five of the six indicators have always been above the 85th percentile and three have ranked in the high 90th percentiles (government effectiveness, regulatory quality and control of corruption). The obvious exception is the ranking of voice and accountability, which dropped to a low of the 35th percentile in 2006 before rising again to the 52nd percentile in 2013.
This is not surprising given that the PAP has dominated the political system and has implemented the model alluded to above. Yet, with this model fraying, the PAP has struggled to maintain its absolute control. In the 2011 election, its support dropped to the lowest level since independence (60.1 percent) with the opposition taking six seats, and it faces the 2016 election without the fatherly presence of Lee Kuan Yew.
With the Singapore model fraying, the PAP has struggled to maintain its absolute control.
A more secular trend is emerging in Singaporean politics that has consequences for maintenance of its governing model. There is a growing call for a change in the way government operates and how inclusive it will be, not only in its design of public policies but also in how redistributive their effects will be. The desire for a greater political opening and pluralism is strong even among the more educated and well positioned in society. Is there perhaps a yearning for a return to the PAP's more egalitarian roots and a call for it to be a champion for social justice?
A project carried out by the Institute of Policy Studies looking at how Singapore might be governed in 2022 raised three key questions. First, can the PAP retain the trust and creditability to enable it to govern effectively? Second, how will society choose to define success -- by material standards or through non-material values? Third, how will a future social compact be defined? Will it favor those high achievers who can bring other benefits to society? Or will policy shift toward a more egalitarian system in terms of redistributing rewards and support?
This suggests that the old paternalism and the reliance on economic success have run their course. The desire for greater political pluralism and a revised social compact that addresses the sense of inequality and injustice in Singaporean society appears to be growing as with a desire for "moral value." Thus, the Singaporean model of governance seems to be one route to an outcome under which citizens eventually seek value beyond material comfort and greater input into the decision-making that influences their daily lives.