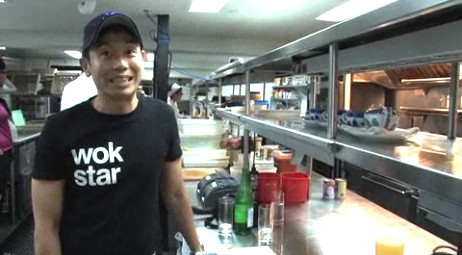 We recently met up with Chef Willin Low of Singapore's Wild Rocket restaurant, and in the kitchen of Chef Brad Farmerie's Double Crown restaurant Chef Low showed us his 'Singapore Pesto,' one of his signature preparations. Using coriander, curry and thai basil leaves along with Candlenuts, bird's eye chili and dried shrimp for the obligatory salty-umami presence in Singaporean cuisine, along with the traditional parmesan cheese and olive oil, Low's Singapre Pesto is a clever and tasty regional take on the classic pesto. It has a wonderful depth of flavor from the three herbs and dried shrimp, with a subtle finish of heat (or less subtle if you'd like). It can be used in any of the following ways:
On pasta in the same manner as classic pesto
On top of canapés
Spread on bread
On top of eggs, vegetables, meats, fish, soups, pizza or anything else that strikes your fancy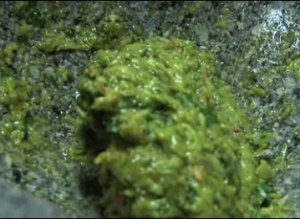 Chef Willin Low's Singapore Pesto

10 coriander (cilantro) leaves
10 curry leaves
10 thai basil leaves
1 tbsp roasted sunflower seeds
2 candlenut (may be substituted with macadamia)
1 bird's eye chilli
1 tbsp dried shrimps
1 tsp parmesan cheese
3 cloves garlic
extra virgin olive oil

Pound all ingredients (except olive oil) together in a mortar & pestle (or food processor if bigger portions), add extra virgin olive oil until combined with the rest of the ingredents.
WATCH: Willin Low prepares his Singapore Pesto
<0--3306--hh> 0--3306--hh>
Next week: Chef Brad Farmerie shows us how to make an incredible -- and simple -- laksa.
REAL LIFE. REAL NEWS. REAL VOICES.
Help us tell more of the stories that matter from voices that too often remain unheard.