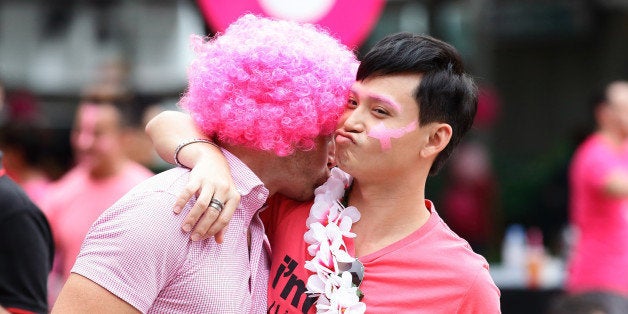 SINGAPORE, June 13 (Reuters) - Singapore's Pink Dot gay rights rally drew a record number of participants on Saturday, even as the country remains deeply divided over homosexuality.
In early evening, a mostly young, pink-donned crowd was filling up the small Hong Lim Park, decked out in hot pink balloons and signs, next to Singapore's central financial district. The event, in its 7th year, included speeches and a concert, while 28,000 participants formed a gigantic human pink dot after night fall, the organizer said.
The event's spokesman, Paerin Choa, somberly recounted the challenges the gay rights movement had encountered over the past year, including a court decision to uphold a law criminalizing sexual acts between men.
Singapore's Prime Minister Lee Hsien Loong said last week that the country was not ready for same-sex marriage, while a "Wear White" movement started by religious groups to counter Pink Dot has entered its second year.
"I hope that they will legalize gay marriage," said a 20-year-old Danish man, holding up a pink sign with a friend to offer free hugs near a subway exit on the edge of the park.
"Many people have been in the closet for a long time, and perhaps they shouldn't be afraid," he said, adding he had not told his parents of his homosexuality but friends had been supportive.
The government has always insisted that Singapore is a conservative society.
Yet one sign of more support for the lesbian, gay, bisexual and transgender (LGBT) community is the growing corporate sponsorship for the event. This year, Pink Dot had a record nine corporate sponsors, with new sponsors including social media platform Twitter, financial information company Bloomberg and local movie theater chain Cathay Organization.
"We believe it speaks volumes to Singaporeans to know that a local employer does not discriminate and hires based on merits," said a spokesman for Cathay.
"Cathay recognizes the value of an inclusive and diversified society especially within the workforce."
With more countries around the world legalizing gay marriages, businesses are recognizing the economic benefits of adopting a non-discriminative approach to sexuality, both in terms of marketing and recruitment.

(Additional reporting by Lee Rou Urn; editing by Clelia Oziel)

Before You Go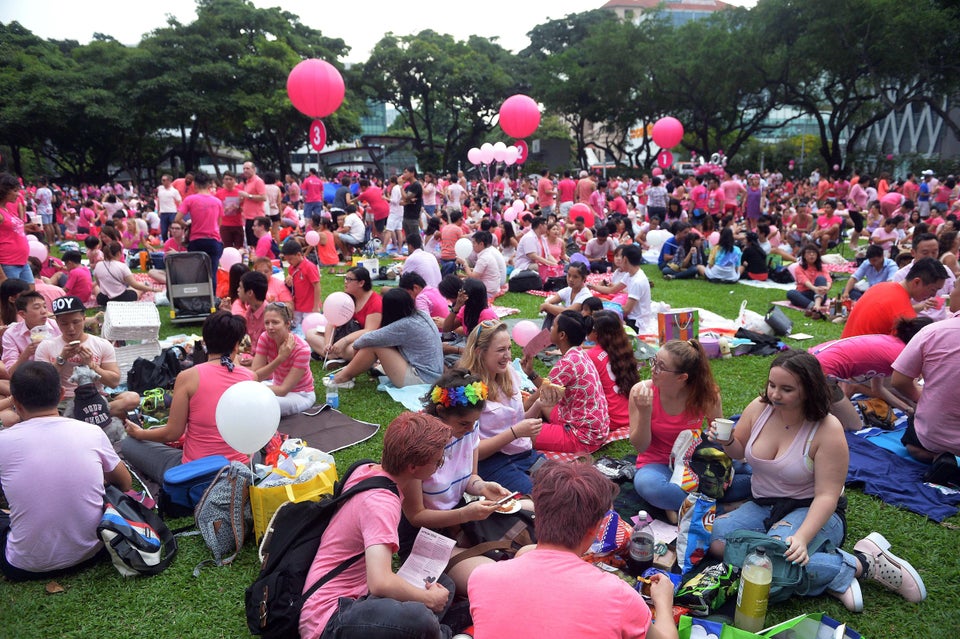 Singapore's Pink Dot Rally
Popular in the Community