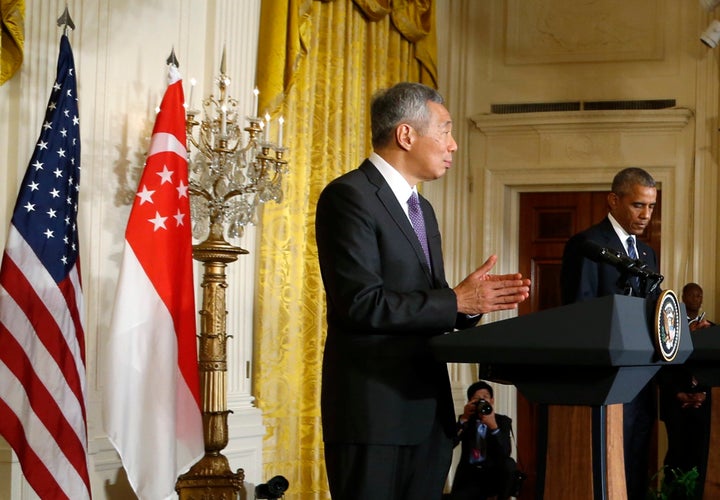 This week President Obama is hosting Singapore Prime Minister Lee Hsien Loong for what is probably the last state dinner of his presidency. As the U.S. Ambassador to Singapore during the first term of the Obama administration, it comes as no surprise to me the president chose the tiny city-state located 10,000 miles away for an invitation typically reserved for much larger countries. Singapore's official visit to Washington is a reminder of the pressure-cooker in the Pacific that awaits the next occupant of the White House.
While U.S.-Singapore relations are a success story the events are not a celebration of past achievements. Rather, they are part of a broader strategy to engage China in global systems and institutions including international law governing maritime territorial disputes and respect for intellectual property rights. When I joined then Secretary of State Hillary Clinton for discussions with Lee in Singapore in 2012 and Secretary of State John Kerry and President Obama during Lee's last visit to the Oval Office in 2013 we touched on U.S. – Singapore bilateral issues but the conversation quickly turned to the challenge of an aggressive China and its deepening rivalry with the U.S.
Singapore's founder the late Lee Kwan Yew, who was still in the government during my term as ambassador, captured Singapore's geopolitical position perfectly in my meetings with him. He often referred to the African proverb that when two elephants fight in the jungle the grass gets trampled – with Singapore and its neighbors being the grass. For Singapore the need for stability in the Pacific is existential. The island-nation relies for its economic success on rule of law, a prime location near the world's busiest shipping lanes and trans-pacific trade. Singapore is the Asia home to decision makers of more than 2500 U.S. businesses seeking access to the region's growing markets and is the leading destination for American investment in Asia with more than $150 billion invested over the last ten years. China historically has looked to Singapore as a model of development. Deng Xiaoping visited Singapore in 1978 on his famous "southern tour" taking inspiration for China's economic opening. Singapore's population is overwhelmingly ethnic Chinese and its largest trading partner is China. Despite its small size, Singapore is the largest foreign investor in China with more than $100 billion invested over the past decade including 700 projects last year driven by Singapore's state-linked companies.
The next president's challenge in the Pacific will require considerable finesse. China's recent heavy-handed behavior, including their maritime grab and defiance of an adverse decision of an international tribunal which upheld territorial rights of the Philippines in the South China Sea, has made it easy for the U.S. to attract support across East Asia. Indeed, China's behavior over the last eight years helped make the much-heralded American pivot to Asia, in which I served on the front lines, a foreign policy success.
The next president may be tempted to push our friends even more to exploit a threatening China by insisting on unconditional fidelity from smaller countries in exchange for comforting economic and military support. Doing so would be short-sighted. Obama's successor will need discipline to resist forcing the region into a choice between Washington and Beijing. To do otherwise would fuel China's fear that the U.S. seeks to impede its growth and contain its influence which escalates tensions. Geography requires countries in Asia to find common ground with their giant neighbor. The next administration must find ways to leave space for friends like Singapore to work closely with China—a difficult balance to strike but one more likely to lead to peace and stability.
President Obama's record in this regard is quite good but imperfect. The U.S. experienced the perils of forcing a choice last year, when friends and allies including Australia, South Korea and Singapore joined the China-led Asian Infrastructure Investment Bank despite discouragement from Washington. That opposition left America less able to influence terms of that new institution. Similarly, the Obama administration has gone to great lengths to build relations with the ten-country Association of Southeast Asia Nations but has failed in its lobbying to get the group to speak with one strong voice against China's territorial claims. While the U.S. is not solely to blame, the fact is Chinese counter pressure has prevailed leaving the group divided and in a weaker position to insist on Chinese adherence to international law – a result that serves no country.
In a season of campaign rhetoric invoking China as a threat, the U.S.is well-advised to look to Singapore for an understanding that U.S.– China relations must not be a zero-sum contest. Anti-globalization political convention speeches and convention hall anti-trade protests over the last few weeks notwithstanding, the 21 Century American economy is inextricably linked with that of China and other countries across the Pacific. And, of course, we need the cooperation of China and our friends in Asia in the fight against terrorism, management of North Korea and other security efforts. Neither American interests nor those of our friends are advanced when elephants trample the grass. By hosting Singapore's prime minister, President Obama hopes to increase the already considerable prestige of a country with a record of success navigating the tricky waters across the Pacific. The president's gesture to Singapore sets the stage for his successor to work carefully towards a delicate balance in Asia.
Support HuffPost
The Stakes Have Never Been Higher
Popular in the Community