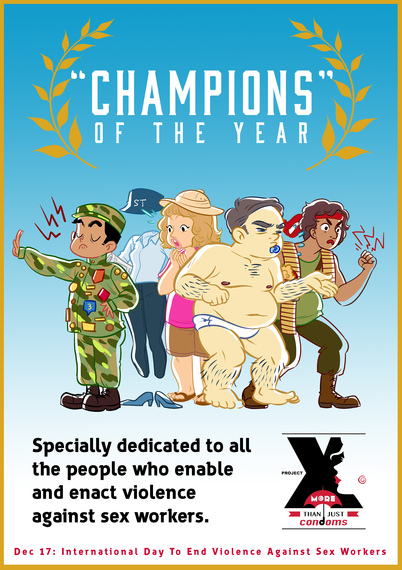 "Sometimes when the abuse is part of your daily life, the best way to deal with it is humor," Sean Francis, Project X's marketing manager says. "We had this idea for a long time. When you work intimately with sex workers, you hear a lot of stories about bad clients, bad journalists...and you know, there is nothing funny about this violence, but these stories are often told with humor."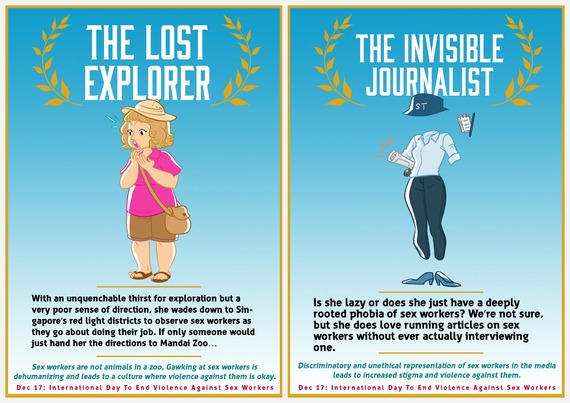 "We tried to represent the most common problems in the campaign," Francis says. "The biggest problem is marginalization and discrimination," Sherry, a writer and research with Project X and a former sex worker, says. "This results in sex workers being stuck in this industry. Some wish to move on to a normal job but fail to do so because their self esteem had been deteriorated by society."
Additionally, Singapore lacks anti-discrimination laws, severely limiting employment options for current and former sex workers as well as LGBT individuals - especially transgender individuals - and allowing for the continued social marginalization of these communities.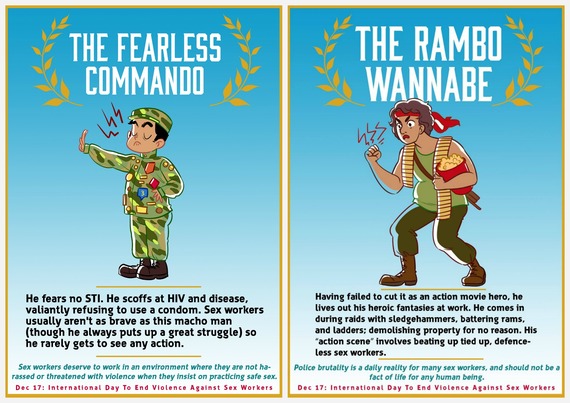 Legally, Singapore's 15-18,000 sex workers work under a complicated and somewhat paradoxical labyrinth of formal and informal regulations. Exchanging sex for money is not criminalized but public solicitation, owning a brothel, and living off of sex worker earnings is illegal. It is also illegal for non-natives, who Francis estimates make up 60-70% of Singapore sex workers, to engage in commercial sex. In practice (and on the down-low), Francis says the Singapore government operates a licensed and heavily monitored system of semi-tolerance for brothels and foreign sex workers.
According to general knowledge among sex workers in Singapore, sex workers in licensed brothels are required to undergo monthly health checks and are issued a yellow card. The system is not publicly acknowledged by the Singapore government, and so official requirements are hard to discern. Project X has heard from sex workers that the eligibility requirements are stringent: one must be between 21 to 35, from a list of pre-approved countries, and neither Maylay, Muslim, male, or trans with a male gender designation on ID documents to qualify for a yellow card. Once an application is accepted, sex workers have reported to Project X, individuals sign a contract with the Anti-Vice police agreeing not to have a Singaporean boyfriend, break any local law, work outside their designated brothel, and accept a ban on travel to Singapore ranging from 3 years to a lifetime after the contract ends.
"I think it is problematic that there are licensed brothels in Singapore but they are explicitly criminalized under the Women's Charter," Vanessa Ho, Project X's executive director says. And as one could imagine, a very small portion of Singapore sex workers operate within that licensed and quasi-tolerated framework: there only 800 to 1,000 licensed sex workers in Singapore, while in a given year, over 5,000 unlicensed sex workers will be arrested.
Singapore "plays this weird yes and no game" with commercial sex, Francis says. "It's slightly better than Malaysia, a few other Southeast Asian countries with full-out criminalization."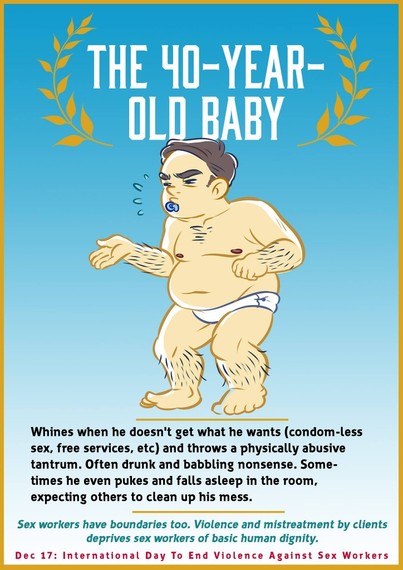 Founded in 2008, Project X is a community-based organization staffed by allies and sex workers that empowers people in the sex industry and advocates for the rights of sex workers.
More information about Project X, issues Singapore sex workers face, and the "Champions of Violence" campaign can be found on the Project X website.
Calling all HuffPost superfans!
Sign up for membership to become a founding member and help shape HuffPost's next chapter