SINGAPORE — Secret Service agents and U.S. military service members arriving by the busload. Workers hurriedly repainting driveways and grooming roadside flowering shrubs. Barriers erected on roads, and warnings spreading on social media of impending traffic and flight delays.
Just days before Tuesday's scheduled summit between U.S. President Donald Trump and North Korean leader Kim Jong Un, final preparations are underway on the sunny shores of host country Singapore.
The hotels expected to host the Trump and Kim delegations are steeling themselves for their guests' arrival. Capella Hotel, confirmed by the White House as the venue for the summit, was swarming with construction workers, U.S. officials and security personnel on Thursday — even as other hotel guests lounged at the bar and lolled by the poolside.
A hotel spokeswoman said the entire 5-star resort, located on Sentosa, a small island off Singapore's southern coast, would shut its doors to the public this weekend and would remain closed until June 17.
At The Shangri-La Hotel, expected to be Trump's base, hundreds of people who appeared to be from his entourage were checking into their rooms on Thursday. Tents, likely for security personnel, have been erected near the hotel's pool, and the property's underground car park has been closed off, with a sign indicating that it would be out of bounds until June 15.
At the nearby St. Regis Hotel, said to be where Kim and his delegation will stay, workers were seen this week installing security cameras in the car park and in the hotel's driveway.
Neither the Shangri-La nor the St. Regis would confirm that the leaders are staying at their properties. The Singapore government, however, has declared the area around the two hotels as a "special event area" for the period of June 10 to June 14. The same designation has been extended to Sentosa and portions of its surrounding waters.
A hotel source familiar with the planning for the summit confirmed that Trump would be staying at the Shangri-La, and said Kim was likely staying at St. Regis. "But with these two, who really knows what can happen?" said the source, who spoke on the condition of anonymity.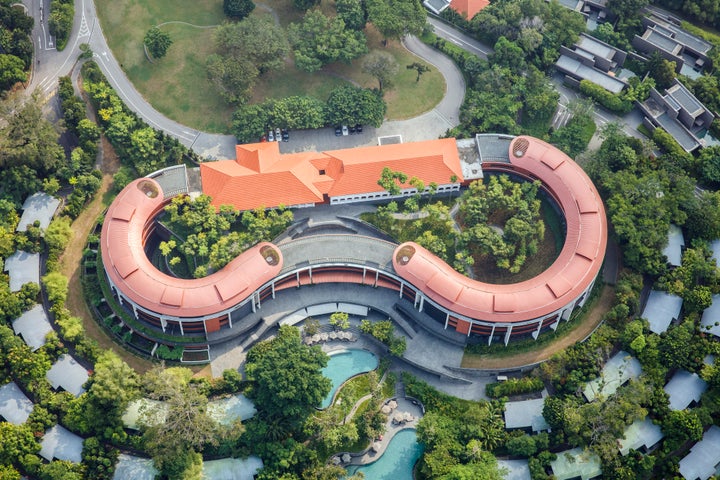 Capella Hotel  
An expansive and secluded resort, Capella is surrounded by lush greenery and perched on a hill overlooking the ocean. Celebrities like Lady Gaga and Madonna have reportedly stayed there. Rooms can cost upwards of $430 a night, and a three-bedroom manor can cost $8,000 or more.
Experts say Capella was likely chosen as the meeting venue for security reasons. Its "secluded location" atop a hill surrounded by foliage could "shield the summit from security threats," Muhammad Faizal Abdul Rahman, a research fellow at the Center of Excellence for National Security at Singapore's Nanyang Technological University, told HuffPost. Sentosa has many security measures already in place to protect its visitors, he added. 
Ong Kok Leong of Secura Group, a Singapore-based security agency, told Today newspaper that the open, green spaces around the hotel could allow for aircraft landings in the case of an emergency.
Because Sentosa is only accessible from the mainland by a single bridge, known as the Sentosa Gateway, security personnel can better inspect individuals and vehicles coming into the island, Ong noted.
Workers were seen along the roadside on Sentosa Gateway on Thursday, grooming shrubbery and other plants that line the bridge. On Capella's property, workers were busy repainting the long and winding driveway that leads to the lobby, which is housed in a restored colonial-era building. The resort's white colonnades and facades were also being repainted.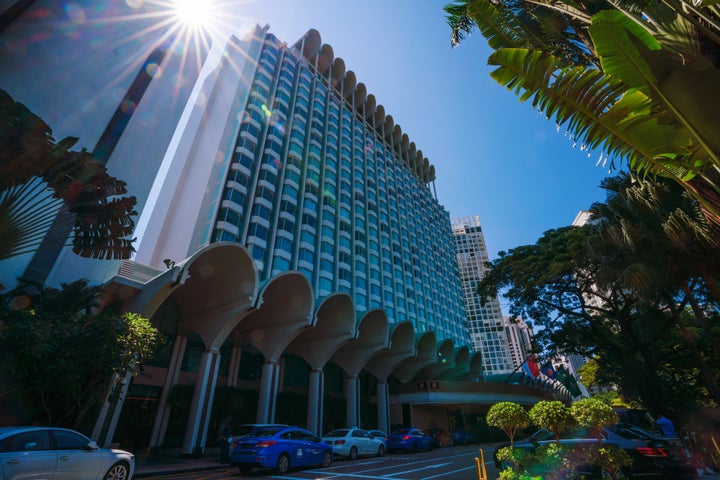 Shangri-La Hotel
Across Sentosa Gateway and back on the mainland, activity was similarly buzzing at the Shangri-La, a luxury hotel in the heart of downtown Singapore.
The 15-acre hotel, which boasts relative seclusion despite its central location, is accustomed to hosting high-security guests. Earlier this month, it hosted the annual Shangri-La Dialogue, a defense summit attended by world leaders, ministers and delegates from more than 50 countries. 
Former U.S. Presidents Barack Obama and George W. Bush have both stayed at the hotel's presidential suite, which has its own private entrance and elevator. Trump is expected to stay in the same suite.
Trump's delegation is believed to have booked hundreds of the hotel's 747 rooms. On Thursday morning, buses carrying dozens of Secret Service agents and military personnel were seen arriving at the hotel. 
"The selection of the three hotels [involved in the summit] is likely a decision that strikes a balance between the diplomatic and security requirements of both countries," Faizal said. "Shangri-La and St. Regis are located in a vicinity that is no stranger to hosting important international meetings that come with high security. Shangri-La has many years of experience in working with security forces when hosting such events."
A resident of the Shangri-La Apartments, located adjacent to the hotel, photographed workers erecting scaffolding on a road next to the building on Thursday night. The Shangri-La Hotel had initially been rumored as the preferred venue for the summit. The resident said he was "relieved" the meeting would be held on Sentosa instead. A drive from Shangri-La to Capella Hotel would take about 20 minutes with no traffic. St. Regis is about a 10-minute walk away.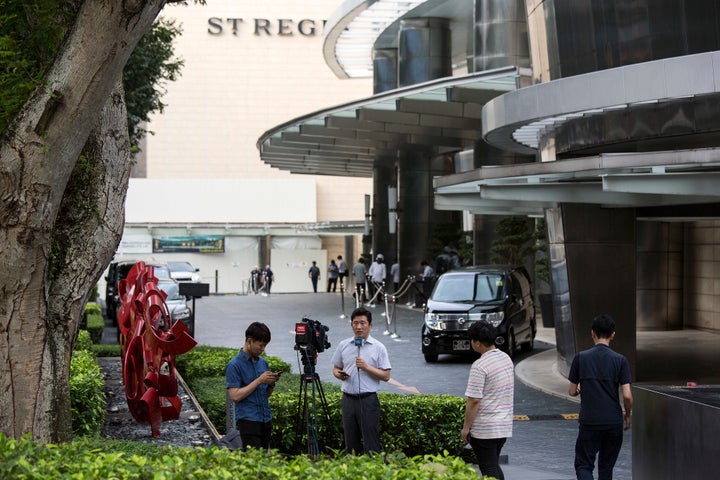 St. Regis Hotel
St. Regis has also hosted high-level delegations. In 2015, Chinese President Xi Jinping stayed at the hotel when he traveled to Singapore for a historic meeting with then-Taiwanese President Ma Ying Jeou, reported The Straits Times.
The hotel's lobby entrance is located off a busy main road, so the property may not provide the same kind of privacy that Shangri-La or Capella can. With 299 rooms and suites, the hotel is also significantly smaller than the Shangri-La. 
But if Kim does stay at the St. Regis, he won't lack for luxury. The hotel's opulent presidential suite, which can cost upwards of $10,000 a night, ranks among the largest and most expensive hotel rooms in the country. 
Choosing a smaller hotel may well have been part of a meticulously crafted plan by Pyongyang, Jasper Kim, director of the Center for Conflict Management at Ewha Womans University in South Korea, told HuffPost this week. 
"Kim Jong Un is just as concerned in optics as Donald Trump. Choosing a smaller, 'humbler' location would cater to his domestic audience, composed of a population that makes less than $1,000 GDP per capita," Kim said. "It also signals to [North Korean] senior party officials that Kim will be singularly focused on securing North Korea's national interests."
Mintaro Oba, a former State Department expert on the Koreas, said the North Korean delegation likely gave prime concern to security and comfort when considering Kim's accommodation. 
"We know North Korean leaders and their entourages prioritize personal security and comfort, even to the point of bringing their own bathrooms when they travel so that intelligence services can't analyze the waste for signs about the North Korean leader's health," Oba said. "I think we can reasonably expect the North Koreans to favor accommodations that are luxurious and well-protected."
Earlier reports suggested that Pyongyang was seeking outside funding to help pay for Kim's trip to Singapore. It remains unclear who this sponsor might be.
Singapore, known as one of the world's safest countries, is expected to pull out all the stops to ensure the tightest security for Kim and Trump. Reuters reported this week that Singaporean police, including its renowned Gurkha Contingent ― an elite force of Nepali soldiers armed with assault rifles and traditional curved knives called khukri ― would support U.S. and North Korean security personnel to secure the three hotels and nearby roads.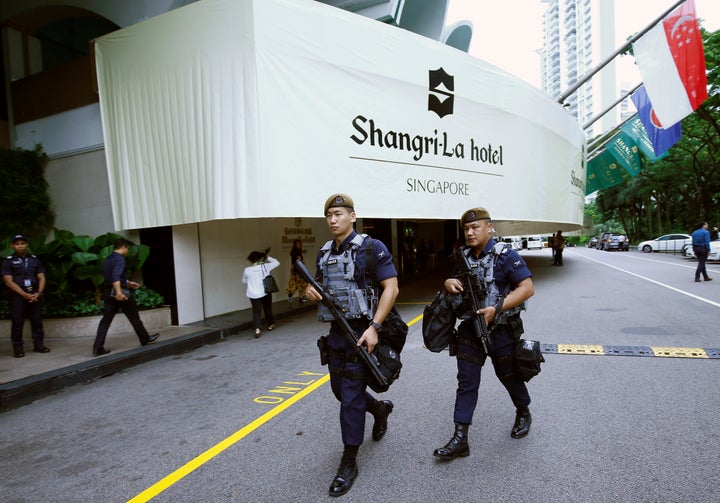 Elsewhere in Singapore, life appeared to carry on as normal as the summit approached. Social media buzzed with summit-related chatter, adding to the undercurrent of anticipation.
Digitally altered images showing Trump and Kim posing at city landmarks, including an old shopping complex called Peace Centre, made rounds on Facebook and the chat app Whatsapp. A long list of roads that would either be closed or subjected to police checks was also widely shared. "Do Share & AVOID AT ALL COST!" the notice read. 
Trump and Kim impersonators thrilled onlookers and posed for photos on Friday in front of a statue of the Merlion, Singapore's unofficial mascot. (The Kim impersonator, an Australian-Chinese man who identified himself only as Howard X, told reporters on Friday that he was detained by Singapore authorities and questioned about his political views. He was told "to stay away from Sentosa Island and the Shangri-La," Reuters reported.)
"I am cautiously optimistic," Christina Liew, an American who's lived in Singapore for 13 years, told HuffPost. "I believe that dialogue and engagement is always a step in the right direction, especially given the tenuous relationship these two leaders have had.
"I don't think there are many heads of states in this day and age who are more polarizing than Trump and Kim," added Liew, 41. "So if they can take some steps toward de-escalating threats toward one another, and the rest of the world, I would of course want that to happen." 
Some Singaporeans said they were excited that such a significant diplomatic event was happening on their small island, which is about half the size of Los Angeles but home to about 5.6 million people. 
"I was surprised but also quite proud that they chose to hold it here," said Sarah Lin, co-founder of local burger joint Wolfburger.
"It's a good platform for people to find out more about Singapore and also realize that we're not in China," she added with a laugh.
Wolfburger created a "Burger for World Peace" to recognize the summit. The burger features Korean-style bulgogi brisket, kimchee mayonnaise and American sharp cheddar.
"It doesn't sound like it'd go together, but it actually really works together," Lin said. 
She said she hopes the summit participants will mesh equally well.
"We hope it will be a good outcome for everyone," Lin said. 
Calling all HuffPost superfans!
Sign up for membership to become a founding member and help shape HuffPost's next chapter
BEFORE YOU GO