In Singapore I bought a two-day pass on the Hippo double decker bus. Hopping on and off the yellow bus is the best way to get an overall view of the entire city.
The Hippo took me to the ethnic enclave of Little India where flocks of tourists can be found. This district boasts wall-to-wall colorful shop houses. Built in the 1920s, the restored shop houses have practically been obliterated by Singapore's high-rise office buildings and hotels. The two and three level buildings are painted in deep purples, reds and shocking yellows. The shops are on the ground level and living quarters above. At one time, taller shop houses represented the prosperity of their owners. The more money they made, the higher the shop house.
The entire neighborhood was teeming with Indians dressed in traditional garb filling the sidewalks and crisscrossing the streets. I perused the various shops and bric-a-brac stalls selling bright silk and cotton saris, gold jewelry, and spices. A mixture of curry and incense permeated the air with strange Hindi music playing throughout the street. I was told that locals buy Hindi music here and watch Bollywood movies in the park.
At one food stall I ordered Masala Dosa -- similar to a pancake with a spicy vegetarian filling. As with many other dishes, it was served on a banana leaf ($5.00 USD). There are also sweet shops where I tried Gulam Jamun -- I found these to be delicious (they look similar to doughnut holes for $1.00 USD). I asked what they were made out of and I was told cream cheese and dipped in syrup. It was the first and last time I had them. In fact, cream cheese is not an ingredient. I called a local source, Himanshu Patel, owner of Masala Grill, a restaurant serving Indian cuisine in Princeton, NJ (my home town). Himanshu said, "Gulam Jamun is never made with cream cheese and can be tricky to make. Everybody has variations on making it, but a few of the main ingredients are non-fat milk powder, heavy creme and flour. The Gulam Jamun is then deep fried and soaks in a sugary syrup for a few hours to absorb." For a YouTube recipe, click here.
On Sungei Road I came across "Thieves Market" where hundreds of Indian and Bangladesh immigrants sell old junk, most of which is broken. A local told me at one time if anyone ever had something stolen in Singapore they would head straight to this market and find their stolen goods. I am sure that rings true for today, too. In this area, it is also wise to keep a watchful eye out for pickpockets.
Since Little India is considered the red light district of Singapore, it is prudent to explore the shops and food stalls during the day. At night it takes on a seedy atmosphere.
Moreover, if you have ever taken open space and green pastures for granted, try visiting Little India on the weekend. Thousands of construction workers from Bangladesh, Sri Lanka and southern India congregate on the streets. It would be daunting trying to make your way through the mass crowds. If possible, visit on a weekday morning or early afternoon, before the heat becomes too uncomfortable.
Tip: Singapore is approximately 110 nautical miles north of the equator. Even for sun worshippers, the heat can be oppressive.
Where to Stay: Raffles (Home to the Singapore Sling)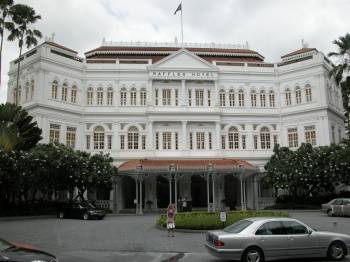 Photo By JH Fogwell