"Bigotry and closed-mindedness come from lack of exposure," says singer Betty Who, "So I'm working on exposure right now."
Personal exposure has come quickly for the Australian, who emerged almost immediately as a favorite of queer fans with her award-winning full-length debut Take Me When You Go. With success have come ample changes, said the singer — some of which are immediately evident on her upcoming album. Though she is excited to offer the world new music, Who admits being almost afraid of fans' response to what many might consider a new sound.
"It's like any relationship…like when your friend goes away for the summer, then they come back and you're like, 'I don't know you any more,'" the multi-talented entertainer shared during a recent interview. "I'm the friend -- but I've been gone two years."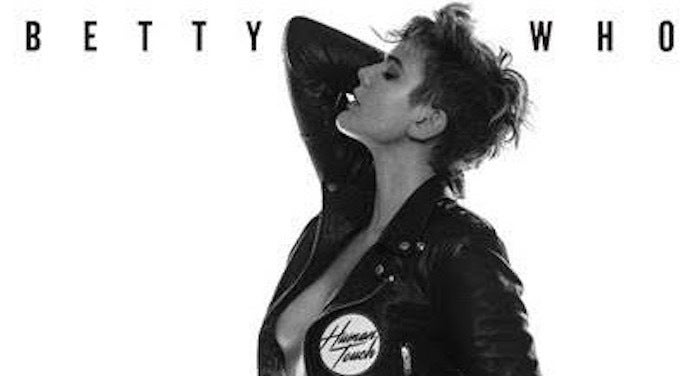 The burgeoning pop diva knows first-hand what it's like to feel a "loss of trust" when favorite artists return from a musical hiatus with a different vibe, she said. As a result, Who is careful in discussing her dance-y new project, even with those close to her.
"Every time I play my music for friends for the first time, I don't want to build it up too much," she said of the yet-untitled album, "I don't think it's too different – [but] I don't want people to be sad."
Audience response to the album's slinky, synth-pop lead single "Human Touch" — now featuring a complete remix package and acoustic version featuring fellow Aussie Jarryd James — has been "mostly lovely," Who agreed. However, some seem disappointed by a perceived change in musical direction. For the handful who "miss the old Betty Who," her message is clear: "Buy the old record."
"Obviously I don't mean to be disrespectful, because I get it. I've had that same feeling, to be quite honest," Who told Party Foul Radio with Pollo & Pearl, "But I really feel like I'm a very different person than when I wrote the first record. So much has changed in my life."
WATCH: Betty Who's "Human Touch (Acoustic)" feat. fellow Aussie Jarryd James
Fact. Since Take Me When You Go became a hit, Who has twice topped Billboard Dance Club Play charts (adding to her 2012 chart-topper "Somebody Loves You"), toured with the likes of Katy Perry and Kylie Minogue and even snagged the NewNowNext "Best New Artist" Award. Those are only the professional changes!
"Whether it's just relationships or people I have had the pleasure – and displeasure – of coming in contact with over the last few years, relationships really shape my music," Who continued, "I write about connection and contact. That alone is enough to make me really want to do something a little different."
For her sophomore set, Who wanted to make fans dance. That didn't come easy, the 25-year-old noted; when she first entered the studio, she "felt so kind of lost." A huge part of that, she confessed, was exhaustion.
"I'd been toured to death, so I think I was kind of emotionally beaten down when I started recording the record," she shared. "I was almost in an angry place. Then I got out of that after a month or two of writing and said, 'I don't want to be this person.' I've got to make a record of who I want to be – and how I want people to see me in the world."
WATCH: Betty Who's Homoerotic "I Love You Always Forever" Video
The results, Who said, are the most "honest" work of her career. Though laughing at the term — over-used by pop stars describing their work, she said, yet insisting it's true in this case – the album captures both her authentic feelings at the time it was written and global events shaping her experiences, she said.
"There's a whole lot of contention in the Universe, a whole lot of uncomfortable energy in where we are in the world, especially in this country," she noted, "So I think there's a little more tension and a little more frantic energy on the record."
Noticeably absent from the upcoming set, Who warned, will be her 2016 hit "I Love You Always Forever." Though many who loved her Billboard chart-topping reworking of the 1996 Donna Lewis classic expected it as the album's first single, the singer – a self-described "total psycho" as relates to creative control -- nixed the idea.
"We can do anything really well," said Who of the decision, "So let us do other things really well that I feel are accurate and true to my narrative and my artistry."
Though she, too, loves the cover – and enjoys performing it live – Who feared it might compromise her perception as a songwriter. Said the singer, "I desperately want to create a path for myself."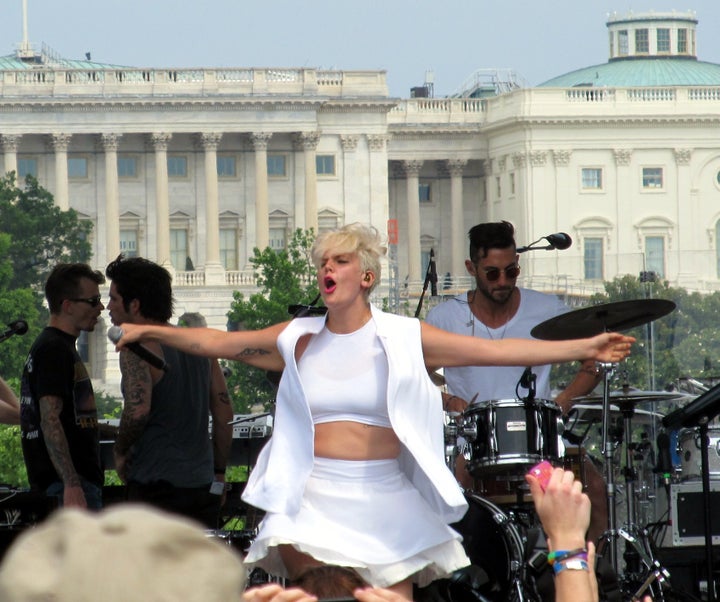 Part of that path, Who indicated, is recognizing those who have supported her along the way. The "I Love You Always Forever" video is filled with same-sex contact and eroticism, content she confirmed was intentionally geared to her avid LGBT following. It builds on the afore-mentioned "exposure" so key to opening eyes on issues important to the singer by providing a "safe space."
"I wanted to put an image out into the world that if someone saw for the first time and was like, 'Oh my God. This makes me feel OK because it's something I want to do, but I'm too young or not comfortable enough with myself to do that or be that,'" she explained. "If there's one 14-year-old in the world who saw my video and was like, 'Hey, I want to be with boys!' I'm like, 'Yeah, go do it! You're allowed to!'".
Embraced by queer fans from the beginning, Who recalled a group of gay men attending her very first New York show – and says the mutual admiration hasn't stopped since. She calls it a "blessing."
"I would not have a career without the LGBT community," she admitted. "I've played almost every LGBT Pride in the country. I've been so included so quickly, and I'm so grateful for it."
And, of course, she hopes queers and other fans stick by her when the new record drops — even if her sound has evolved.
"I'm like, 'No, everybody please still love me!'" the immensely likable star said of her fears. Then with a laugh, she concluded, "But they were personal choices, so I'll deal with the consequences if they're bad."
Oh, hush, Betty! Somebody loves you — always forever.
LISTEN: Betty Who & RuPaul's All-Stars Drag Race star Alyssa Edwards Join "Party Foul Radio"
REAL LIFE. REAL NEWS. REAL VOICES.
Help us tell more of the stories that matter from voices that too often remain unheard.