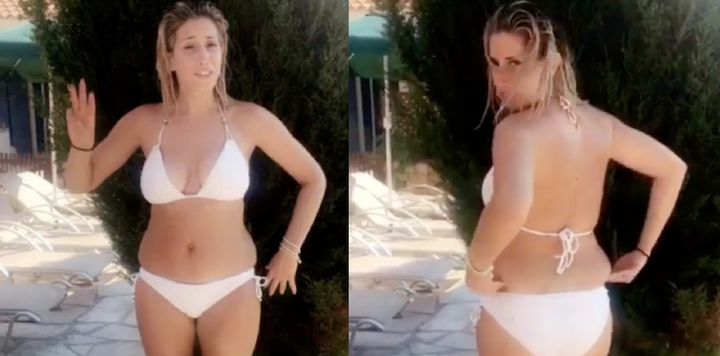 Stacey Solomon has no time for body shamers.
In the video, Solomon shouts out all of her favorite parts of her body, focusing on the parts that her body-shaming critics saw as "imperfections" and "flaws" and fodder to mock her for: her muffin top, her "saggy boobies" and her stretch marks. 
"Muffin tops: not only are they insulating but who else can lay this comfortably on a stone floor without the help of these babies," Solomon says to the camera while laying on the outdoor stone floor and holding the fat on each side of her hips. 
And her saggy boobies "may not look the best," Solomon says, putting air quotes around "best," but she no longer needs "a bag for anything on holiday." The 27-year-old proceeds to show how she can use her boobs to hold practical items like ice pops and sunglasses ― a truly impressive feat! 
Watch the full video below.
As of Monday afternoon, Solomon's post had received over 240,000 views and 3,300 comments. 
Solomon explained in the video caption why she decided to create the post. 
"SHOUT OUT TO EVERYONE ON HOLIDAY WORRYING ABOUT HOW THEY LOOK! You're all perfectly imperfect and unique and beautiful," Solomon wrote. "I thought I'd make a little holiday video celebrating my society labelled 'imperfections' because actually I love them, they're part of me, and they have their uses!"
The singer wrote that the world would be a better place if more people lovingly showed off their body insecurities. 
"I think if we can all show off our insecurities then we will all start realising [sic] NOBODY escapes the world of perfection that we are all under pressure to keep up with and everyone can sleep a little easier at night knowing everyone comes in different shapes sizes," she wrote. "And we all have the same extra ordinary bits that are seen as 'imperfections' but they're not they all tell a story of who we are and why we are and where we are going!" 
REAL LIFE. REAL NEWS. REAL VOICES.
Help us tell more of the stories that matter from voices that too often remain unheard.
BEFORE YOU GO