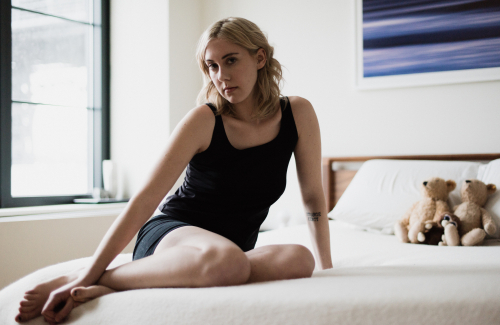 (Photo Credit: Shawn Brackbill)
There's a bit of a personal struggle in the songs of Mackenzie Scott, the Brooklyn-based musician known as TORRES. A voice that's inner being is fighting the ills of denial and isolation while trying to not get caught up in the intoxicating realities of life. With her new album Sprinter, it's about a journey growing up and trying to find balance not only internally, but also within this vast universe. Scott's music is about how we move and connect with the fundamentals of our own existence.
Recently, I was able to chat with Mackenzie Scott during a stop on her current tour in Dallas about the cosmic feeling of her new album and what she struggles with as an artist.
I really like the flow of your new album. There's a lot of space to work with. Speak about the sound of the album.
I really just wanted to experiment with sounds that I haven't had on my songs before. I loved the way it sounds to have a guitar on every song. That's my favorite instrument. I wanted it on every song, but some of the songs, I didn't want it to be so obvious that it was a guitar. That's what I did on my first album; everything had that folk tinge to it. With this album, I wanted to use the guitar as well as other instruments to make sounds that I haven't had on my music before. That was a cosmic sound that I was going for. I wanted it to sound like the planets. I wanted it to sound like meteors moving through space, and beams of light. Basically, otherworldly sounds.
Right. I do get a cosmic feel to it, much like a score to a movie.
I wanted there to be moments that felt entirely out of control or unexpected. Of course, as we know, we have no control over the cosmos.
When listening to the whole album, I love the transitions between songs. How do you piece everything together to have that connection throughout the album?
I really went with the order that I felt was going to feel the most like going from a gallop to a really slow walking pace. When I wrote the songs, the only two I knew where I wanted them in the track listing was first and the last song, but everything the middle, everything in between "Strange Hellos" and "The Exchange", I went with the order that felt most like a decrescendo.
I think this album is something that at first you have to experience as a whole body of work from beginning to end. Talk about the importance of having a cohesive album as oppose to just a collection of songs.
That was something I was more intentional with this record as oppose to my first. I think that was because over the last few years I've discovered that my own favorite albums are concept albums. They don't have to be heavily rooted in a concept, but something that feels cohesive, like it's meant to be one movement. With that in mind, that was to be a common thread to tie everything together, and for me, it's a couple things. It's my voice, my physical singing voice, which I make sure it's recognizable as me in every song, in every recording, because that's one instrument that I know that's just going to sound like me. It's not going to sound like anything or anybody else. The other thing was the sounds, the instrumentation. I kept up the entire way through with the cosmic theme but also sort of a cosmic cowboy theme I guess. Almost like a country western record set in outer space. That's the vibe that I wanted.
Thematically, what's the common thread of the album?
More than anything, it's a reexamination of childhood and a longing for acceptance and love from certain people, but simultaneously, a refusal to be claimed by certain people or groups of people. It's a desire for personal connections, but rejection of ultimately damaging institutions.
There's clarity with your vocals where you can connect with every word. What's your song writing process?
The process is generally me keeping notes on different ideas and phrases that I like and jotting them down through all the days, random moments, and random places. When I eventually do sit down to write with intention I pull out all the notebooks that I've kept or scraps of paper, and I start piecing things together weirdly and seeing what makes sense thematically. Not just the words and phrases that look good together and sound good together, but the ones seem to have commonality in their meaning.
How long have you been doing music seriously?
I've been doing music my whole life, but I guess I can consider the beginning of college. I was in the school of music business, but again, I didn't have a career then. I was just writing and playing coffee shop gigs and things like that. I didn't actually tour or start doing this professionally until my first record came out two and half years ago.
Since that first record came out, what have you learned about yourself?
I learned that I can do a lot more than I thought I could do. I wasn't so confident in my abilities as a musician, as a performer. The writing as gotten better but I always felt assured in the writing. It was more the performing aspect. I wasn't confident or assured after making the first record, before or after. I've learned that the more I expect of myself, the more I'm going to get out of myself, which is satisfying for me.
As an artist, what are your biggest challenges?
Personally, it's not very enjoyable to talk about myself or talk about the process. Of course, I'm respectful and I understand that it's just a part of the job, but I didn't really anticipate or I just didn't understand how PR works until I was in it (laughs). It's hard to talk about myself because I usually just prefer to let the songs speak for themselves. That's just personal and I'll get over it. Professionally, just surviving; coming up with the finances to not only go on tour but actually sustain myself and pay my rent. That's proving itself, at this point, impossible, hopefully not for too long.
TORRES will be playing at the UFO Factory (2110 Trumbull Ave) in Detroit on Friday, May 22nd wsg Aero Flynn. For more information on the show, visit ufofactory.com. TORRES new album "Sprinter" is available now. For more information, visit torrestorrestorres.com.