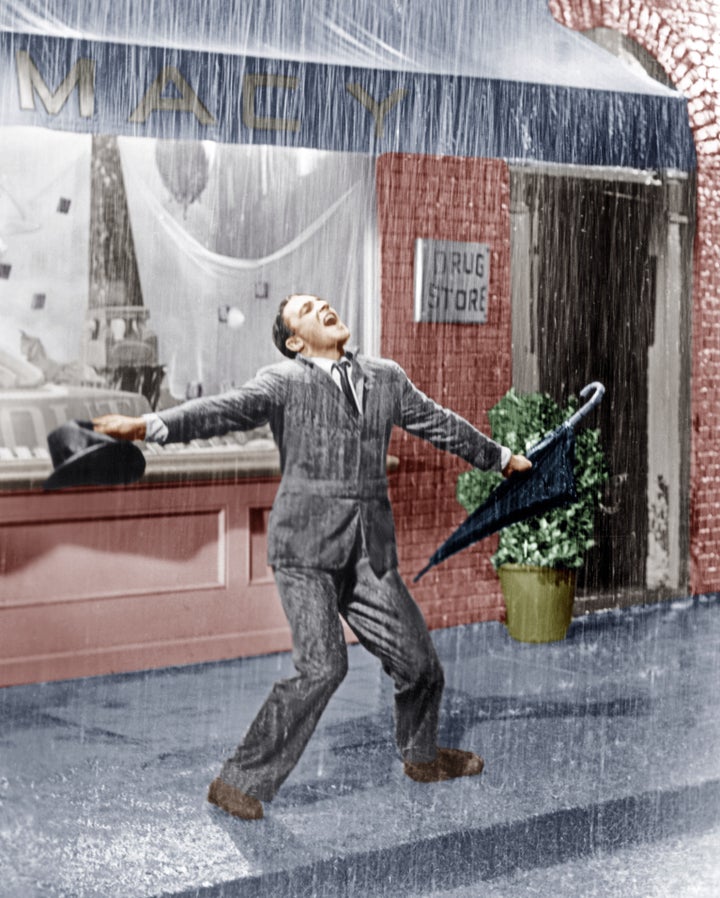 In a year when the Best Picture Oscar went to a comedy about Hollywood's turbulent transition from silence to sound, "Singin' in the Rain" suddenly seems timely again.
The beloved musical, which marks the 60th anniversary of its release in U.S. theaters in April, is not only fondly remembered for its exuberantly athletic song-and-dance numbers, but also for its witty dramatization of the birth of Hollywood's sound era. If you haven't seen it, imagine 2011's "The Artist" with spoken dialogue and without the heroic dog.
But of course, you have seen it, even if you don't realize it.
The title number, featuring a soaked but joyful Gene Kelly, is one of the most iconic (and most frequently parodied) sequences in film history. The film's impact on popular culture is enormous, from making stars out of Debbie Reynolds and Cyd Charisse to influencing directors as far-flung as Jacques Demy and Stanley Kubrick.
And yet, there's still plenty you don't know about how this improbable picture was cobbled together, how very different it almost was (imagine it as a Western!), or which future EGOT winner's performance was largely left on the cutting room floor. Read on for the backstage dish, and remember: dignity, always dignity.
1. Stanley Donen, who co-directed the movie with Kelly (and who will turn 88 on April 13), has said the initial story idea was developed for a movie to be called "Excess Baggage" that would have starred Ann Miller.
2. Only two original songs were composed for the film: "Make 'Em Laugh" and "Moses."
3. Otherwise, the movie was an excuse for Arthur Freed, the producer who headed the famed "Freed Unit" that made so many of the classic MGM musicals, to recycle songs that he'd written as a lyricist with composer Nacio Herb Brown two decades earlier for some of the studio's earliest musicals. As Betty Comden recalled, she and co-screenwriter Adolph Green were told by Freed, "'Kids, you're going to write a movie called "Singin' in the Rain". Just put all of my songs in it.' All we knew was there would be some scene where someone would be singing, and it would be raining."
4. The title song originally appeared in "The Hollywood Revue of 1929," performed by Ukulele Ike (a.k.a. Cliff Edwards). It would be sung in four more movies, including by William Bendix in "The Babe Ruth Story," before Freed had Comden and Green build a movie around it.
5. Originally, the character of Don Lockwood was imagined as a cowboy actor, not a swashbuckler, so the producers envisioned Howard Keel in the role, not Gene Kelly.
6. The Cosmo Brown character was inspired by Comden and Green pal Oscar Levant and written for the pianist/actor to play himself, but when the movie became more dance-oriented, the part went to hoofer Donald O'Connor instead.
7. To create the role of Lina Lamont, the silent star with the disastrous voice, Comden and Green thought of Judy Holliday, their old sketch comedy partner, and even revived some bits of business from their old act. But after Holliday won the Oscar for 1950's "Born Yesterday," they realized they'd need someone else. They turned to Jean Hagen, who'd been Holliday's understudy in the Broadway version of "Born Yesterday." For her audition, Hagen did a drop-dead impression of Holliday and won the role.
8. For female lead Kathy Selden, such stars as Judy Garland and June Allyson were considered, but Kelly was sold on starlet Reynolds. She was a gymnast who'd been discovered in a beauty pageant and landed a couple of small movie roles. She was also still a teenager, but Kelly was certain she had the athleticism and vocal chops the part required.
9. Reynolds, however, wasn't so sure. She had no dance training, and she found co-director/choreographer/co-star Kelly a tyrannical taskmaster. One day, she was so despondent that she curled up beneath a piano and started to cry -- only to be found by Fred Astaire, who gave her some dance coaching. By the time she filmed the "Good Morning" number, she was able to keep up with Kelly and O'Connor, but after the 14-hour shot was done, she had to be carried to her dressing room because her feet were bleeding. Years later, she would praise Kelly as the most exciting director she'd ever worked with, while he called her "strong as an ox" and complimented her on her ability to learn complicated routines quickly. Still, she said, "The two hardest things I ever did in my life are childbirth and "Singin' in the Rain'."
10. O'Connor also worked himself to exhaustion on the "Make 'Em Laugh" number, which had him resurrecting bits of acrobatic comedy he'd done back in the days of vaudeville (including, famously, running up a wall and flipping into a somersault). O'Connor was a four-pack-a-day smoker, and after filming the number, he took to bed for several days, only to learn that the footage had been accidentally destroyed. So he did it all again.
11. Even Kelly worked himself sick. The title number, filmed on a street set two blocks long on the MGM backlot, took seven days to film, with six hours of fake rain each day. The water was mixed with milk to make it show better on camera, but the mixture made Kelly's wool suit shrink. The perpetually drenched Kelly had a bad cold and fever the whole time. Dancers Gwen Verdon, Jeanne Coyne, and Carol Haney dubbed Kelly's tap sounds and splashing noises in post-production.
12. Another epic number: the "Broadway Melody Ballet," which ran nearly 17 minutes and was highlighted by the silent, vampy performance of the then-unknown Cyd Charisse as a leggy femme fatale in a Louise Brooks wig. The number cost more than $600,000 to film, running more than $85,000 over budget.
The Choreography of "Singin' in the Rain"
13. Seen in the party sequence near the beginning of the movie is Gwen Carter, then Donald O'Connor's wife.
14. Several numbers were cut from the movie, including Reynolds soloing on "You Are My Lucky Star" (though that number appears in some special-edition home releases) and Kelly soloing on "All I Do Is Dream of You."
"Singin' in the Rain" -- Debbie Reynolds' unused version of "You Are My Lucky Star"
15. Also cut: most of Rita Moreno's performance. The future EGOT (Emmy, Grammy, Oscar, and Tony)-winner is seen briefly at the beginning of the film as silent star Zelda Zanders. She was to have had her own number, "Make Hay While the Sun Shines."
16. Irony alert: Filming the sequence where Kathy dubs Lena's singing and speaking voices in "The Dancing Cavalier," it was decided that Reynolds' voice wasn't working, so Jean Hagen's own speaking voice was used to dub Reynolds. Plus, Betty Noyes dubbed Reynolds' singing voice for the "Would You" number in that scene.
17. Mogul R.F. Simpson (played by Millard Mitchell) was reportedly modeled after "Singin'" producer Freed himself, though Freed didn't know it.
18. The initial ending would have included a premiere for Lina's film "Jungle Princess," in which her dialogue would consist solely of grunts. Also, Lina and Cosmo would have married.
19. Another scrapped idea: a lengthy Western number that would have seen Kelly, Reynolds, and O'Connor as wagon-train pioneers who charm hostile Indians through song and dance. Good thing they went with the "Broadway Melody Ballet."
20. The movie cost $2.5 million, running more than $600,000 over budget.
21. Although today it's considered one of the best musicals of all time, the film earned no Oscar nomination for Best Picture (it was considered artistically inferior to Kelly's 1951 Best Picture winner, "An American in Paris"). It did earn a Best Supporting Actress nod for Jean Hagen, and Best Original Score for instrumental composer Lennie Hayton.
Donald O'Connor on "Singin' in the Rain" co-star Jean Hagen
22. Despite her Academy Award nomination, Hagen was never able to capitalize on her performance to land prominent roles in other movies. By contrast, Charisse parlayed her silent part into the lead in Comden and Green's "The Band Wagon" (opposite Fred Astaire) and other musicals throughout the 1950s and beyond. Reynolds, of course, remains a busy movie and cabaret star to this day (she turns 80 on April 1) and attributes her career longevity to the boot-camp experience of making "SIngin' in the Rain."
23. The title tune became the soundtrack to one of the most infamous moments in film when Malcolm McDowell sang it while his character raped a woman in 1971's "A Clockwork Orange." The song was McDowell's suggestion on the set; director Stanley Kubrick called for a break and got permission within an hour from his studio, Warner Bros., to acquire the rights to the song. Donen happened to be in London near the set, so Kubrick found him and told him his idea for the use of the song. Donen raised no objections at the time -- did he regret it later?
24. In 1983, "Singin' in the Rain" was staged as a theatrical musical in London's West End.
25. The "Make 'Em Laugh" number remains a mountain aspiring musical stars still try to scale. There's the famous scene in 1997's "The Full Monty" where a dancer tries and painfully fails to scale the wall in emulation of O'Connor. More recently, in 2009, Joseph Gordon-Levitt recreated the entire number, live, during his opening monologue on "Saturday Night Live." His voice became raspy and he didn't execute all the steps perfectly, but high marks to him just for trying.
Popular in the Community