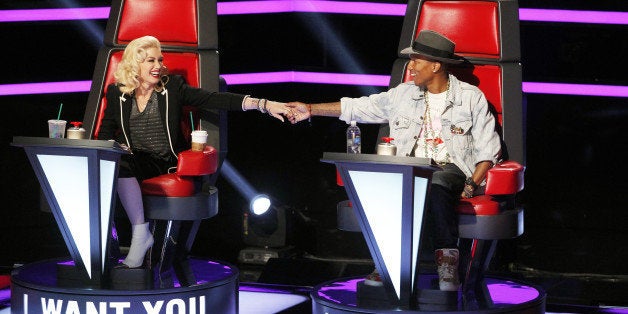 There are countless of singing competition shows that hit the air every year. Some go on to create bestselling artists and some go on to create clearance rack CDs. Now, I am a fan of all singing shows. I watch them religiously mind you, but there is something that isn't quite right and I think I've figured it out. I've rounded it down to two questions: Is it truly only about the voice? Are you pursuing this for the love of music or for the love of someday having a Bugatti sitting in your driveway?

First problem: singing. I've been watching singing shows since I was a kid and I've noticed that the only thing I really know that these contestants can do is sing well. Now back to my first question, is it really just about the voice? Watch an episode of American Idol or The Voice and pay close attention to the contestant's song selection (which is most of the time given to them by show producers). Now, think about how great most of the songs they sing are. Most songs you hear sung are songs you've heard before or relevant chart toppers. I don't really recall any contestant singing Glee's self-proclaimed worst song ever, "Run Joey Run." The point is: the songs they sing are good. Even with a great voice, a bad song selection may cost you the competition, which is why I firmly believe that the importance of the song is more powerful than we care to think.

In my own definition, a singing show is essentially the televised growth of an artist through cover song performances. Their voice and stage skills might improve after each week but it's still lacking one great and important aspect: the song. I cannot stress this enough but a singer cannot sing without a song. Period. I personally feel that having a great singing voice isn't too difficult to find anymore but being able to find someone who can write a great song that people will love, is.

Now during the '00s we had many artists rise to the top of the charts after winning a singing competition show. Now we're in the 2010s and I can't exactly say we've had another Kelly Clarkson pop out of one of these shows. Why haven't we seen anyone breakout and sell the million records that previous singing competition show winners would do right off the bat? The answer in my opinion would be that they just don't have the necessary songwriting skills or aren't receiving the top writers and producers.

Max Martin and Dr. Luke (best known for writing/producing Katy Perry's biggest hits) wrote and produced Kelly Clarkson's "Since U Been Gone." That song is HUGE and is even featured in Rolling Stone's "500 Greatest Songs of All Time" list. Could anyone with a great voice have sung that? My answer would be yes. Here's the issue, competition winners aren't being handed an amazing gem of a song anymore. Instead, they are being given to already established artists. Generally speaking, Calvin Harris could have gave "We Found Love" to 2011's X Factor winner, Melanie Amaro but it could just be that songwriters and label execs don't want to risk a (potentially) commercially successful song on a newbie but rather on an already established artist. I would assume this ideology is common in music industry nowadays.
Let me get back to the point I wanted to make. I feel that a contestant can benefit from not just singing cover songs every week but by actually attempting to create a song of their own (which wouldn't make bad television either) and they won't need to rely on an expert group of writers to create their music since they'd already have acquired some skill to do it themselves by the time they win the show. I bet you're wondering, "Wouldn't it be impossible to find someone who can write a great song but can still sing it themselves?" The answer is no.
The artist in today's mainstream music that I respect the most is Pharrell Williams because he writes, sings and produces his own music and even has 100 percent writer and producer credits for the Oscar-nominated song, "Happy." It can be done. We even have indie bands overshadowing show winners' successes since most indie artists write and produce their own music such as Vampire Weekend (who in my opinion are a bigger household name than the vocally talented Javier Colon, winner of The Voice). Be more than just a pretty face, err, voice.

The final issue I had about singing shows isn't exactly directed at the shows in general but rather the contestants. Every singing show formula features a little background story of the contestant at hand. If you watch these shows as avidly as I do, you'd come to the conclusion that a common background story to why they are auditioning would generally be about their financial or personal struggles or simply because music is their passion. The other story we see often is the story about how the contestant already had a career in music but it didn't pay enough and/or were dropped from their previous label. I understand that music is a business and like any business, people do go into it for the money but going into the music business and expecting fame and riches won't exactly earn my vote.

Stephanie Anne Johnson of The Voice already had a career in music. She sang on big fancy cruise ships. She was getting paid to do what she loved but I always wondered what else she could have sought out from winning the show. Maybe riches? Fame? I'll never know.
We've also seen contestants that are background singers for the biggest names in music on these shows. We even saw YouTube sweetheart, Christina Grimmie on The Voice. She was already getting paid to sing, opened for Selena Gomez during her North American tour dates in 2013 and even has a large fan base. What else could she have sought out from winning the show in 2014? An even larger fan base? An even bigger salary? Again, I'll never know.
I personally would be 100 percent content if I made the same wage as the cashier at my local Chipotle for doing what I love because being paid a single dime to do it would be enough. Someone may say, "Well you might be content with making minimum wage for doing what you love but other people need to pay the bills." My response to that would be that if you truly love it, you'd make sacrifices for it, even if it means holding down two jobs in order to do what you love (which some people never get the opportunity to do in the first place). Think about that.

Overall, singing competition shows make for great television but sometimes what the contestants get out of the show isn't sufficient enough to withstand the career of their dreams. Sometimes greed gets in the way of passion and sometimes the talent one has might not be enough but success doesn't always mean money. If you're doing what you love, you've succeeded in my opinion. Now to end this in the words of Rivers Cuomo of Weezer, "Let's turn up the radio, turn off those stupid singing shows. I know where we need to go."
Calling all HuffPost superfans!
Sign up for membership to become a founding member and help shape HuffPost's next chapter