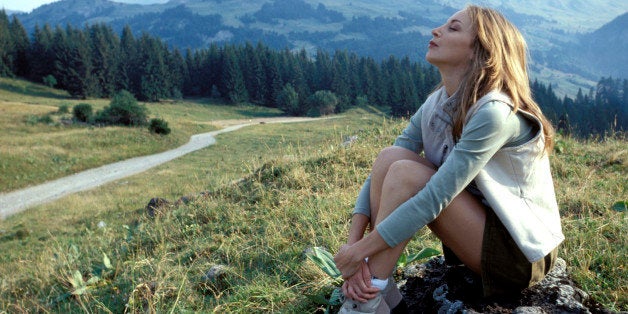 We know that Valentine's Day is around the corner because every grocery store is adorned with red and pink balloons, and cheap heart-shaped chocolates. I personally skip the display and go straight towards the wine aisle after picking up some brie cheese on the way, but that's just me.
A lot of us wind up (or remain) single once Valentine's Day rolls around for another year. As singles, we're usually tempted to complain or to ignore this particular holiday.
But I completely disagree with that perception.
Why shouldn't singles celebrate the holiday just like couples do? Isn't the day meant to celebrate love in general? And don't we all love love?
Love doesn't discriminate, and there really are so many things in the world to fall for. So why not celebrate falling head over heels for all of them?
This year, give commemorating Valentine's Day a shot -- even if you're single. Choose to fall in love in 2016 with everything but another human being.
Go ahead, buy that expensive chocolate and book yourself a solo trip in celebration of yourself and the fact that you're great at being single, because you're simply great at being yourself -- by yourself.
Why the travel part? Better yet, why not travel? By traveling alone, you get to fall in love a little more with your own company, experience a new place differently, and be away from all the couples sharing their cheap Publix chocolates back home.
It's a great excuse to get out of the town you've given up dating in, and take yourself on a date in a new city. Go on an adventure. Go talk to strangers. Go sightseeing. Go do anything that makes you happy.
You don't need another person in order to travel this Valentine's Day weekend (although I fully support a friends' trip, too). All you need is your heart on your sleeve, a boarding pass and a carry on bag.
So get to booking and get to packing, because here are nine places you should go solo for the weekend:
San Juan. Grab your sunscreen and a good book to read. Soak up the sun in the middle of winter, or go relax somewhere else in the Caribbean, like Barbados.
New York City. This is where I went in 2015 for Valentine's Day. Be a tourist or be a local -- either way you can fall in love amidst the high rises, even in the chill.
Santa Fe. This is a city you can truly go to with no set plans, and New-Mexican culture is something not to be missed. It's a low-key destination with pizazz.
Scottsdale. This is a sleepy resort-style getaway but with a thriving nightlife -- sometimes referred to as "South Beach in the Desert." Also one of the best cities for singles!
Portland. This is a really affordable destination and an easy city to navigate. Plus, you'll get great food, attractions, and (hopefully) a great view of their nature scene.
Washington D.C. If you like sightseeing, then this is the perfect place. There are so many museums and monuments to see that a weekend almost wouldn't be enough.
Miami. Living here is fantastic, so I can say with all honesty it's a great place for singles to vacation. Enjoy South Beach in February, or experience the city like a local.
Charleston. This is was voted America's Best City by Conde Nast in 2013. Need I say more?
Savannah. This quaint, gothic and gorgeous southern town will really make you feel in love, and here's what you should do during your weekend.
If you happen to have a few vacation days to spare, then consider taking yourself on a long romantic weekend vacation across the pond. Try leaving on a Wednesday or coming back on a Tuesday (trust me, it's doable.)
Consider cities that are known to be fantastic for solo travel (and still close enough for the weekend) like Lisbon, London, Amsterdam, Barcelona, Copenhagen, Dublin, and even Paris (because you can fall in love with a city too.)
So what are you going to do this Valentine's Day weekend?
You can watch sappy movies or you could live your life like you're in the movies. You can go out in your hometown (again) or go out in a brand new city. You can lament over being alone or you can go find yourself in some place. You can treat it like any other day or realize that love can be celebrated whether you're single or not.
You can let Valentine's Day pass you by or you can choose to fly. You never know what you'll fall for when you're on a personal high.
Related
Popular in the Community