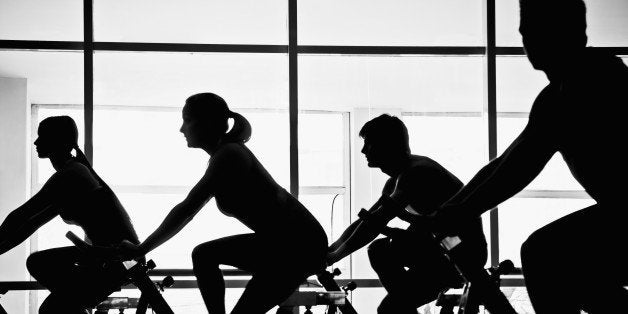 I'm a somewhat gym regular. On a good "motivated by a media appearance or photo shoot" week, I'm at the gym like it's my full time job. Otherwise, I work out to blow off stress and spend 90 minutes where I'm not actually working. I think a lot of single professionals like me are the same - we work a lot and the gym is one of the places where we switch off. So, for single people, it's a great place to try to meet new people.
I am at the gym during a few very opportune times - specifically, Valentine's Day around 7-9p, when the gym is teeming with singles; and usually on Friday nights and Sunday mornings (because anyone who's coupled is in bed with their lover). You get the point.
I couldn't help but notice the horrific fashion faux pas that were in front of me, in broad daylight aka fluorescent light. I have never touted myself as a fashionista; however, these were blinding fashion mishaps. So, as a matchmaker and dating extraordinaire, here is my list of what NOT to wear at the gym when you're single:
First, beanies. Who works out in a snow cap? It's fabulous that you love the outdoors despite the weather, but you look ridiculous if you're working out in a beanie INSIDE at the gym. What does your beanie "brim" do for you if you're working out under fluorescent lights? Are you looking to stay insulated? None of the answers to this question are positive, or more importantly, sexy. Leave the beanie at home.
Secondly, for guys, a neck that hasn't been shaved. Yes, it looks like you're wearing a turtleneck made of hair. I was on the treadmill and there was an otherwise attractive gentleman on the elliptical right in front of me. This was on V Day, around 8pm, and he was cruising, HARD. (Who wasn't?) Darling, if you are looking to meet another fitness guru on your (relatively lame) workout on the elliptical, shave your neck. Get someone to do it for you if you're not ambidextrous and can't reach.
Ladies, manufacturers made "yoga pants" for everyone, all shapes and sizes, which is great. Let's make sure we wear the proper under-garments for these pants, no? Leave big panties at home and slip into something small or ditch them all together. After all, they are typically wicking, and "see thru proof". No more panty lines!
T-shirts from college? Cool, if you're at a dive bar and you're 22 years old. But if you're looking to hookup or meet someone - and this goes for you too, ladies - ditch the oversized cotton t-shirt your team/friends/sorority/fraternity gave you upon "finishing". Grow up lads and ladies - it's no longer cute when you dress like the trash you were in college. No one takes you seriously.
Are your socks cute? This might seem ridiculous, but are you wearing the same socks from ten years ago? If they are those high class workout wicking socks that cost you $80 per pack, by all means, keep them. I'm talking about dad-like tube socks that were cheap and make you look cheap... DITCH.
Cruising the cardio machines? FINE, we all do it a little bit. But the reality is that maybe the cardio peeps don't see you, but EVERYONE else does. Eyes to yourself, friends.
The best way to make friends at the gym? Be a regular. Notice who works late and off hours. Engage them. Subtly mention you are single to the trainers that take clients on Wed-Fri nights. You have to play it cooler in the gym than any other place that you would otherwise. People are self-conscious there, sometimes; otherwise, puffing themselves up for a (private) show. Think about how YOU would want to be approached - let me tell you, it's not by a beanie wearing person to start. Be conscious about it. The gym is full of singles at the right time. Make sure you dominate, appropriately.
Contributions from Meghann Novinskie, partner at Mixology - Matchmaking with a Twist.
REAL LIFE. REAL NEWS. REAL VOICES.
Help us tell more of the stories that matter from voices that too often remain unheard.