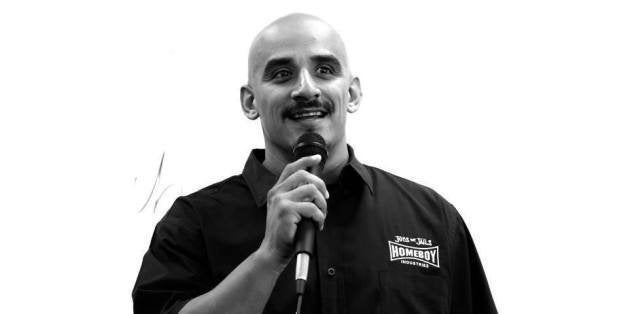 Robert Juarez wakes up at 4:30 a.m. three days a week to run. It's the only downtime the father of five has for himself, to help him focus before navigating the many responsibilities he faces throughout the day.
Juarez lives with his children in Los Angeles, where he works as a senior navigator at Homeboy Industries, an organization founded by Father Greg Boyle that primarily serves formerly gang-affiliated and incarcerated men and women through a range of training and support programs. Juarez helps mentor new trainees and also runs the maintenance department, and his responsibilities quickly fill up throughout the day.
"It's hard to stretch myself out and give everybody the attention that is needed," Juarez told HuffPost over the phone. "I wear many hats."
Juarez works with trainees, many of them former gang members, who come to Homeboy to change their lives. The organization provides case management, job training, educational services and more, and Juarez said those who get the most out of the services are the ones who arrive with an open outlook and a willingness to change. Juarez mentors the trainees through their rehabilitation and makes sure no one "falls through the cracks."
"When I see them down and out, when their work ethic drops ... I'm there to help them see a different way, a better way of living and make sure they're going to their classes," Juarez said. "I'm there to give them a different outlook on life, show them there's more than just the block they're claiming."
When he gets home, the responsibilities aren't much different. With five kids between 7 and 15 years old, Juarez continues juggling many tasks and many relationships.
"Each kid is distinct, they have their own character and ages," he said. "I have to be able to facilitate all their needs and balance time in between."
Fabian Debora, director of Homeboy's Substance Abuse Program, works closely with Juarez and has also interacted with him informally. Juarez has natural "leadership skills" that translate into his work as well as into his family life, Debora told HuffPost over the phone.
"He's the definition of father figure," Debora said. "I learn a lot from him."
Debora is a father as well, also with five children, and said he admires Juarez's ability to remain calm in challenging situations, as well as the way he interacts both with his children and the trainees.
"It's amazing to watch," Debora shared. "He speaks to his children in such a poetic way, but also his actions and gestures are very poetic. [...] Just when you think things are getting rough he's a reminder of the one who calms the storm."
Juarez's family's livelihood has improved since he started working at Homeboy several years ago, before which he was unemployed. His cousin had been in and out of prison for several years and eventually began writing to Juarez, saying he wanted to turn things around. Together they went to Homeboy, though Juarez said he had no intention of seeking services for himself.
"When I took [my cousin], Father Greg offered him a job, and then he turned to me and asked, 'What about you?'" Juarez recalled. "It dawned on me that I didn't have a job either. From there on I fell in love with the place."
The new job had spiritual, as well as economic, significance in Juarez's life, reconnecting him with the God he said he had left behind in harder times.
"I believe in God, but I fell off, and when I got [to Homeboy] I felt like I was embraced," he said. "It was loving, a therapeutic community. Because of that I was able to flourish, I was able to be myself, I was not afraid. I was able to speak my pain and just be myself, my true self."
Some major challenges remain, Juarez said. He and his five children are currently living with his mother, which he said causes tension due to a shortage of space and what Juarez called "different ways of seeing things."
Money is still a concern, as Juarez is not only supporting his family but also helping support his girlfriend and her three children.
"There's so many kids, I don't even know how I would do it," Juarez told HuffPost. "We just have to be very reserved."
His girlfriend's mother died in early December, and Juarez said his primary concern is to provide her with emotional support as she and her siblings mourn. With the holidays around the corner, Juarez said, he also wishes he could buy gifts for their joint families, but isn't optimistic that his finances will allow that this year.
In the long term, Juarez said, he is hopeful that things will improve -- that he will be able to move into his own home where he, his girlfriend and their combined eight children can all live. If there are moments of doubt, he reminds himself of the words of wisdom he offers to his trainees to keep their spirits up:
"Every day is a new day. We have to be as curious as a newborn to find a better way to live life and just keep striving."
To find out how you can help, visit Homeboy Industries' donation page here. Check the box at the bottom that indicates you are donating to someone special, and write "Robert Juarez, HuffPost feature" in the note field.
This story is part of series called 12 Days Of Giving. Huffington Post Impact, Religion and Parents have teamed up to feature stories from 12 families in need over 12 days between Thanksgiving and Christmas. Read more here.
Calling all HuffPost superfans!
Sign up for membership to become a founding member and help shape HuffPost's next chapter
BEFORE YOU GO
PHOTO GALLERY
Christmas Trees Around The World