A single dad is getting a lot of attention for his viral Facebook post about an upcoming father-daughter dance.
On Tuesday, Jason Garmon shared a sweet Facebook post about the way he asked his daughter Skylar to the daddy-daughter dance. With the help of Skylar's brother Grayson, Garmon surprised his little girl with a Pinterest-worthy setup.
The Virginia dad's surprise featured a bouquet of flowers, a pitcher of iced tea and a sign that posed the question, "Will you go to the daddy-daughter dance with me?"
"Just because I'm her Dad doesn't mean I'm going to assume she'll go with me," Garmon wrote in the photo caption, adding that he believes it's important to make an effort and show your loved ones how much you care.
Garmon's post has been shared over 45,000 times, and the comments section is filled with supportive messages. "This has got to be the sweetest Daddy/Daughter moment I've seen!" wrote Michelle Gregory. "Wow. I just cried," said Danielle King.
"[Y]ou are rocking the single dad thing," commented Darrell Hollifield, adding, "You are setting the foundation for your kids future. They will always remember these small things you do. Your daughter will measure the future men in her life by the things you do for her. Those future guys have a lot to live up to. From one dad to another, you are doing an awesome job."
The dad's efforts were not for naught. As Garmon wrote at the end of the post, "P.S. She said YES."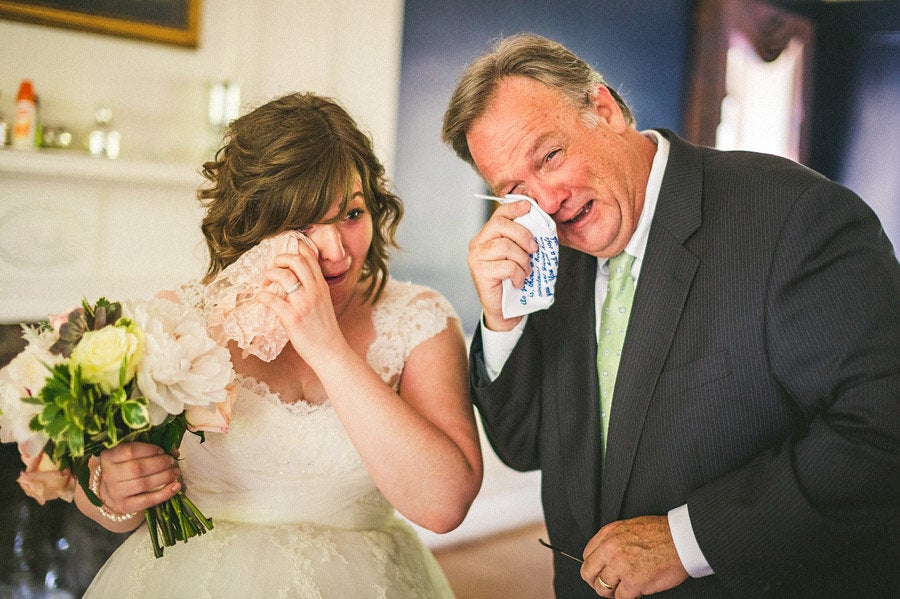 Emotional Dads At Weddings