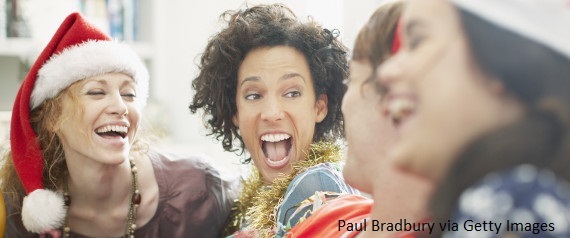 The holidays are a stressful time if you're single and you don't want to be. If you can't imagine another year of watching the ball drop from your couch with a pint of mint chocolate chip ice cream and your cat in your lap, stay tuned. I asked Erika Ettin, dating coach and author of Love at First Site to share her suggestions for meeting someone during the holiday season... or any time of the year. Here are four tips to encourage you to meet the right fit for you, whether in December, January, or next June.
Join an Online Dating Site
"Join an online dating site, and if you're already on one, become more active," said Ettin. "Also, just putting a profile up is only half the battle. Initiating emails to people who interest you and being proactive -- and positive -- is what really matters," she added. Why not use all of the resources available to you?
Be Socially Active

Ettin suggests scheduling two social activities weekly, and sticking to them. "You know where you're not going to meet the love of your life? Sitting at home. Go to an event and strike up some conversations with new people. You never know who you might meet." It's true -- it takes a lot of motivation to put yourself out there, especially after a tiring day, but once you're there, you'll be glad you went.
Join a group or class doing something that interests you. That way, you'll be having fun regardless of whether you meet someone or not. Ettin adds, "And if you do meet someone, you know you already have that common interest." A few examples are painting classes, hiking groups, book clubs, or dance classes.
Grow the Relationships You Already Have
Surround yourself with people who love and support you, like family and friends. "Appreciate and nurture these relationships as well as the relationship with yourself," said Ettin. "When you feel better about yourself, you attract more people. And, of course, feel free to tell them to set you up!"
Take Advantage of Being Single
Don't forget that being single has its perks, like the ability to be on your own schedule, watch as much dorky TV as you want, save some money by not buying gifts for your belle or beau, flirt with people at holiday parties, and focus on yourself. And, like any meaningful relationship, your relationship with yourself grows when you focus on it and spend quality time alone.
Give yourself 10-15 minutes of solitude everyday where you simply think about yourself and your life. Begin writing your thoughts and journaling about what you really like and dislike, what drives and motivates you, and your goals and dreams for the future. When you do this, you are strengthening your love for yourself, and your ability to recognize the things that are undermining your well-being and happiness. Take advantage of your time for yourself -- you'll thank yourself later.
Calling all HuffPost superfans!
Sign up for membership to become a founding member and help shape HuffPost's next chapter