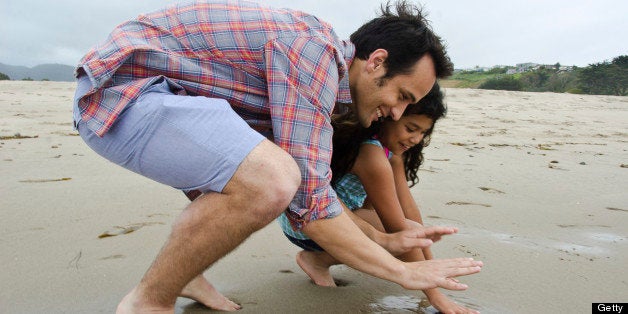 There is yet another data point to add to the changing portrait of American parents: the number of single fathers has risen ninefold since demographers began measuring it more than 50 years ago.
Yes, single mothers still ferociously outnumber single fathers. And yes, the percentage of households with minor children that are headed by dads is still small -- only 8 percent of all US households at last count. But men reflect a growing portion of single parent households -- almost one quarter, compared with only 14 percent in 1960. And, single parent households are a growing share of all American families; back in 1960, 92 percent of all households had two married parents raising children while in 2011 it was down to 67 percent.
The study found measurable differences between the homes of single mothers and fathers. First, there is more likely to be a partner present. Though the study defines a "single father" as an unmarried man who heads hisr household and lives with his own minor children, he is not necessarily the only parent present. Among these "single fathers", 41 percent are cohabiting with a partner, far higher than the 16 percent of single mothers who are doing the same. Single fathers are also different from fathers in married households; married fathers are more likely to be older, better off financially and white.
Why the increase? Possible reasons include an increase in both the rate of divorce and non-marital births since 1960, both of which have contributed to an increase in the number of single parents of both sexes. At the same time, courts have been more likely to grant custody to fathers.
It is also a reflection of the changing role of fathers in general. They are, arguably, where women were a decade ago in their awareness that they want a different life/work equation but are not yet sure what theirs should be. They also want a different relationship with their children than their own fathers were expected to have. And they are definitely heading in the right direction, and taking the whole of society along with them.
Related