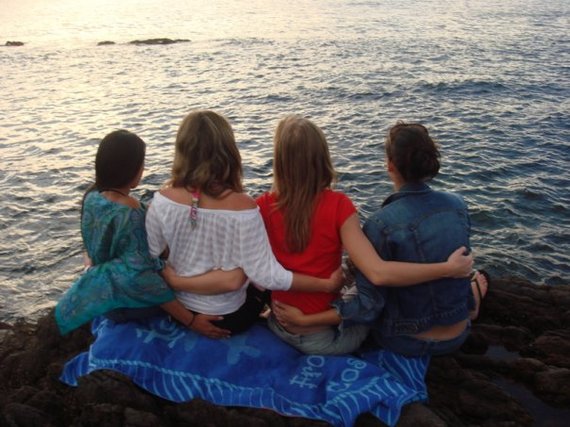 1. Eternal Writers - more often than actually writing, they talk about writing. They spend years deciding on the title, content and how to publish. They attend events and engage in conversations sharing ideas from their unwritten books. They change their minds, hope they'll find inspiration from the ocean and in the end... they don't publish.
2. Transplants from the Mainland with complicated past and baggage who want to start over. They think that the issues will be less heavy from 5,000 miles away. They still travel to the Mainland frequently for court dates, to see their children and bring the rest of their possessions.
3. High School Teacher Types - sweet, predictable guys who have a great work life balance. They work their school hours and enjoy Hawaii in their spare time.
4. Party, non committal men who own more white collar shirts than teeshirts. They go to multiple events often not surrounded by people their age, who are already over the partying stage.
5. Still Living with Parents Men, who often justify their situation by high Hawaii costs of living.
6. The No Plans Guys - in five or ten years from now they'll be doing the same swim on Kaimana beach to the flag and back followed by looking at the horizon, which like them remains unchanged.
7. Fishermen Type Guys - they will take you to Koolina and you'll see them cut the freshly caught ahi followed by the sashimi tasting - no doubt the best sashimi you've ever had but it'll be hard to hold a conversation unless you're fluent in pigeon just like them and all their fishermen friends, who may look at you as if they've just seen an alien or something.
8. Cali Guys - they love Hawaii but have no intention to move here. They compare the ocean temperature in Hawaii and California, talk about better surfing conditions and leave after their 5 day trip is over.
9. Environmental Extremists - they are so passionate about banning plastic from the island, protesting against the newest development and making sure they grab their wooden toothbrush that they sometimes forget that the world is larger than the island they live on.
10. North Shore Types - you both know that this will be basically a long distance relationship.
Most of the time the North Shore guys will drive to town to see you. Expect some flakiness in the winter months i.e when the waves are big.
11. Men with Careers that Move Them - they are now in Hawaii but they don't know until when. They may be sent to Seattle, Guam or any other remote location. They move and wish they could just take their homes on their backs. Just like snails do.
12. Overachievers - the only ladder they want to climb is the career ladder and they do it with dedication and passion. They miss all the rainbows, sunsets, miss out on the Hawaii living in general. They are usually high achieving doctors, lawyers and bankers who fill up their few free hours they have in a week by engaging in multiple hobbies such as jujitsu, fencing etc. In the evenings, if they're not working on yet another proposal, they have drinks with the clients and if they go out on a date, it happens in a timed and efficient way - just like everything they do.
REAL LIFE. REAL NEWS. REAL VOICES.
Help us tell more of the stories that matter from voices that too often remain unheard.