In an industry that has been difficult for women writers to establish themselves, let alone non-white writers (as WGA statistics have shown), Dayna Lynne North has cemented a reputation as a significant voice in the growing ranks of terrific African-American TV writer/producers. With an impressive and diverse body of credits, from cult favorite Veronica Mars (CW) to her current work as Head Writer/Co-Executive Producer on the third season of VH1's flagship scripted series, Single Ladies (premiering January 6), North is proof that the days of black writers only being considered for "black" projects is over.
When asked how she feels when people say: "You could be the next Shonda Rhimes," North replies:
Shonda Rhimes is amazing; that's very high praise. And Scandal is the hotness! But, there's a whole tribe of talented women out there. I look forward to the day when even more show-runners, like Kathleen McGhee-Anderson (Lincoln Heights), Dee Johnson (Nashville), Janine Sherman-Barrois (Criminal Minds) and Mara Brock-Akil (Being Mary Jane) are household names. There is a cultural renaissance going on right now in TV -- there are more African-American women in particular, living fully -- both on camera and behind the camera. We're in a time where it feels like there are more women's stories -- and culturally, sexually diverse stories being told; but, there is a long way to go. I hope we don't become complacent. I will do whatever I can do to help create those opportunities.
North's foot in the proverbial TV industry door came as a Writers' Assistant for veteran show-runner Nancy Miller (Saving Grace), who became a mentor to her on the NBC series, The Profiler. Realizing the value of giving back, North mentors young writers and filmmakers, and teaches screenwriting at her alma mater, USC.
With over three million viewers per episode and growing, North confirms Single Ladies (a production of Queen Latifah's company, Flavor Unit Entertainment) owes some of its inspiration to another popular series about modern women, Sex And The City.
At its core, Single Ladies is a show about a close circle of friends who are professional women balancing work, love, romance, and friendship, set in the world of Atlanta fashion and music. I relate so much to these characters because they mirror emotional journeys I've been through. When I came to L.A., my friendships with other women my age meant the world to me, and they still do.
Here is a preview of Single Ladies: Season 3.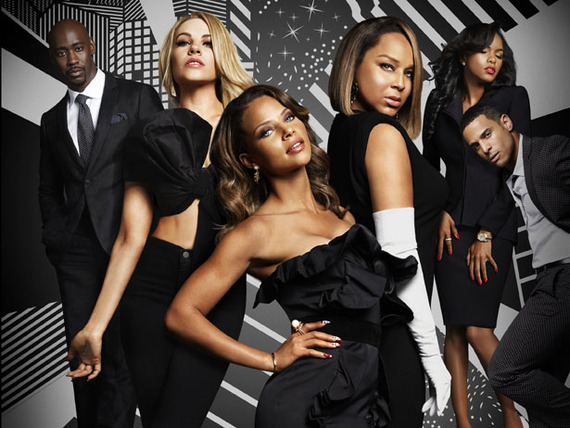 The cast of Single Ladies, courtesy of VH1.
A self-described "night owl writer," when asked what North would like to change about her industry she pauses, then muses:
I like to push myself as a writer into territory that scares me -- that makes me uncomfortable. I would love to see more of that from the television industry at large. There are some fantastic shows doing that right now -- Hello, Orange Is The New Black?! But I want to see TV as a whole take even more risks -- especially when it comes to who gets hired to write, produce and direct. One show in particular that took risks and made an impression on me was, The Twilight Zone. It taught me about suspense and storytelling, and how to make captivating, water-cooler TV. Remember that incredible episode with that curse -- "I wish you away to the cornfield?" I still get chills.
Here is a scene from The Twilight Zone episode, "It's A Good Life."
Another show that resonated with me was The Cosby Show. I was an African-America kid living in the suburbs, watching a true representation of my daily life on TV. Growing up in Kansas City, Missouri, my father was an attorney, my mother was a teacher, one sister became a doctor, the other became an attorney. Here was a show that finally reflected my life -- my reality -- back to America.
Talking to North, it's clear this is a lady who knows how to have a good time far outside the writer's room, whether she's diving the Great Barrier Reef, or playing poker with her cousin, Don Cheadle: "Don has the best poker face. Whatever is the opposite of a good poker face is what I have," she laughs.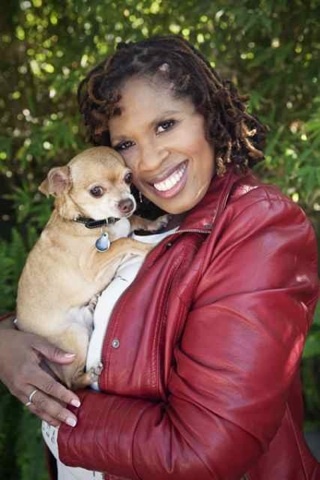 Dayna and her chihuahua, Louie. Photo by Jenny Walters.
When asked to share some of her favorite quotes on writing, North responds:
A Room of One's Own. Virginia Woolf said that, and all writers need it. Your "room" might be a coffee house, a park bench, or anyplace where you can wear fuzzy socks [she confesses -- she has a thing for fuzzy socks]. If you're a writer, and you truly want to write, you've got to create and protect that sacred space for yourself.
"I hate writing. I love having written," said by the great Dorothy Parker. This captures the ongoing struggle of the writer. It can be daunting to be alone in a room with that blank page, but you dive in, and eventually you emerge triumphant on the other side of a new story -- only to dive back in again.
"I think that the highest gift that man has is art, and I am audacious enough to think of myself as an artist," said Lorraine Hansberry. We are in the entertainment business. There will always be trends to chase, and market research to follow. This quote reminds me to listen to my voice, and trust my instincts.
Trusting her instincts indeed, it will only be a matter of time before the next Twilight Zone, Scandal, Orange Is The New Black or Single Ladies is created from the pen of Dayna Lynne North. Keep tuning in!
Popular in the Community