Television takes a lot of heat from its critics -- for its excesses, for its lack of subtlety -- but no one can deny that it is a true reflection of the ever-changing times we live in. So as part of our ongoing celebration of Women's History Month, we decided to explore the evolution of single women on TV -- a cultural time capsule that not only reveals this remarkable journey, but has also given us plenty of laughs.
I started thinking about this a few weeks ago, when I was asked to present an award at a dinner honoring Linda Lavin, the gifted actress who starred in the hit television series "Alice." As I did my research about Linda and "Alice," I began to see how they perfectly fit into the colorful -- and historic -- transformation of single female characters on television.
Those were radical times for women on TV. Until then, women's characters were primarily housewives, wearing gingham aprons and permanent smiles. I was just breaking into TV at the time, and as a young actress I felt the sting of those limitations. Whenever I was lucky enough to land a job on TV, I'd either be playing someone's wife, or someone's secretary, or someone's daughter.
Then I read The Feminine Mystique by Betty Friedan and thought, Wouldn't it be great if we could see a show where the girl was the "someone?"
ABC was brave enough to green-light my idea as a new TV series called "That Girl." My character, Ann Marie, would be an aspiring actress living alone in New York who was independent and ambitious -- and had the courage to utter the earth-shattering words (usually to her protective father): "But I don't want to get married!"
Although network researchers didn't think a single girl had a chance in prime time, "That Girl" found her audience -- because there were millions of That Girls in homes across America. We were not our mother's daughters. We were a whole different breed.
But even with our success, women still had a way to go. Yes, Ann Marie was a revolutionary figure -- but she had a fabulous wardrobe right out of an Audrey Hepburn movie, and you could've landed a 747 in her apartment.
And when Mary Tyler Moore came along a few years later, as one of TV's first single women in the workplace, her first job on the show was pretty high-end -- a television news producer. For many women in America, TV was still in fantasy land.
Then in 1976, in walked Linda Lavin's "Alice," who gave TV viewers a true dose of reality -- as a widow and single mom, living with her son in a small apartment in the Phoenix desert, and slinging hash at a greasy diner. Her dream was not fame or success or the big corner office. It was simple survival.
From then on, this amazing transformation would continue, as women across the TV dial passed the baton to one another in their depiction of the modern single woman.
Linda Lavin's single woman would eventually clone herself into a twosome -- in shows like "Kate and Allie" and "Laverne and Shirley" -- doubling the impact women were having on TV, while pointedly illustrating the enduring potency and warmth of sisterhood.
Bonnie Franklin's Ann Romano in "One Day at a Time" -- like Alice, a single mom, but with two daughters -- would deliver dependable laughs each week, but the show also pushed the envelope in exploring serious social issues, including teen runaways and teen suicide.
Candice Bergen would a introduce a more complicated version of the single working woman in the character of Murphy Brown, a temperamental and tough-skinned TV journalist who thought nothing of berating her boss (would Lou Grant have ever tolerated that from Mary?); and whose seismic decision to have a baby out of wedlock (imagine Ann Marie doing that!) would not only rock television viewers out of their La-Z Boys, but also have a thunderous impact on that year's presidential election.
And the once taboo topic of sex -- which for decades had made the boys at the networks squeamish -- would be confronted head-on in a host of women-driven shows -- from "Will and Grace" to "Ellen" to "Sex and the City." In fact, sex was not only discussed but flaunted among the quartet of sassy seniors in "The Golden Girls," as the ladies continued to reject the notion that their life was over, just because they'd reached the golden age.
And now the latest member of the club is "New Girl"'s Zooey Deschanel. Like her predecessors, she's quirky and big-hearted -- but this time, our single girl is rooming with three guys. Is her character once again redefining women on TV? Put it this way: Ann Marie wore Halston in "That Girl"; Zooey wore a dominatrix outfit in a recent episode of "New Girl." 'Nuff said.
But seeing is believing. So take a look at this slide show we put together, which will remind you of those television programs that helped chart the course for women in the latter part of the 20th Century. To paraphrase the "Laverne and Shirley" theme song, "We did it our way."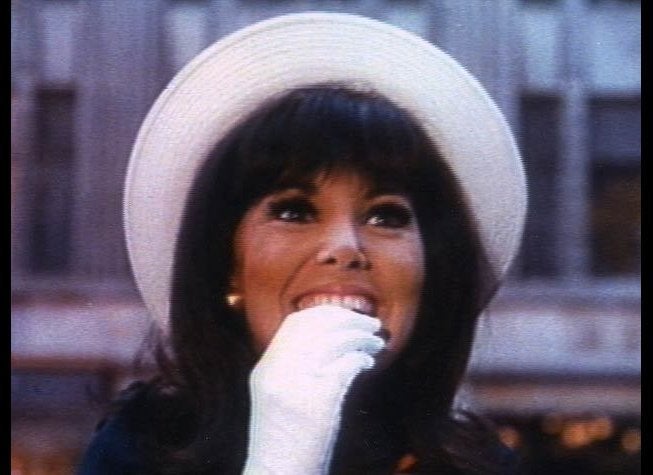 Single Ladies In Sitcoms
Related
Popular in the Community