Whenever I do spirits round-ups like this one, I try to come up with some timely intro, as if I'm a talk show host doing a monologue. I've tried the old current events bit: "Man, Brian Williams must have really been sloshed on that chopper to have such a faulty memory. And speaking of getting sloshed...."
Then there's the weather: "Sheesh, how about this cold? Makes you want to stay in and drink all day! And while I'm on the subject..."
The seasonal approach: "As February crawls into March, the first thing we all think of is how good a big glass of booze would taste. Here's some suggestions for what to pour..."
So you can see why I'd want to avoid doing something like that.
Instead, let's cut right to the chase. Here's a dozen new (meaning they've been released in the last few months) single malts, bourbons, ryes, rums, what have yo -- all dark spirits, meaning they've been aged in wood for a while and they're good for sipping as well as mixing. You want to read about vodka, go here. The only thing they all have in common is that I like them -- some more than others, as you'll soon see.
Look, you like booze. I like booze. I drink booze. A lot of booze. I write. You read. Hopefully you check out a few of my recommendations. And we both walk away happy... and possibly tipsy as well. Simple, right? So break out the reading glasses -- and the drinking glasses -- and enjoy.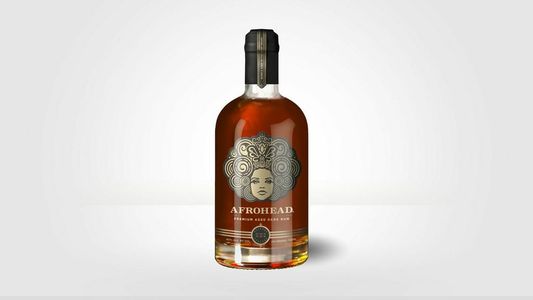 AFROHEAD PREMIUM AGED DARK RUM (40% alcohol by volume, aged 7 years, suggested retail price $35). Afrohead is a Bahamian rum. Or rather, the guys that own the company are based in the Bahamas. But the molasses used in distillation comes largely from the Dominican Republic, and it's bottled in Barbados. And while I was drinking it, I thought, hmmm, this tastes an awful lot like Angostura rum. Which makes sense, because it's distilled and aged in the Angostura plant in Trinidad. I certainly don't mind the similarity, because Angostura is one of my favorite rums. Afrohead's 7-year bottling (they also make a 15-year-old) is big, sweet and chewy, with loads of vanilla and banana flavors, rich toffee and caramel notes, and enough wood and spice to keep your sweet tooth from aching. Beautifully balanced, this is a fine mixing rum, but try it neat or with an ice cube to really enjoy it.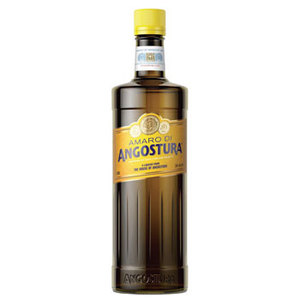 AMARO DI ANGOSTURA (35% ABV, $25). It's my secret shame -- and now my not-so-secret shame -- that I've never really fallen in love with amaros. I have a cerebral appreciation for Fernet and Averna and all those sweet, bitter, syrupy, medicinal liqueurs that bartenders and the drinkers who love them quaff so enthusiastically. But I don't feel like I've ever quite gotten it. I figured if any brand would convert me, it's the new amaro by Angostura, whose rums are to die for and whose bitters are almost as ubiquitous for cocktails as Heinz is for burgers. And... I don't know if I'm a convert just yet, but damn, this is tasty. The cinnamon and licorice notes right off the bat bring to mind Angostura's bitters, which are the central flavoring in the amaro. The bitters are mixed with neutral spirit and various undisclosed spices and then left to marry for three months, at the end of which you get... this deliciousness. Neat, it's sweet but not cloying, spicy, a touch bitter and very, very smooth. An ice cube accentuates the bitter and spicy notes. Hardcore Fernet Branca fans may find Amaro di Angostura a little too easy, but for the rest of us, it's a winner.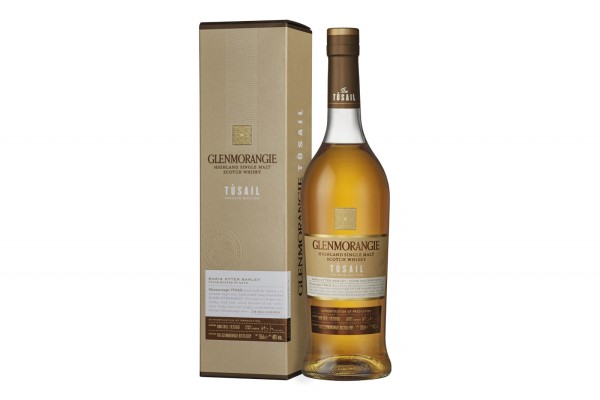 GLENMORANGIE TUSAIL SINGLE MALT SCOTCH WHISKY (46% ABV, no age statement, $100). Maris Otter... didn't I date her in high school? Actually, it's a type of winter barley that was widely used in brewing English ales for a while. Due to its low starch content it wasn't a very efficient way to make beer, so it fell out of favor and almost became extinct but for a few enthusiasts who kept it alive. News of Maris Otter reached Glenmorangie's Dr. Bill Lumsden, who decided to use it in Glenmo's latest offering of its annual Private Edition series. The barley is high in protein, which gives it a lot of flavor even if it's not really practical to distill with it. Given such an exciting backstory, I expected Tusail to taste significantly different from standard Glenmorangie, but it's still got those signature fruity notes, most notably orange, than Glenmo is known for. I tasted a little more tropical fruit, a bit more nuttiness and a nice funky, vegetal undertone to it. Whether that's enough to get you to race down to the liquor store, I don't know. But there's no such thing as a bad Glenmorangie, and this is a very good one.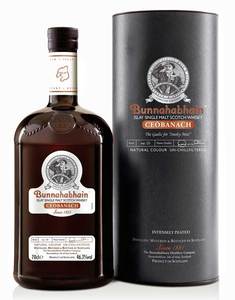 BUNNAHABHAIN CEOBANACH SINGLE MALT SCOTCH WHISKEY (46.3% ABV, aged about 10 years, $100). First off, it's pronounced "buhn-ah-ha-ven kyaw-bin-och," in case you're wondering. Not that you've had much reason to say the name aloud; Bunnahabhain is one of the more obscure Islay malts, overshadowed by peat monsters like Lagavulin and Laphroaig which put Islay on the whisky map. It's not that Bunnahabhain is bad, by any stretch, but it's been unpeated since the 1960s, which is rare for an Islay malt. Once a year, however, they look down, see that basically the whole island is covered in peat, and say "what the heck, let's use this stuff to roast our barley." The result is Ceobanach, a throwback of sorts to their old school, 19th century style. Bunnahabhain is traditionally aged in sherry casks, but Ceobanach is aged entirely in ex-bourbon casks. Despite the peat and the lack of sherry, it's got Bunnahabhain's signature nutty flavor, along with beautiful notes of peat, smoke and the tang of sea air. Distinctive and delicious.

JIM BEAM BONDED KENTUCKY STRAIGHT BOURBON (50% ABV, aged at least 4 years, $23). Check out a vintage whiskey and you might see the phrase "Bottled In Bond." Ever wonder what the heck that means? Well, back in the day when it was harder to guarantee that booze would make it from the distillery to your glass without tampering, bonded whiskeys were verifiably the good stuff. In addition to following all the normal guidelines for bourbon making (at least 51% corn in the mash bill, etc.), bonded whiskeys are subject to federal regulations, as well as oversight by the Feds themselves. Bonded bourbon must be exactly 100 proof, and it must be aged at least four years, which is spring chicken territory for most big bourbon brands nowadays. So Jim Beam Bonded is a throwback whiskey -- a simpler bourbon for a simpler time, when folks drank their booze instead of tasting it.
But If you do decide to nose Jim Beam Bonded in a Glencairn glass and swirl it around on your tongue before swallowing, you'll find there's a lot going on. At four years old, it's a tad unbridled, but there's a lot to taste -- caramel, charcoal, spice, a touch of dark fruit, a hint of chocolate. Quite dry, a little hot, a whole lotta good. This is the bourbon your parents and grandparents drank. And after you try it, you won't feel so bad for them for missing out on the fancy-shmancy small-batch and single-barrel jobs we've got nowadays.

JIM BEAM PRE-PROHIBITION STYLE RYE (45% ABV, no age statement, $23). Don't let the name fool you -- this is basically the same Jim Beam rye they've been selling since... well, since before Prohibition, sure. But it's also the same Jim Beam rye you could buy last year. The only difference, besides the new label and trendy name, is that it's now 90 proof instead of 80 proof, which it's been for as long as I can remember. Big deal? Actually, yes. Jim Beam has always been a soft, fruity rye, and the boost in proof adds some needed "oomph" to the flavor profile. The sweeter notes are a little bolder, the dry oaky notes are a little drier, and there's a little more kick on the finish. It's not transformed, but it's a more assertive whiskey than it needed to be 15-20 years ago, when rye was a niche product with a tiny consumer base. It's better for mixing than sipping -- it makes a mean Old Fashioned -- but at less than $25, the price is right.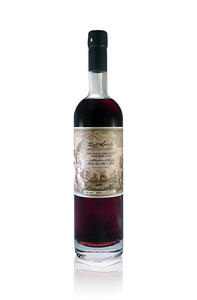 LOST SPIRITS BOUNTY HUNTER COLONIAL STYLE RUM (62% ABV, no age statement, $100). From his tiny distillery in Monterey, distiller/amateur chemist/rum maven Bryan Davis has been hacking the traditional rum making process and concocting some of the most astonishing rums I've ever tried. Dark, high proof, intense, funky and flavorful as hell, they're in a completely different league from... well, just about any mainstream rum out there. I won't bother with the technical details of how this one is made (though Davis will happily expound on what he does at length for anyone who's interested), but I can tell you that the final product is incredible. It's inspired by 18th century New England rums, which were drier and a little harsher than the relatively genteel Caribbean rums with which we're familiar today. Bounty Hunter is rich as a Russian oligarch, with deep notes of espresso, dark chocolate, burnt caramel and dried figs. At 124 proof, it's a little tough to drink neat, but add a few drops of water and the heat goes down and sweet notes of plums and other dark fruits come up. Only 240 bottles were made of Bounty Hunter, and it's only available here, if there are any still to be had. But Davis promises that "it's a preview of the rest of 2015" in its technique. Given that he's released four rums in the last year, you won't have to wait too long for this year's model. In the meantime, also check out my favorite of the 2014 bunch, Lost Spirits' Navy Style Rum, which is more widely available and about half the price of Bounty Hunter.

OLD FORESTER 1870 ORIGINAL BATCH BOURBON (45% ABV, no age statement, $45). I've always wanted to try authentic 19th-century bourbon, the way they made it back when men were men and horses were horses and men rode horses and men knocked back their bourbon as fast as they could because... they were manly? Or maybe the whiskey was a bit more, um, rough-hewn than the quality stuff we know today? Well, with 1870 Original Batch, you're not going to find out. True, it's batched from bourbon made at three different distilleries, just as George Garvin Brown did it way back when to ensure consistency in his bourbon. What's missing is the imperfect 19th century distilling techniques. Well, you'll only miss it if you're in it only for the history. But this is a fine bourbon, with yummy caramel apple notes offset by hints of tobacco and leather and a long, smooth finish. This is the first in a series of blast-from-the-past Old Foresters; they've gotten off to a good start.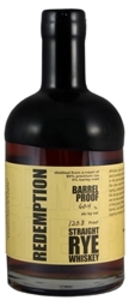 REDEMPTION 7 YEAR OLD BARREL PROOF STRAIGHT RYE WHISKEY (61% ABV, aged 7 years, $85). The folks at Redemption have been busy bottling one aged, cask-strength rye after another; this is the third in the last couple of years. I say bottling, not distilling, because the rye in the Redemption bottles comes from the MGP distillery in Indiana. A lot of brands have been getting a bad rap for using MGP-sourced whiskey. Some deserved it. But Redemption makes no claims to its provenance. And really, as long as they're not blatantly lying about it, I could care less where they get their stuff. Fact is, MGP makes some nifty rye. And Redemption is bringing it to the masses, at cask strength no less. This is strong stuff, no doubt about it, but balanced and flavorful, with an aroma of baking spices and a flavor that's got a slight honeyed sweetness to go with the dry, grainy and spicy notes you'd expect from a whiskey that's 95% rye. It ain't where you're from, it's where you're at -- and the 7 Year Old is where it's at. Be sure to check out their 10 year old rye, which has just hit stores.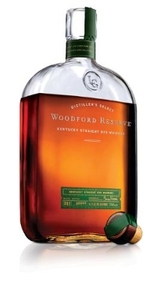 WOODFORD RESERVE KENTUCKY STRAIGHT RYE WHISKEY (45.2% ABV, aged 6-8 years, $38). In this age of big, blustering whiskeys whose mash bills are 95% or even 100% rye, it takes balls to put out a brand whose rye content barely exceeds the minimum amount required for it to be called a rye. But this is Woodford Reserve rye, and the distiller is the great Chris Morris, who obviously knows what he's doing -- taste his bourbon if you don't believe me. The rye uses the same grains as the bourbon, only in different proportions, so you get some of that Woodford fruity sweetness, especially up front. But the rye delivers a potent kick of cereal and spice, drawing out to a long, elegant caramel and baking spice finish. Another winner from one of Kentucky's finest.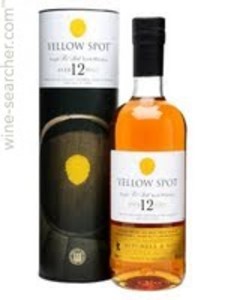 YELLOW SPOT SINGLE POT STILL IRISH WHISKEY (46% ABV, aged 12 years, $100). From the folks who brought you Green Spot -- a/k/a the best damn Irish whiskey money can buy, IMHO -- comes Yellow Spot, making its American debut. Like Green Spot, it's made from a blend of unmalted and malted barley, triple-distilled in traditional copper pot stills and aged in a combo of ex-bourbon and ex-sherry barrels. The difference between Green and Yellow, besides the color of the splotch on the label, is extra aging (12 years for Yellow, 7-10 for Green). Yellow is also aged in casks which contained Spanish Malaga, a sweet fortified wine. The result is rich, creamy, honeyed goodness coupled with warm spice and a long, dry finish. It's a little spicier than Green Spot, with a touch more dry barley flavor. Is it better? That's like asking which of my kids I love more (never mind that I only have one). I'd advise checking out both posthaste and figuring out which one you like more.