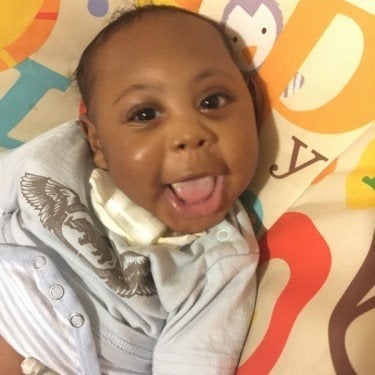 Danielle Pettas knew as soon as her son was born that something was wrong. She just felt it in her bones.
She wept, later on, when doctors told her it was an irreversible brain disorder -- semilobar holoprosencephaly, a birth defect that occurs when the brain fails to properly divide into two hemispheres. The condition results in a number of other related complications, from facial deformities to respiratory difficulties.
Her baby boy, whom she named Demetrice Cross, was never going to have the kind of life she'd envisioned for him. 
"I didn't understand why this happened. Why my son, what did I do? Did I not eat right? Did I not eat healthy?" Pettas, a 31-year-old from Detroit, said to The Huffington Post. "The doctor just said that there wasn't anything I could have done for this to happen to Demetrice. It was just a brain disorder and sometimes these things happen."
Pettas had been a Christian for her whole life, but said the news led her to question God. Still, she said that in the 15 months since Demetrice's birth, she's been surprised by the fact that "somehow, a way was always made."
"I kept praying, reading my Bible, and that's where I get my strength from," Pettas told HuffPost. "I know that God is with us through it all."
How to help. Story continues below:
Demetrice needs constant attention because of his many special needs. He has a strict regimen of medicines to take throughout the day. Since he has trouble breathing, he uses a tracheostomy tube that needs to be monitored closely to prevent infection. He is also using a feeding tube because of severe gastric reflux. He isn't putting on weight like the average baby and suffers from diabetes inspidus, a rare form of diabetes that happens because his body isn't properly regulating sodium.
Despite the challenges, the baby has grown into bonafide charmer -- constantly flashing a big, bright and sometimes mischievous grin.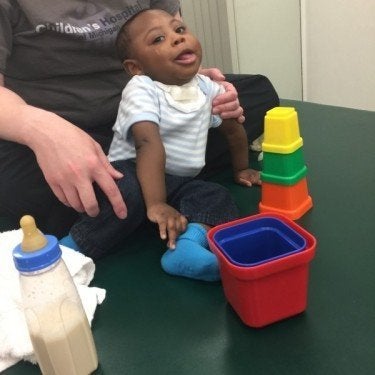 "He's learning how to use his hands and sometimes he gets his hands up under the mask that covers his traech," Pettas said. "It's just normal 15-month-old stuff. No one wants something on their face like that. And even when he's being mischievous like that, he's still smiling. My son always smiles." 
Pettas hasn't been able to work, since her child is too ill to attend daycare. Taking care of her son is a 24-hour job for this single mom, who also has 6-year-old daughter, Kaeliea Cross, to think about. 
The mom said that most of her son's medical expenses are covered by insurance. What she wants the most this holiday season is just for "everyday life to be a little bit smoother."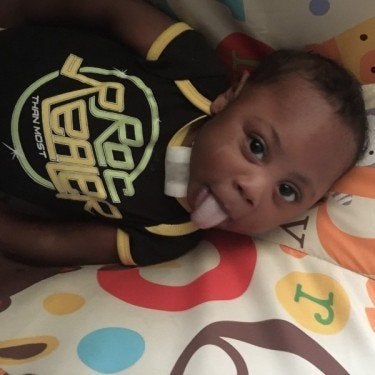 The most pressing concern for her is getting her car fixed. She said her 2006 Buick was "side-swiped" in July. The car needs a new door, some radiator work, and paint, the mom told HuffPost.
The Children's Hospital of Michigan, where Demetrice is receiving treatment, is about 14 miles away from the family's home, the mom said. Pettas wants to be able to go down to the hospital as often as she needs to in order to give Demetrice the best care. A car would help her with that -- and much more.
"[I'd like] to pick my daughter up from school, to go to church like I'm supposed to, to go to the grocery store when I want to," Pettas said. "Just having access to everyday life. Not having to wait on a car from somebody else."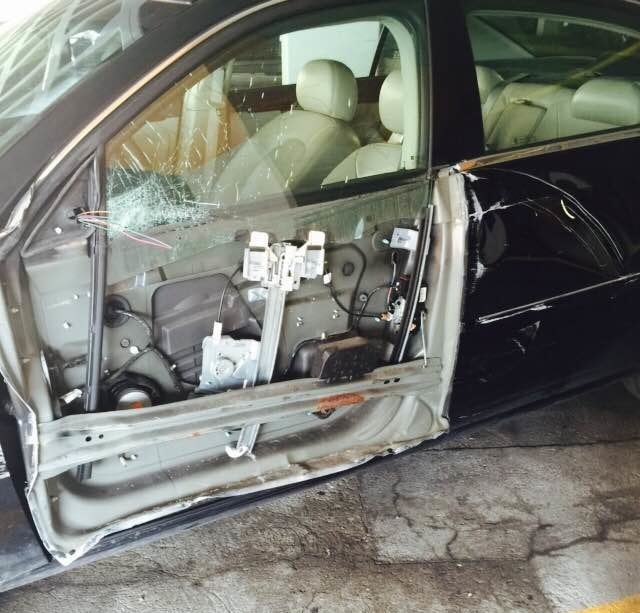 Elizabeth Voyles, a palliative care nurse coordinator at Children's Hospital of Michigan who is familiar with Demetrice's case, said that the child has been hospitalized 10 times since birth. He also has approximately two to three doctor's appointments every month and needs physical therapy at a specialized center across the street from the hospital at least two times a week.
"There is no question of need here," Voyles told HuffPost about Pettas' situation. 
Voyles said that Demetrice has done much better than the medical staff at the hospital expected. He's able to interact with his mom and with his environment. Still, she said it is unlikely that children with semilobar holoprosencephaly will live to reach adulthood. The goal for her team is to make sure Demetrice has "more better days than worse days."
Pettas is a crucial part of making sure Demetrice is both happy and loved. And Voyles said that she's been doing a "great job" taking care of him.
"She's a great mom, very dedicated," Voyles said. "She's struggled with a lot in her life and she still has a positive attitude." 
Pettas has created a CrowdRise fundraising page for her family, hoping to get a little bit of help during the holiday season. Her son was admitted into the hospital earlier this week. Pettas says the family will certainly celebrate Christmas this year -- but will delay their festivities until Demetrice is able to come home.
"I don't want to give up on my son because no one gave up on me," Pettas said. "I want to make sure he is able to have his life lived out and played out in the best way."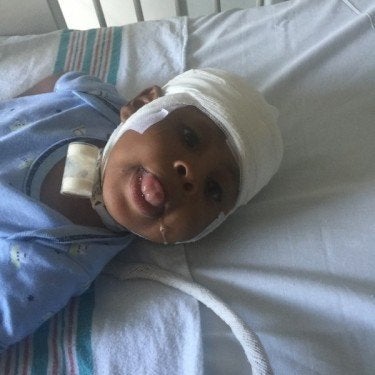 PHOTO GALLERY
Hospitalized Kids Get Transformed Into Superheroes
Calling all HuffPost superfans!
Sign up for membership to become a founding member and help shape HuffPost's next chapter