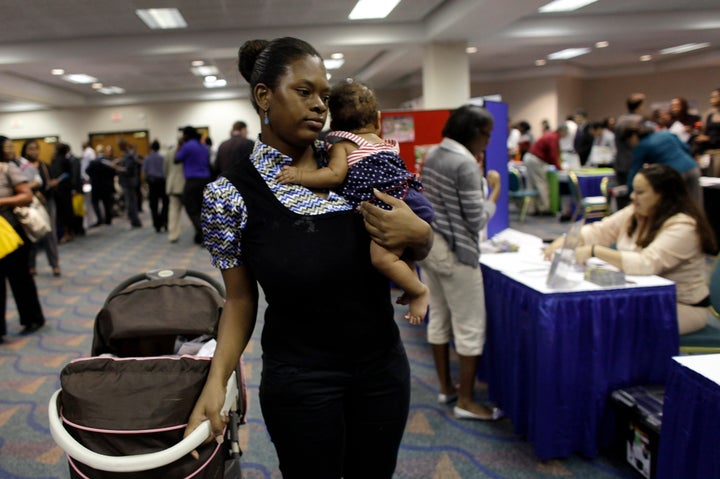 On a steamy summer morning inside the 116th Street food pantry in Harlem, Georgiana Williams moves slowly through the aisles. For Williams, this is important but exhausting business. This is how and where she manages her family's poverty week to week.
Williams picks out two bags of brown rice and a bag of split green peas. Then, she stops, leans the top half of her body on her silver shopping cart and surveys the remaining options. A woman who worked physically demanding jobs most of her adult life and cares enough about healthy eating that she helped to found a Harlem food co-op, Williams doesn't travel 37 blocks to the food pantry by bus because she is picky. She does it because the food is free. Williams needs the food pantry's free staples to help feed herself, her 8-year-old son and her 22-year-old daughter. The family lives on food stamps and about $13,000 a year in federal disability benefits.
In 2010, the first full calendar year after the Great Recession, nearly 41 percent of the nation's single mothers with children under age 18, like Williams, lived on incomes below the federal poverty line. (Federal poverty measures differ according to family size.) New data released by the Census Bureau on Tuesday shows that few Americans fared well in 2010. About 46 million remained in or fell into poverty. The nation's median income dropped to levels unseen since the mid 1990s. But the percentage of single mothers with children under the age of 18 who are poor outstripped that of almost every other group.
"We have a long history of distinguishing between the 'deserving poor' and the 'undeserving poor' in this country," said Joan Entmacher, vice president for family economic security at the National Women's Law Center, a Washington, D.C.-based think tank and advocacy group. "For a lot of people, single mothers are so far outside their idea of the deserving poor that they can hardly think straight about what might be done to help these mothers or the millions of children that live with them."
"I think most people understand that women's income has become increasingly important to the survival of many families," said Entmacher. "In families where that is the only income, a job loss puts them in dire straits."
Moreover, just as a growing number of Americans find themselves in need of help, the social safety net has grown weaker. States have trimmed their welfare rolls, cut back the amount of time that a family can receive cash welfare assistance and even scaled back spending on child support enforcement and collections activity, Entmacher said.
"For single mothers, child support is the second most important source of income behind wages," she noted. "That's income they can't afford to lose."
The census data released this week also show that the median wage gap between men and women did not budge in 2010, Entmacher said. In both 2009 and 2010, women earned 77 cents for every dollar earned by men. That imbalance, along with the limited availability of quality, affordable child care and flexible work arrangements, makes it even harder for single mothers to work and earn family-sustaining wages, Entmacher said.
Black and Latina women say they believe children need to grow up with a father at higher rates than non-Hispanic white women do, according to the study. But minority men and women also indicate stronger beliefs that a married man should be able to economically provide for a family.
The number of jobs paying wages that can cover a family's expenses, provide for health insurance and fund retirement has declined with the nation's marriage rate, said Algernon Austin, the report's author. From 1979 to 2008, the share of black men with these sorts of jobs declined by about 10 percentage points. Latino men saw a 15.5 percent decline in this sort of work. And nearly 13 percent fewer white men held these sorts of jobs. During the same time period, about 3 percent of female workers gained what the report calls "good" jobs, with the bulk going to white women.
Williams knows firsthand the way that gender expectations and jobs can influence families. She was married when she gave birth to her now-22-year-old daughter. But the marriage unraveled because her daughter's father lost job after job in layoffs, said Williams, who is black. She thinks it was particularly hard for him to see her get calls for construction and carpentry jobs, work traditionally done by men. He grew frustrated and bitter, Williams said, and she had to get a divorce.

In the early part of the past decade, Williams was working as a carpenter during the day and monitoring children at an afterschool program in the late afternoon. She was making enough to cover all her own bills, and she was in a new relationship. But shortly after Williams discovered she was pregnant, her son's father decided that he wanted to break up.
"I did what I have always done," Williams said. "I cried. Then I dusted myself off, and I worked. Sometimes I worked and came home and cried. But I worked all the time."
The United States has also adopted policing and punishment strategies that have led to high levels of black and Latino male incarceration, said Austin, the Economic Policy Institute researcher behind the report. As a result, he said, there is a 21 percent imbalance in the number of black men and women available for marriage. (This matters because most marriages occur between members of the same racial group.) And once these men are released from prison, they often find it very difficult to get a job and are barred from living in public housing, Austin said. That's the same public housing on which many single mothers rely and cannot risk losing.
"What I am saying is that if we truly want to reduce poverty for any group," Austin said, "and if we truly want to raise the marriage rate, we will have to address a broad array of policies that are contributing to these problems."
There are people who disagree about the factors that lead to poverty. The "principal cause" is the absence of married fathers in too many homes, according to a 2010 report by the Heritage Foundation, a conservative Washington, D.C.-based think tank. Marriage, the report found, has a "powerful" effect on a family's economic standing, raising incomes and decreasing poverty in a way that's equivalent to adding at least five years to a parent's education.
Williams said she has never been or felt well-off, just working class, even when she was married. She has never consistently received child support, she said. But, in recent years, she has had to get used to the idea of being poor.
In 2006, a doctor warned Williams that her long work days, her habit of not sleeping enough and a family history of high blood pressure and kidney problems were catching up with her. By late 2009, she was on dialysis and unable to work. In 2010, she was put on the kidney transplant list.
"Isn't it ironic? I can't work now because I worked too hard," Williams said. "We're poor now because I really tried not to be."
In two weeks, Williams' daughter will start her first job, a low-pay but promising position at an entertainment company. The daughter has graduated college and does not have any children.
"I'm hoping she's going to have a much easier life," Williams said.
Support HuffPost
The Stakes Have Never Been Higher
Related
Popular in the Community