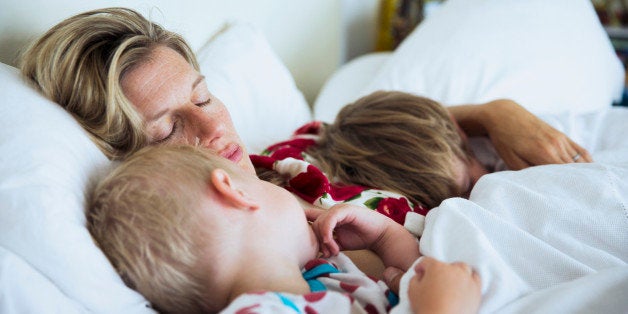 I am a single mom, raising three children with almost no support. I'm proud that I can do as well as I do on my own. But I am not enjoying parenthood the way I imagined it and my children complain that I'm always tired and cranky. It is very hard for me to ask for help but I sometimes feel like I'm drowning.
Even parents with a partner living under the same roof know that the probability of patiently meeting every need is impossible. But for those men and women who are going it alone -- by choice, or through circumstances they might never have imagined -- the realities of being the sole parent either full or part time is challenging at best. There is a reason that until very recently in history, we humans have traveled in packs.
Here are some things to consider:
Find a tribe. When we're operating from a constant state of overwhelm, we cannot think straight or make good decisions. Some parents take pride in not asking for help, but this is an unsustainable way to raise children. Swap child care with a trustworthy neighbor. Share carpooling or after-school chauffeuring duties with other parents. Don't go it alone!
Bring in the aunties and uncles. Children benefit from having healthy attachments with safe, trustworthy adults other than their parents. Help your kids develop relationships with grownups who can offer advice, mentorship, or who share their interest in photography or animals. Ask a relative or trusted friend to take one of your kids to a movie or a cooking class. It is invaluable for children to have a variety of reliable adults they can turn to for encouragement and guidance but you may need to reach out to bring other adults into your immediate circle.
Take mental health days. Many of us may prevail upon friends and family to watch our kids if we're sick or working late, but we neglect to make those requests when we just need a little down time. Ask a member of your tribe to take your kids so you can have a couple of hours to simply do what you want, whether it's taking a hike, watching a movie, luxuriating in a long bath, or just having a nap.
Don't make your child your partner. Single parents who are struggling to manage life's stressors sometimes put their children in the role of partner or confidante. It is important that we maintain appropriate boundaries with our kids, even when it's tempting to tell them that we're angry because our boss just insulted the project we spent hours working on, or their other parent announced that he/she isn't going to be at their school play (again!) It's not easy, but respect your children's right to have their childhoods untainted by your personal issues -- even if they involve your former spouse or partner. Make sure you have a caring adult confidante with whom you can vent your upsets, but don't use your children for that.
Just do your best. It's natural to want to show up with love and patience for our children, but sometimes that doesn't happen. There is no harm in apologizing to your kids when you've lost your temper. In fact, modeling what it looks and sounds like to take responsibility for your less-than-desirable behavior is a wonderful way to help your children learn to do the same.
To learn more about her online parenting courses, classes and personal coaching support, visit her Facebook page or sign up for her free newsletter.

Do you have a question for the Parent Coach? Send it to askparentcoach@gmail.com and you could be featured in an upcoming blog post.
Related