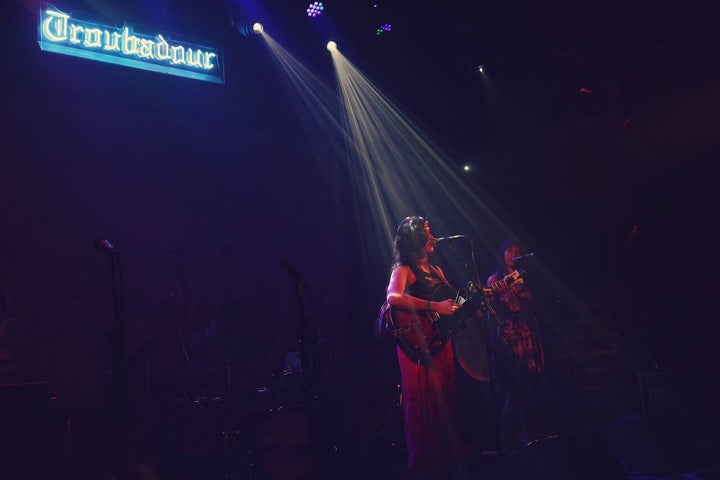 Born in Iran, but now living in Los Angeles, Maryama refined her skills on the guitar with rock stars Ardavan Anzabipour and Homayoun Majdzadeh. She performed at the Monterey Jazz Festival, which is something to brag about. In other words, she has talent.
Her latest single is "Where the Mermaids Are." The song starts off with Taras Bulba-like drums, providing a martial atmosphere. But the song quickly segues into an exotic Latin jazz beat, followed by Maryama's ethereal vocals. And admittedly, it is Maryama's voice that makes the song work. In fact, I would hasten to say that her voice would make almost any song work. There's a tropical, striking quality to her voice, with its lilting inflection, like something out of Greek mythology. The Sirens that sang to Ulysses must have had such voices – voluptuous and alluring.
Stylistically, I would put her in the neo-soul or sophisti-pop category, simply because she incorporates influences from smooth jazz, pop and soul into a unique sound all her own. If pressed, I would liken her to Sade because of the way she uses her voice, which us under exquisite control. Sade's voice is silky and sensuous, as is Maryama's, but the latter tosses in a classical flavor that differentiates the two divas.
I can hardly wait for her to record and release a full album. To that end, I will certainly keep an eye out for it.
Regarding the video, regretfully, I didn't care for it. It was too mundane for my tastes: a guy in the ocean is saved by mermaids, and then found on the beach by a beautiful woman. Kind of cheesy, which indicates she needs to find a new video producer. I did like, however, the portions of the video where she is portrayed as an otherworldly figure, her face camouflaged by green and red colors. That was effective.
Still, my complaints aside, the song is wonderful and Maryama's voice is erotically hypnotizing, to the point of being carnal. Frankly, if you don't download "Where the Mermaids Are," you are doing yourself a disservice. Maryama's voice is that good.
Support HuffPost
The Stakes Have Never Been Higher
Related
Popular in the Community