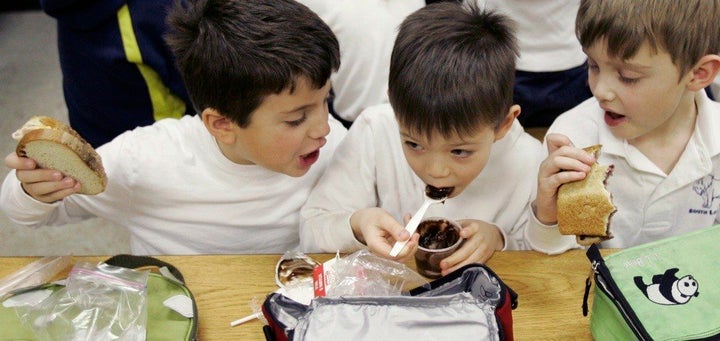 Kansas City, Mo. -- Middle school lunch periods can be a free-for-all of teasing, rough-housing and flirting among boys and girls trying to impress or intimidate.
But what if schools had separate lunch periods for boys and girls?
That is not a hypothetical in Wichita, Kansas, where three middle schools have gone to single-sex lunches. Principals say the new lunch system has reduced misbehavior and helped students focus on eating.
"The girls really seem to like it because they get their girl time without having to worry about boys," said Michael Archibeque, principal at Pleasant Valley Middle School, which has grades 6, 7 and 8. "And the boys don't show off for the girls. I think it's the perfect age for this."
But what Achibeque likes most is that more kids are cleaning up their plates instead of chattering away or getting otherwise distracted. That means less wasted food and fewer students having to study while hungry in the afternoon, he said.
"I could not believe how many kids are actually eating," Archibeque said. "It was sick (before) to watch kids throw away whole plates of food."
Truesdell Middle School in Wichita has had single-sex lunches for two years and finds a positive impact even after lunch is over, said Principal Jennifer Sinclair. Issues created by interaction between girls and boys at lunch tended to carry over to recess or class, she said.
The students seem to have adapted to the single-sex lunches, Sinclair said. In fact, when a mixed-gender lunch was offered recently as incentive to encourage school fundraising, the kids were not interested.
"They said, 'yuck, why would we want that?" Sinclair said.
It is not clear how many schools in the United State have single-sex lunches. A spokesman for the Kansas Department of Education said Wichita is the only school district she has heard of in the state with that policy.
Single-sex education is growing rapidly in the United States in the wake of some evidence that boys and girls may do better academically and socially by being in separate classrooms.
In January, at least 524 public schools had classrooms that were boy or girl-only, according to the National Association for Single-Sex Public Education. That was up from only about a dozen schools in 2002, according to the association.
It did not have figures on how many schools with co-educational classrooms have single-sex lunchrooms. School principals generally do not require approval of the school board or state departments of education to have single-sex lunches.
Just as Sinclair did this year, Archibeque said he plans to continue the same-sex lunches for at least a second year in the fall.
(Editing by Jerry Norton)
REAL LIFE. REAL NEWS. REAL VOICES.
Help us tell more of the stories that matter from voices that too often remain unheard.