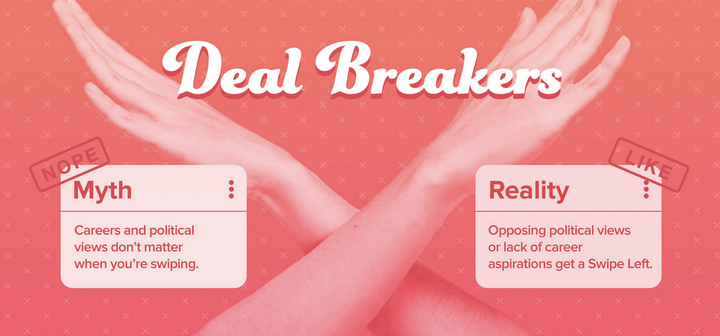 Saturday, August 26th is Women's Equality Day, which honors the anniversary of when most women earned the right to vote in the 19th Amendment back in 1920.
Women's Equality Day honors the anniversary of when most U.S. women earned the right to vote in the 19th Amendment back in 1920. It was ratified in 1971, and every president since then has proclaimed August 26th as Women's Equality Day.
What are Single Females Looking For While Dating in Trump's America?
Politics has become a huge hot button for single females looking for love online and offline. It's brought singles together to coupledom and it's shattered relationships of others who weren't on the same political page.
When it comes to politics and love, for many women, it comes down to shared values that mirror the different political views.
Differing Political Views are Deal Breakers
A Match Singles in America Study released prior to the election said that study showed that singles who talked about politics on a first date had a 91% chance of getting to a second date.
As a dating coach, I can say that dating a smoker used to be a top deal breaker while looking for love online. These days, singles can quit smoking easier than changing political parties.
A Modern Myths survey released by Tinder states that 71% of online daters consider differing politics to be a dealbreaker, as compared to 66% of singles who don't date online. As far as the top dealbreaker, there was a time when geography, age, and religion were at the top of the list. Now, 23% of Tinder's users say differing politics would be their number one dealbreaker, ading that profiles with opposing political views were getting left swipes.
For some singles, politics is lightening up. Plenty of Fish found that less than 1% of singles used the terms "Trump" or "Republican" or "Democrat" in their dating profiles.
Being an Entrepreneur Has it Benefits
Men often tell me they are looking for beauty and brains, but as they continued to elaborate, the smarter the woman was, the more attractive she became to them. Women who state they're an entrepreneur in their profile will bring right swipes and matches, ranking as #3 in the most right swiped careers. However, over half of Tinder's female users said that men are intimidated by their success.
Education does matter to many singles, as Tinder's survey showed 96% of singles who have dated online listing education as an important factor when selecting a partner.
As we honor the right to vote and strive for equality for all Americans, I wish you much love and joy in cyberspace, or wherever you may swipe or roam.
Related
Popular in the Community