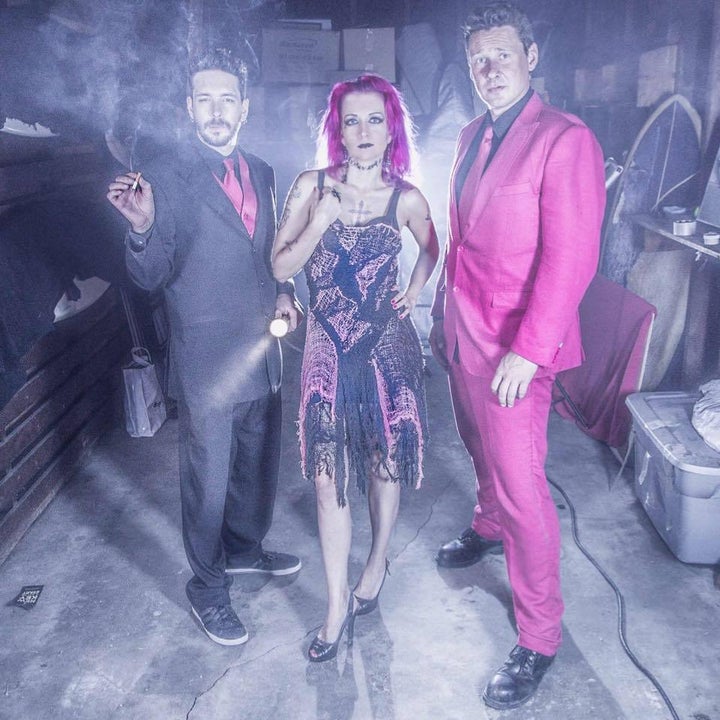 The Spider Accomplice hails from L.A. The band is composed of VK, Arno and Justin. Their new single/video, called "User," is being released today. And it's a goodie!
Stylistically, The Spider Accomplice (TSA) may be categorized as indie rock or alternative rock, which ever term you prefer. However, just leaving it there does an injustice to the band and their music, because their music permeates with elements of blues and punk, along with whiffs of metal and even a trace of country.
TSA obviously puts time and effort into their songwriting and arrangements; in other words, the band emphasizes melody and lyrics, and doesn't simply depend on power chords and frilly riffs. "User" follows the normal contemporary song structure of intro/verse/chorus, repeat. However, near the end of the song, they insert an effective, innovative tempo change that then transitions back to the original tempo. A small detail that makes a big difference in the way the song sounds to the listener's ears.
"User" starts with a nice groove on the drums, then the bass jumps in, followed by chiming guitar riffs. The melody is on the heavy side and is guitar-driven. As a whole, the song breathes a raffish feel. Not evil, not dark; I'd call it nastily tight, or maybe morally reprehensible, simply because the lyrics are about users, people who manipulate others for personal gain.
Great harmonies define the chorus, which kind of grinds as VK Lynne wails out "user." And speaking of VK Lynne, she has what I call one of those (and this is meant as a compliment) heavy asset, corrosive particle voices, like a cross between Alanis Morissette and Hayley Williams. It's a strong female voice, replete with the reckless dynamism and unbridled exhibitionism that define the best female rock singers.
In other words, VK has it going on vocally.
I love the spider as the video begins: "Come into my parlor," said the spider to the fly.
The video shows the band in a home-studio, laying down tracks for "User." VK has that boho-valley-girl-look going on (very cool), as she sings and sips coffee, while Justin and Arno do their thing on drums and guitar. About two-thirds of the way through, VK and the producer have a brief discussion about what she's doing and how she's sounding. As the video winds down, there are some nice shots of VK's pink shoes juxtaposed with her singing into a filtered microphone.
I liked the video: simple, but it delineates the haphazard process of creativity, which is rarely methodical and linear.
"User" recommends itself to your playlist. I added it to my song list for cardio work at the gym. It's that good! VK Lynne's voice is worth the price of admission. So much so, that I think we'll be hearing a lot more from The Spider Accomplice.
Find out more about The Spider Accomplice here.
Receive updates about The Spider Accomplice here.
Related
Popular in the Community