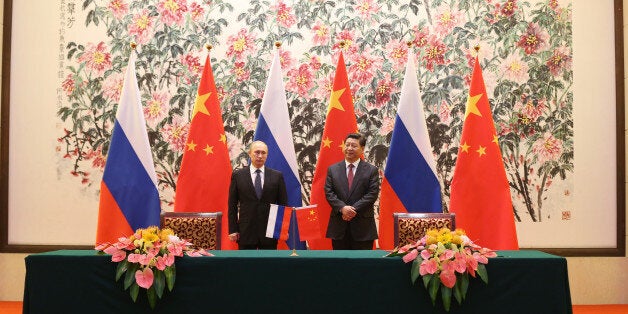 WASHINGTON -- Some American pundits are calling for new overtures by the West that would distance China from Russia. In Japan, voices are urging the government to step up diplomacy with Russia to draw it away from China. In these appeals we can discern an assumption that divergent national interests leave either Moscow or Beijing susceptible to enticement by the U.S. and its ally in Tokyo.
These attempts to split Russia and China from each other as they grow closer together are bound to fail because they misunderstand the nature of the challenge the West faces. The true nature of the challenge is best understood through the lens of national identity. How the regimes in Moscow and Beijing see themselves -- "regime self-image" -- is critical to grasping their anti-Western stance today.
THE ANTI-IMPERIALIST LEGACY
The communist legacy in national identity, as opposed to Marxist-Leninist-Maoist ideology, has survived and gained new momentum under Xi Jinping and Vladimir Putin. Anti-imperialism has survived as a pillar of ideology, as has Sinocentrism and Russocentrism, which focus overwhelmingly on resistance to the United States and its allies.
Old positions from the Cold War -- minus the Sino-Soviet dispute -- are being reaffirmed. With Xi's "China Dream" and Putin's Eurasianist pride, civilizational superiority is being touted. Tighter controls to prevent dissent, let alone a "color revolution," are evident reminders of the past.
Failing to rediscover each other in the 1980s through rapidly normalizing relations and then confirming an overlapping search for "reform socialism," political elites in Moscow and Beijing awakened to their mistake late before finally turning to each other as the partner of choice.
There was no sudden epiphany in 2014 that solidified the Sino-Russia challenge, but identity convergence was accelerating already in 2012-13, boosted by a change of tone from Russia following its aggression toward Ukraine and the impact of global sanctions.
International relations has been so obsessed with "realist" and "liberal" theory that the upsurge of writings on national identities since the end of the Cold War was largely missed and marginalized as a matter of concern by Western analysts.
Realists fixed their gaze on territorial disputes along the Russia/Chinese border and, recently, on fear of Chinese expansionism into the Russian Far East. Liberal theorists put priority on integration into the world economy sought by both countries.
Both points of view missed the importance Moscow and Beijing place on resisting any emerging ideas or alternative narratives that would threaten regime legitimacy -- whether the right of civil society to take shape and influence national policies or the application of values such as human rights in responding to global hot spots. China and Russia have seen eye to eye on opposing what they see as the subversive effects of such ideas, which they believe the West is promoting in order to weaken them.
U.S. concessions to China or Russia might presumably ameliorate tensions, but we have seen in Obama's early acquiescence to China's idea of "core interests," and later in his willingness to pursue a "new type of great power relations," -- and in his "reset" to Russia -- that they do not reverse the tide of deepening national identity gaps.
While striving to cast doubt on the distortions at the root of the narratives in China and Russia, the United States must work with its allies and other nations to agree on a different narrative with lasting appeal for a broadly shared international identity.
There are three legs to the competition, with China and Russia on one side and a U.S.-led community on the other:
Security. This requires shoring up alliances and partnerships while seeking, when possible, confidence-building measures with China and Russia;
Economic regionalism premised on globalization. Starting with Trans-Pacific pact but opening the door to a free trade area of the Asia-Pacific with China and even Russia if it accepts the 21st century norms being proposed;
A humanistic civilization, presenting a compelling story about the inclusive diversity of America's national identity as part of the global community while narrowing existing gaps in identity with like-minded countries most relevant in this growing competition.
There should be no illusions that China will abandon Russia, even if it were to act more aggressively in Ukraine, or that Russia will soon turn against China in fear of being treated as only a junior partner.
This is not to say that bilateral relations are likely to proceed smoothly. There is no cultural closeness between these countries, and China is known to drive a hard bargain. Russia will be reluctant to yield on some sensitive matters, including the transfer of its most advanced weapons.
Yet, there is little that Washington or, for that matter, Tokyo would be willing to offer that could alter the course of reconciliation based on national identities that are rooted in the past and are increasingly embraced in each country.
We don't want to revert to the Cold War notion of "ideological struggle," but we should awaken to the fact that China and Russia, in parallel and with increasing awareness of the advantages of their cooperation, are intent on demonizing the national identities of the United States and its allies.
This is a challenge that requires a response deeply informed about their identity strategy, but also nimble in showing eagerness to narrow identity gaps with them -- if possible.
Calling all HuffPost superfans!
Sign up for membership to become a founding member and help shape HuffPost's next chapter