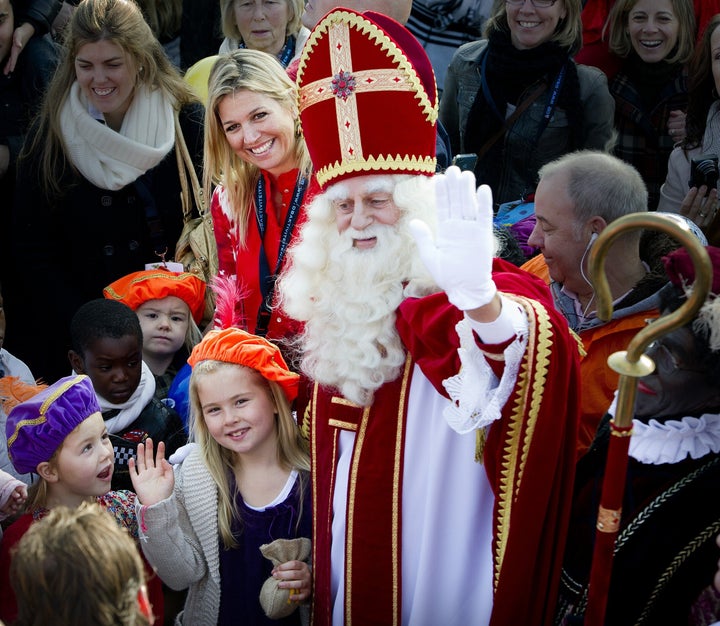 He arrives on a steamship from Spain, travels to the Netherlands on the back of a white horse called 'BadWeatherToday' (SlechtWeerVandaag), and is accompanied by a group of 'Black Peters.' On December 6, Belgium and the Netherlands celebrate Saint Nicolas Day -- one of the most imaginative and colorful children's holidays.
In traditional folklore, Saint Nicolas is a white-bearded, presents-distributing saint who resides in Spain and annually travels to Northern Europe on a steamship to hand out gifts. Nicolas is dressed like a bishop and holds a golden cane -- Sint, as he is affectionately called, is getting a bit old, you see. He carries a massive book in which he records children's good and bad behavior from the year. Good behavior is rewarded with an abundance of presents, while legend has it bad children are trapped in a potato sack. The 'Black Peters,' dressed in colorful pants and known for their tricks and jokes, help the Sint to distribute gifts, take care of his horse, and carry out the punishment of bad children.
For kids (and adults) in the Lowlands, the Saint Nicolas festivities are some of the most exciting times of the winter holidays. In the weeks leading up to the holiday, each night children place a shoe by the fireplace at night and fill it with treats (this author's parents suggest beer and carrots) for Sinterklaas, his black helpers and his horse. They also write letters to the old man, recounting their year and explaining which presents they would like to receive. In the morning -- perhaps with a little help from the parents! -- the treats have disappeared, and Sint may have left a small present to show the children he stopped by. On the night of December 5th, Sint and the Black Peters travel across the two countries, enter houses through chimneys, and stuff the children's shoes with candies and presents. Dutch children receive their gifts on the evening of December 5th, while Belgian kids have to wait until the morning of December 6th.
Check out photos of Sinterklaas arriving in the Netherlands.
Calling all HuffPost superfans!
Sign up for membership to become a founding member and help shape HuffPost's next chapter
BEFORE YOU GO
PHOTO GALLERY
Sinterklaas